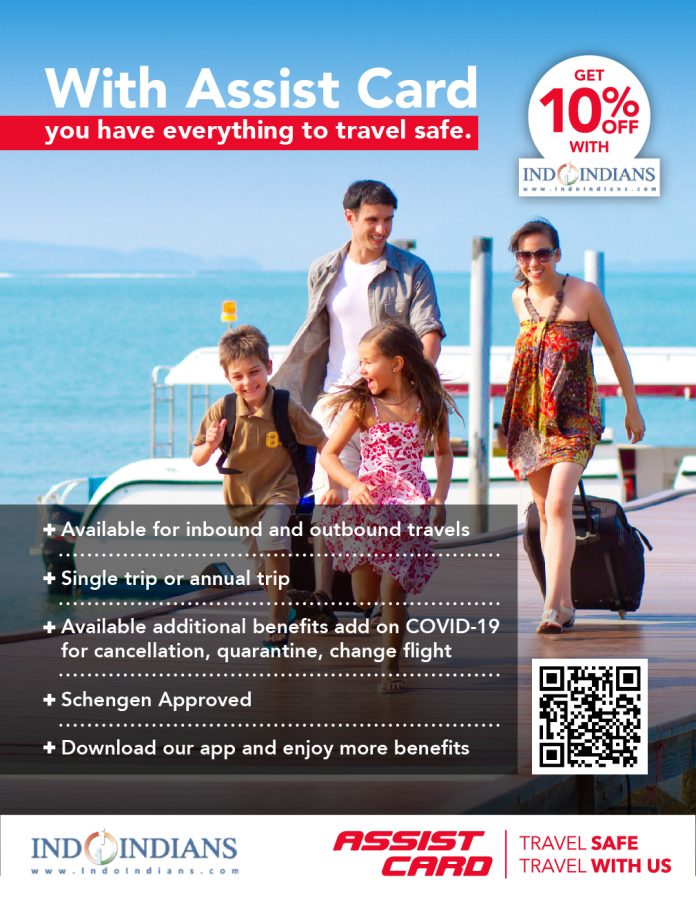 Why travel insurance and assistance?
Many travelers fail to purchase travel insurance and assistance services which would cover the cost arising from a travel mishap that could overturn even the best laid travel plans.
Your vacation is an investment in yourself, your family and loved ones. Protect your investment and travel with peace of mind with travel insurance and assistance.
No one can predict misfortune, but you can be prepared when it strikes. That's why when you purchase coverage with ASSIST CARD you will receive immediate, around the clock access to the ASSIST CARD global network in over 100 countries around the world.
ASSIST CARD provides emergency assistance to passengers, permanently, regardless of the condition, anywhere, anytime. ANYTIME, ANYWHERE, ANY REASON.
Get 10% discount on your 

ASSIST CARD with Indoindians. Fill the form below and an ASSIST CARD agent will be in touch with you and give you the 10% discount on the published rates.
Assist Card Travel Insurance - Indoindians (Get 10% Off)
ASSIST Card CS will contact you based on the details provided
Highlights of ASSIST CARD:
Perfect for frequent travelers with trips not exceeding 30 or 60 days per trip
Easy visa processing with assist card insurance (Schengen Approved)
Peace of mind while overseas (Cashless Medical Assistance 24/7)
Annual card – any number of trips
ASSIST CARD PRODUCTS
International Products (Outbound and Inbound)
Outbound: For Indonesian citizens traveling out
Inbound*: For non-citizens who will be traveling from their country to Indonesia,
AC250, AC 150, AC 60 and AC 15 products with an additional 5%.
Domestic Products
Traveling within the territory of Indonesia, min 100 km from the city of origin

* Age 70 – 74 yrs price increases by 50% and age 75 yrs and over the price increases by 100%** inbound products must be issued at least 3 days before the trip starts.                          Family package: maximum 2 adults + 2 children under 21 years old and additional 3rd child aged 21 years old
ASSISTCARD Annual Subscription Plans: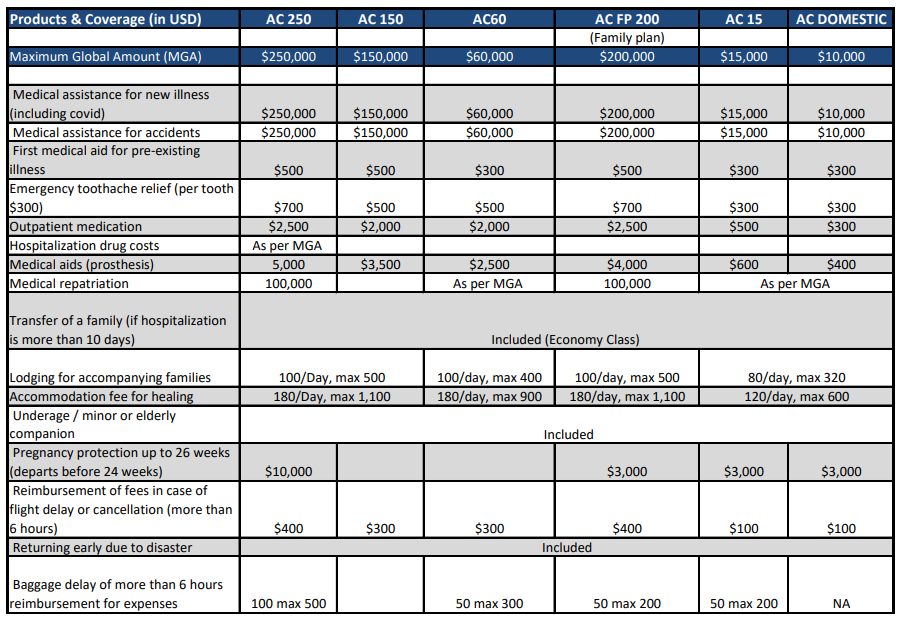 *Includes treatment due to COVID-19 illness in medical coverage                                      ** The cost of compensation for lost baggage is the difference between changing airlines
Due to the Covid 19 Pandemic, some benefits are excluded such as flight delays or cancellations, hotels for healing, transfers of a family member, and cancellations (please see the general conditions of ASSIST CARD)
Price List
Single Trip
Prices are based on block of days, after the 30th day using additional days up to 60 days.
For AC 15 and domestic AC products, additional days up to 120 days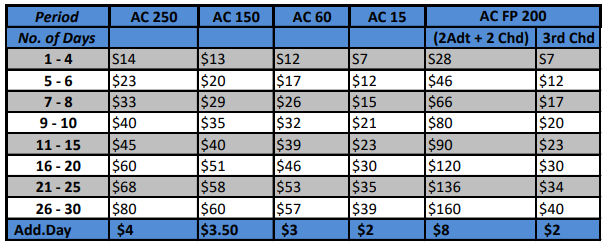 Annual Multi trip
Valid for a year (365 days) with a maximum stay of 30 days or 60 days per trip, unlimited trips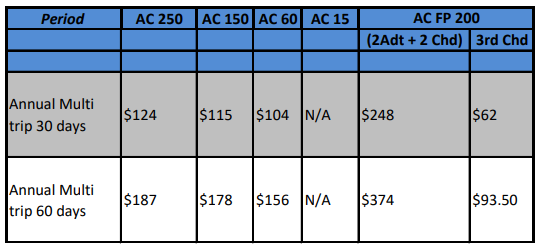 Long Stay
Long stay daily is used for periods of more than 61 days to 364 days and yearly for one year full / 365 days without returning to the country of origin.

Add on COVID (Optional)


**Additional price with duration according to the main ASSIST CARD card taken.
Important
Add-on products are only for outbound/overseas purposes
To get cancellation protection due to positive COVID 19, ASSIST CARD with add on must be activated publish no later than 5 days before carrying out the PCR test.
Self-quarantine due to positive COVID19 only applies abroad when traveling and needed
PCR test results.
7. EXCEPTIONAL AND FORTUIT OR FORCE MAJURE CIRCUMSTANCES
As specified within the present Travelers' assistance contract ASSIST CARD is expressly released, exempt and excused from any of its obligations and liabilities in the event a Card Holder suffers any damage or requires assistance as the consequence and/or arising from
fortuitous or force majeure case, such as weather problems, catastrophes, earthquakes, floods, storm, international war or civil, declared or undeclared, rebellion, internal uproar, actions of guerrillas or counter-guerrillas, hostilities, reprisals, conflicts, seizures, internal riots, strikes, mass movements, lock-out, public riots or acts of sabotage or terrorism, unusual air traffic. as well as problems and/or delays resulting from the termination, interruption, or suspension of communication services.
Likewise, in case of existence of epidemic and / or pandemic diseases, the following benefits will be automatically excluded, and therefore ASSIST CARD will not have any responsibility for their provision:
• 4. GUARANTEE OF CANCELLATION AND INTERRUPTION OF TRAVEL BY FORCE MAJURE
• 4.6 TRANSFER OF A FAMILY MEMBER
• 4.9 HOTEL EXPENSES FOR FORCED REST DUE TO ILLNESS, ACCIDENT OR HOSPITALIZATION
• 4.10 REIMBURSEMENT OF EXPENSES FOR DELAYED OR CANCELLED FLIGHT
• 5. CANCELLATION GUARANTEE "ANY REASON" AND TRAVEL INTERRUPTION BY MAJOR FORCE
• D.4 GUARANTY IN CASE OF TRIP CANCELLATION OR INTERRUPTION BY MAJOR FORCE
• D.5 TRIP CANCELLATION GUARANTY FOR ANY REASON OR TRIP INTERRUPTION BY FORCE MAJURE
• D.17 GUARANTY IN CASE OF TRIP CANCELLATION OR INTERRUPTION
Get 10% discount on your 

ASSIST CARD with Indoindians. Fill the form below and an ASSIST CARD agent will be in touch with you and give you the 10% discount on the published rates.
Assist Card Travel Insurance - Indoindians (Get 10% Off)
ASSIST Card CS will contact you based on the details provided
**A clearer explanation of the general condition of the ASSIST CARD which can be downloaded at www.assistcard.com
Contact ASSIST CARD di: +62 21 3106029 | +62 815 13200605
Email: sales.indonesia@assistcard.com