Home
News & Events
Annual Travel Insurance & Assistance Plan by Assist Card Valid Worldwide
Annual Travel Insurance & Assistance Plan by Assist Card Valid Worldwide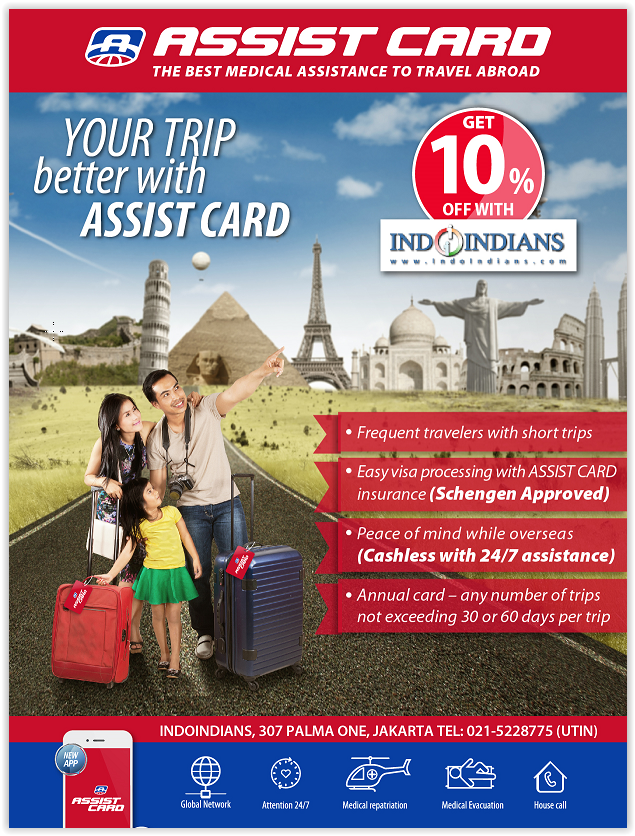 Why travel insurance and assistance?
Many travelers fail to purchase travel insurance and assistance services which would cover the cost arising from a travel mishap that could overturn even the best laid travel plans.
Your vacation is an investment in yourself, your family and loved ones. Protect your investment and travel with peace of mind with travel insurance and assistance.
No one can predict misfortune, but you can be prepared when it strikes. That's why when you purchase coverage with ASSIST CARD you will receive immediate, around the clock access to the ASSIST CARD global network in over 100 countries around the world.
ASSIST CARD provides emergency assistance to passengers, permanently, regardless of the condition, anywhere, anytime. ANYTIME, ANYWHERE, ANY REASON.
Just sign up and an ASSIST CARD agent will be in touch with you and give you the 10% discount on the published rates.
Highlights of ASSIT CARD:
Perfect for frequent travelers with trips not exceeding 30 or 60 days per trip
Easy visa processing with assist card insurance (Schengen Approved)
Peace of mind while overseas (Cashless Medical Assistance 24/7)
Annual card – any number of trips
ASSITCARD Annual Subscription Plans:
Product 1 : ASSIST CARD AC US$ 1million
Type : Annual Multitrip 30 days = US$ 169
Annual Multitrip 60 days = US$ 245
Age limit 69 years old
Maximum Validity: 365 days
Sign up here to get 10% discount on your ASSIST CARD annual subscription >>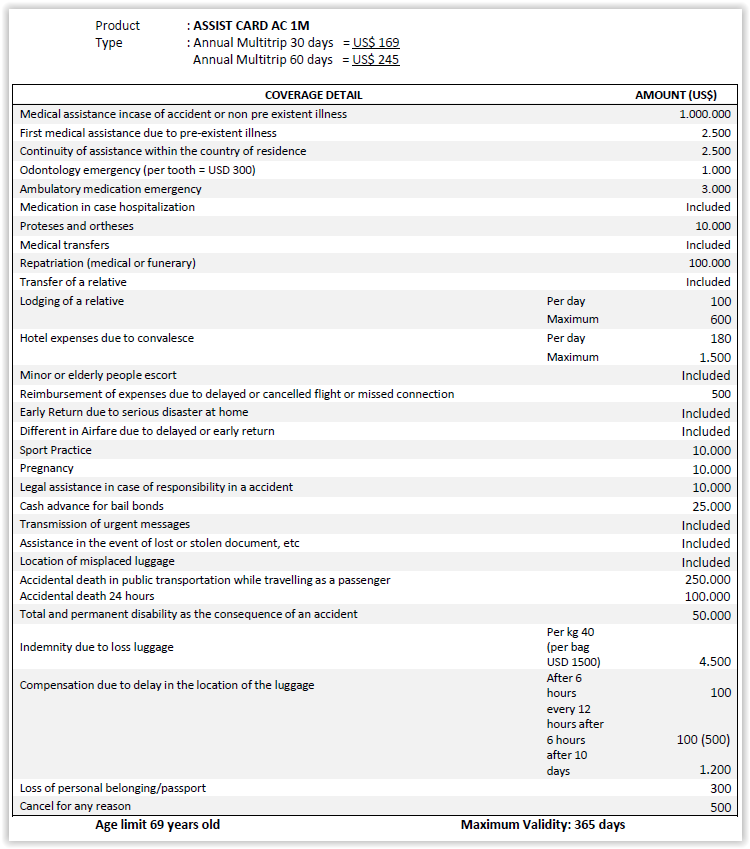 Product 2 : ASSIST CARD AC US$ 250,000
Type : Annual Multitrip 30 days = US$ 144
Annual Multitrip 60 days = US$ 207
Age limit 69 years old
Maximum Validity: 365 days
Sign up here to get 10% discount on your ASSIST CARD annual subscription >>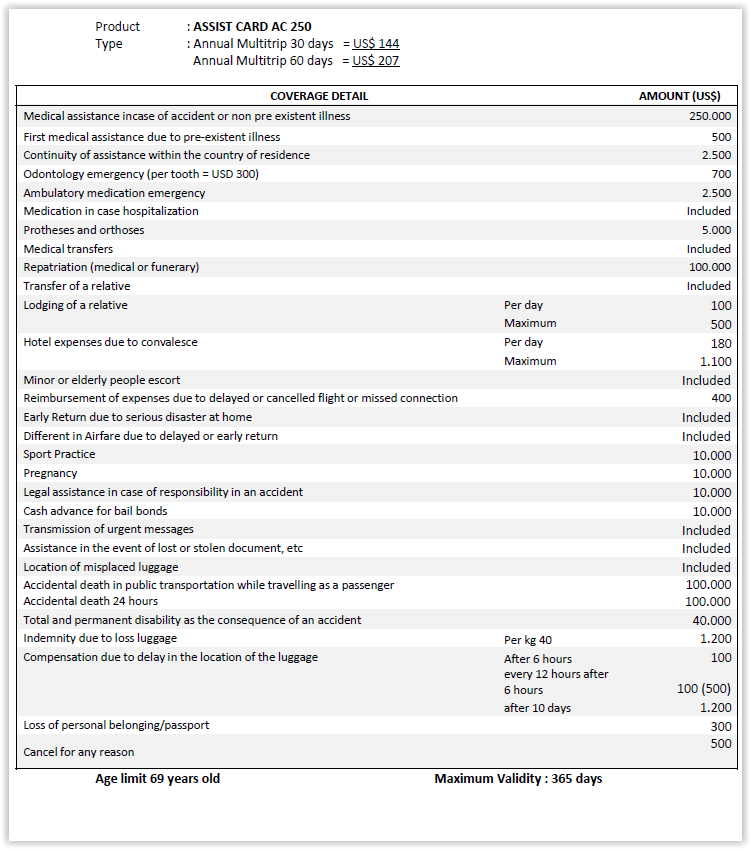 Product 3: : ASSIST CARD AC 60
Type : Annual Multitrip 30 days = US$ 166
Annual Multitrip 60 days = US$ 244.3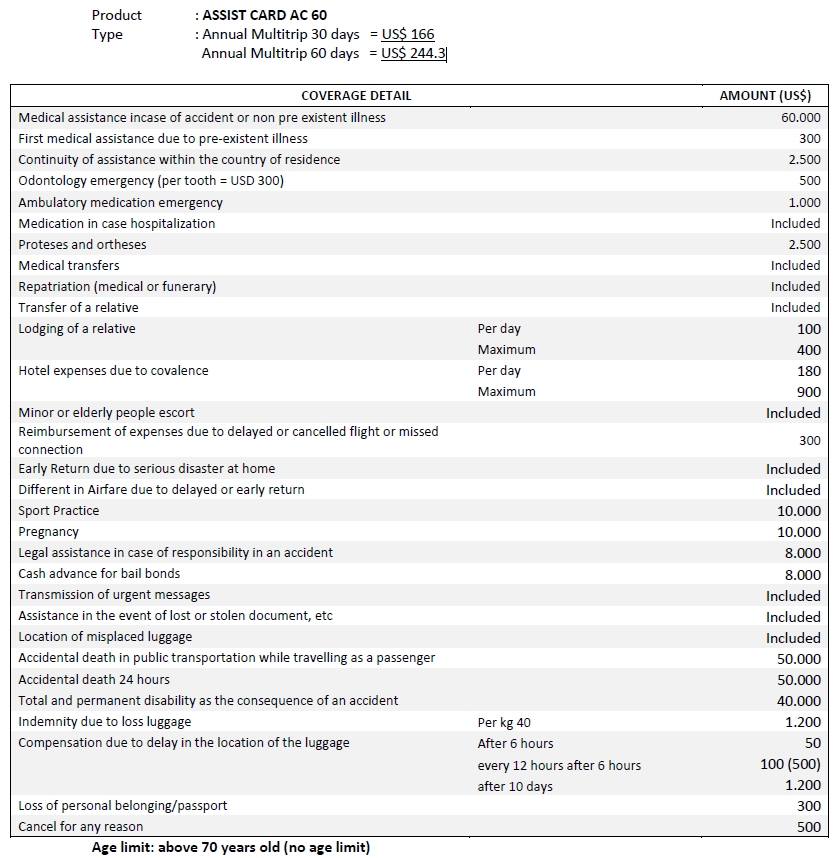 Terms & Conditions:
1. Multitrip 30 days = Valid for 1 years / 365 days, but not exceeded 30 days outside Indonesia
2. Multitrip 60 days = Valid for 1 years / 365 days, but not exceeded 60 days outside Indonesia
3. AC 1M & AC 250 Age limit up to 69 years' old
4. AC 60 no age limit but the rate increase for 70 years and above
5. Direct Medical assistance (cashless) in more 100 country
6. Rates will increase 50% for 70 years and above
7. Access to ASSIST CARD