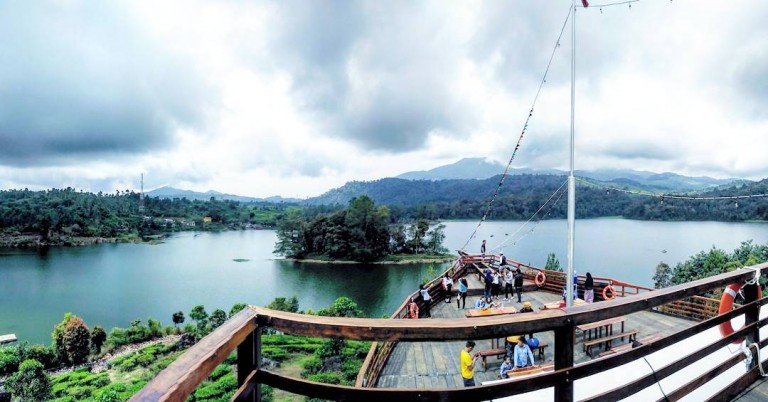 Bandung is widely known for their packed nature tourism, rich scenery, and wonderful culinary tour. It does not come as a surprise when people from  Jakarta frequently visit Bandung on weekends and holidays. The short distance, cooler climate with fresher air might be the primary factors of why they often visit the city.
Many of us perhaps also recognize that Bandung offers a bunch of places for the food connoisseurs. You will discover range of Bandung culinary from traditional dishes to trending delicious snacks. Some of the restaurants even treat you with wondrous ambiance and instagramable spots.
The list below are our recommendation of restaurants in Bandung with breathtaking views:
Pinisi Resto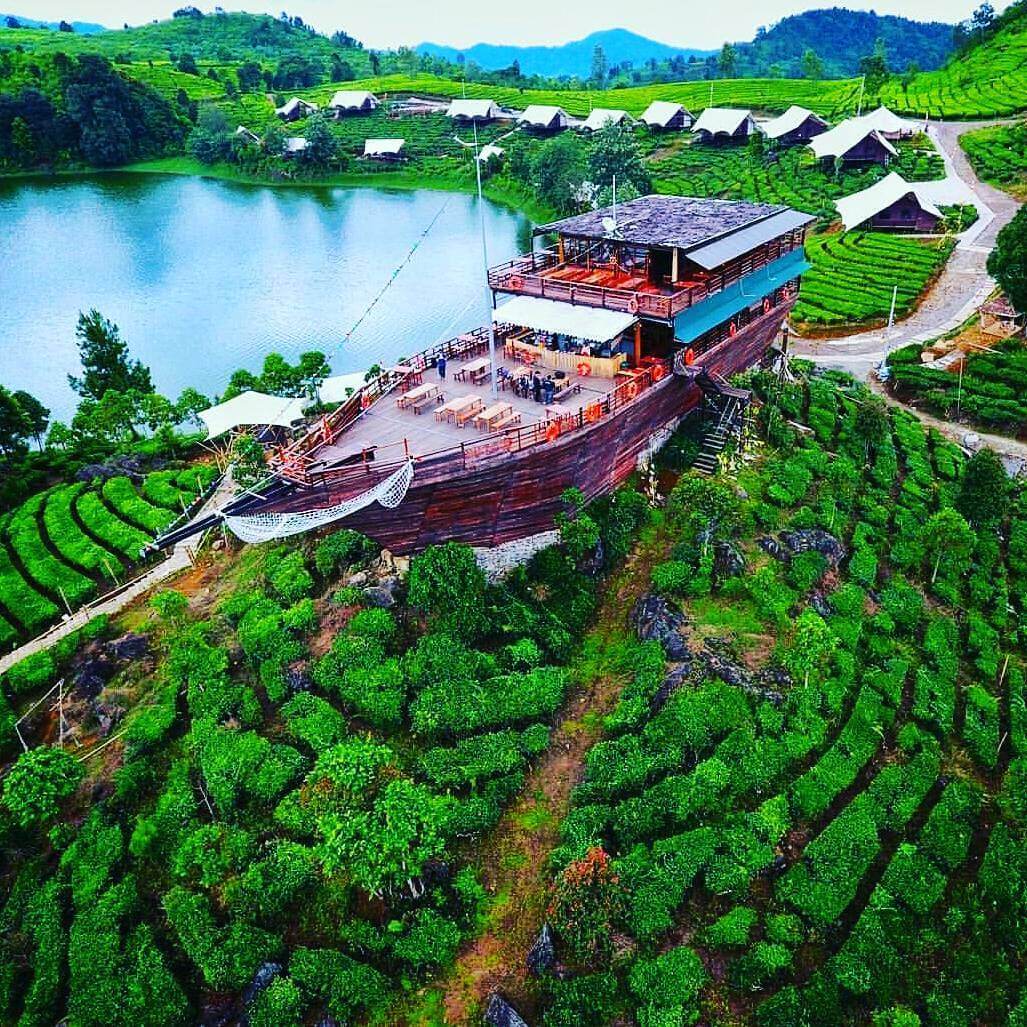 In case you wonder about what it feels to be "stranded" on a ship in the center of the hills, you can visit Phinisi Resto. This restaurant presents you a unique concept. It enables you to enjoy your food in the altitude of wooden ship surrounded by by tea plantations and a lake. Located in the Glamping Lakeside Rancabali area, Pinisi Resto is a perfect venue to spend your time with your family.
Address: Jalan Situ Patengan, Patengan Rancabali, Ciwidey Bandung, Jawa Barat 40973
Phone Number: +6222 85924493, +62821 8002 8888
The Valley Bistro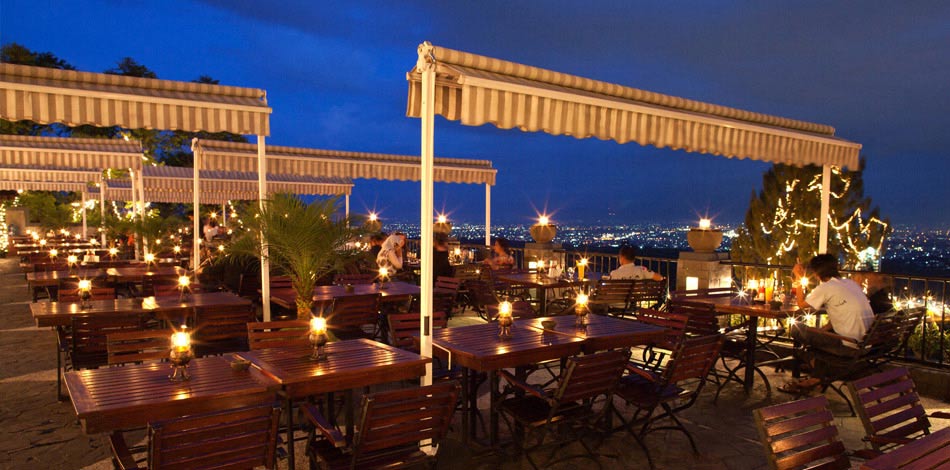 Although the bistro is also part of the resort, the charms of of Valley Bistro is quite renowned among the tourists. Behold the beauty of Bandung by day and night from Valley Bistro located upon the Dago hills.
Address: Jl. Lembah Pakar Timur No 28 Dago Pakar Bandung 40119
Phone: + 6222 2531052
Lutung Kasarung – Dusun Bambu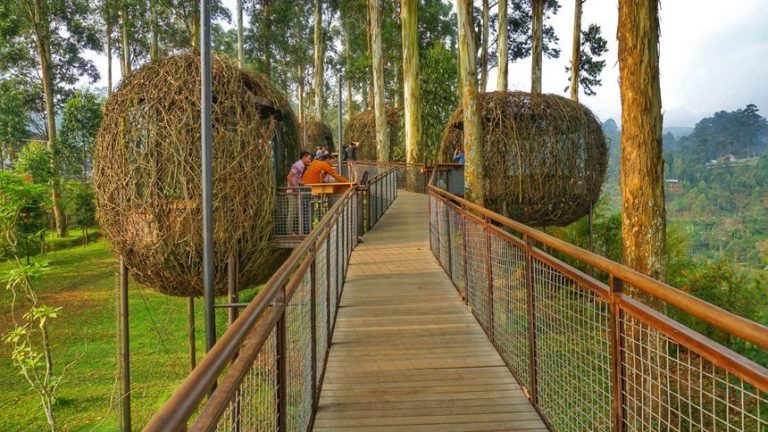 Similar with the two previous restaurants, Lutung Kasarung is located in lodge area named Dusun Bambu. They exclusively designed arrangement of the individual dining areas in a suspended bird cage shape. You may want to take pictures in-between the bridge that connects one bird cage to another. Feast on coconut roasted-rice which is their signature dish.
Address: Jl. Kolonel Masturi KM 11, Cisarua, Bandung Barat 40551
Phone: +6222 82782020
Cafe D'Pakar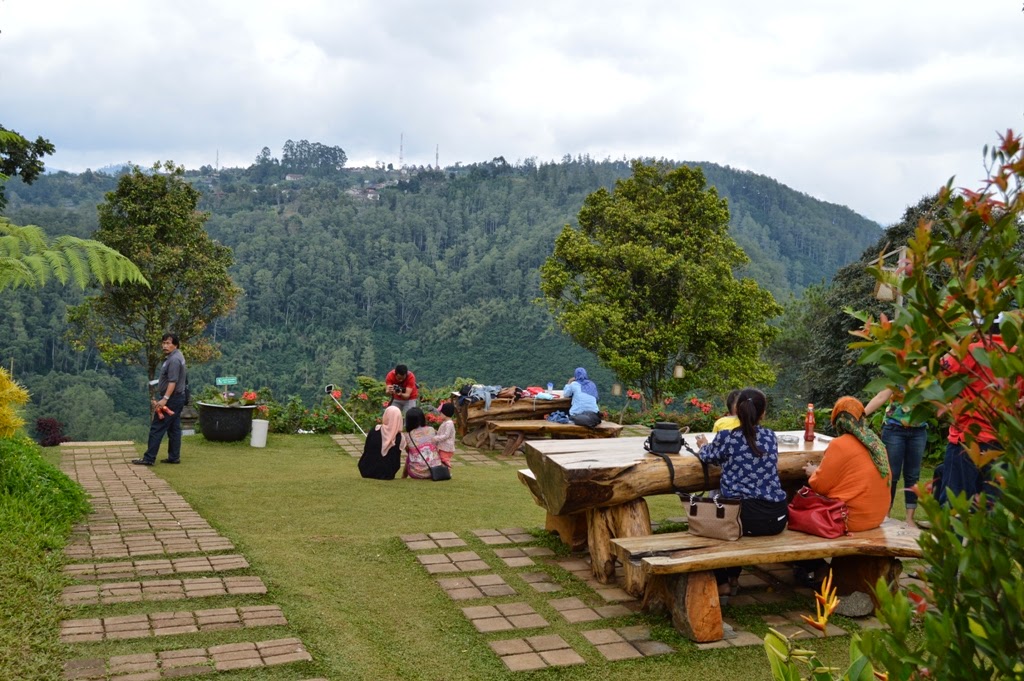 In order to reach the location of Cafe D'Pakar, you need to make a little effort. Not only is it situated in fairly remote area – the highlands of Dago, Bandung. But you will sense why this Café is worth the hype. They will serve you the ideal combination of  home-cooked dishes with exquisite panoramic views. If you are fond of forest and mountain landscape, this place is perfect for you.
Address: Jl. Dago Pakar Utara, Sekejolang, Ciburial, Cimenyan, Bandung, Jawa Barat 40198
Phone: +62851 0267 7787
The Stone Café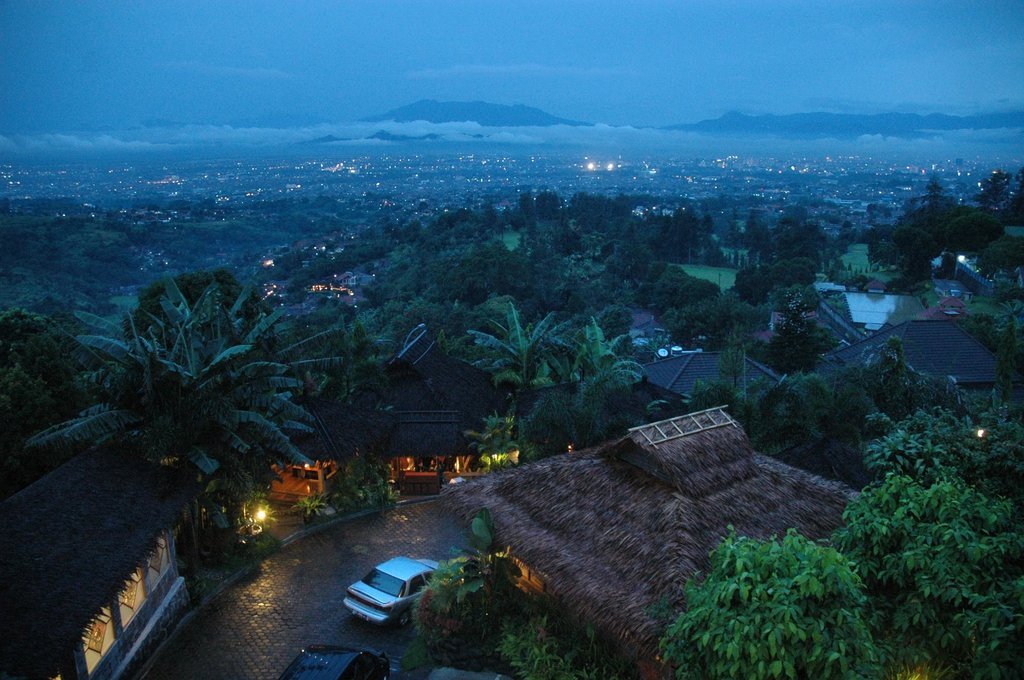 The Stone Café enthralls their visitors with rural atmospheric completed with gazebo and natural stones. Created in an European concept, the café provides live music. Besides European menu, they also feature traditional dishes. You will feel relaxed the sound of  water splashing over the rocks while relishing your food.
Address: Jl. Rancakendal Luhur No. 5 Dago Atas, Bandung
Phone: +6222 2500577
Warung Daweung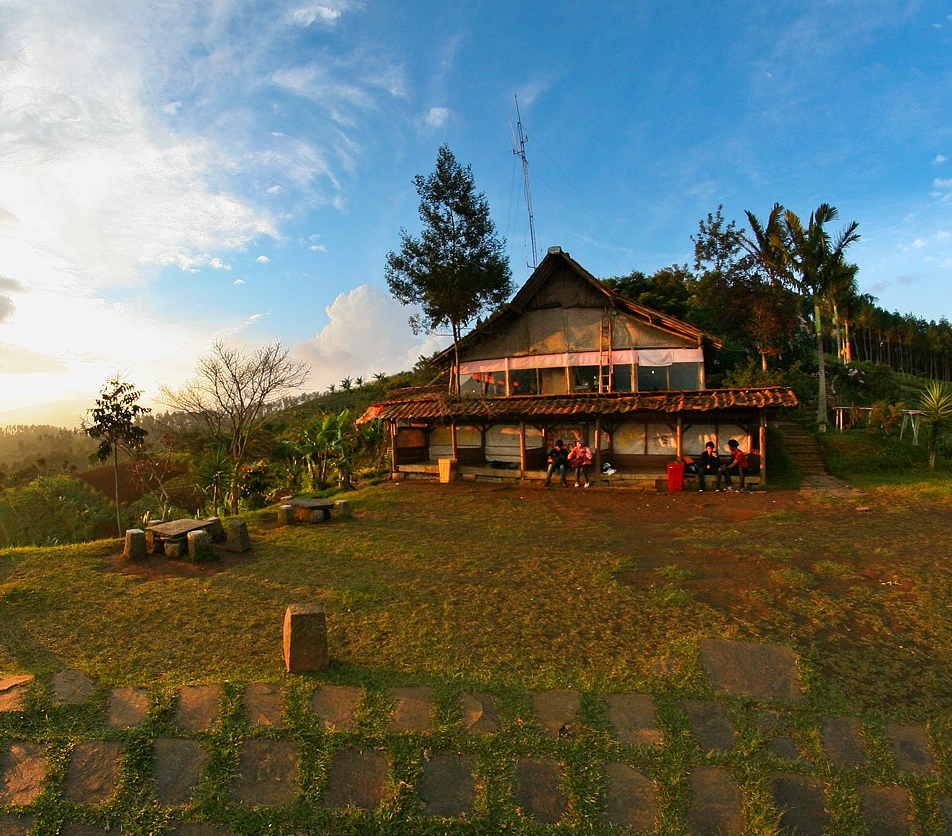 Warung Daweung might be the best restaurant to spot a beautiful sunrise and sunset. In a way, you can consider this place as the highest café in Bandung. This restaurant is a well kept secret, as the location is isolated at Moko Hill. It is the sole restaurant on the hill. Daweung means daydreaming in Sundanese. The name fits perfectly as you can improve your mood with open mountain and pine forest scenery around.
Address: Bukit Moko (Moko Hill), Jl. Terusan Padasuka No.43, Cimenyan, Bandung, Jawa Barat 40197
Phone: +62 8193134-4736
Rumah Miring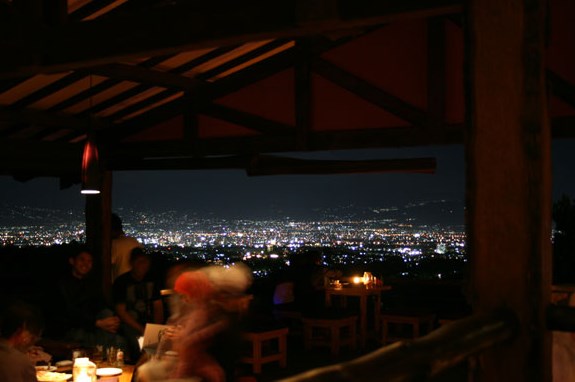 Rumah Miring was formerly known as Cloud 9 restaurant. At this restaurant,  each and every table presents a great view. The sloping road where the restaurant resides inspires the name of Rumah Miring (Sloping House) itself. Sip your hot chocolate, bite into your pizza and grill variations while appreciating the village landscape before your eyes.
Address: Jl. Dago Giri No. 119, Mekarwangi, Lembang, Kabupaten Bandung Barat, Jawa Barat 40391
Phone: +62 878-2280-8389
Cocorico Café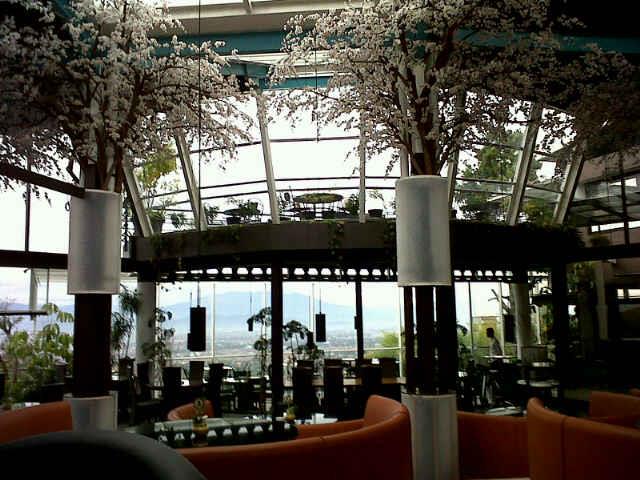 The architectural design of this café is that first to draw your attention.  They have created a mini garden for the exterior part and decorated the interiors with modern yet unique design. This place also facilitates a parking area which gives straight access to the main road. Try rooftop dining at the third floor by tasting their grilled ribs, US beef tenderloin steak, creme brulee, or their popular Wafflelicious.
Address: Jl. Bukit Pakar Timur No 19, Ciburial, Cimenyan, Bandung, Jawa Barat 40198, Indonesia
Phone:  +6222 2503262
The Peak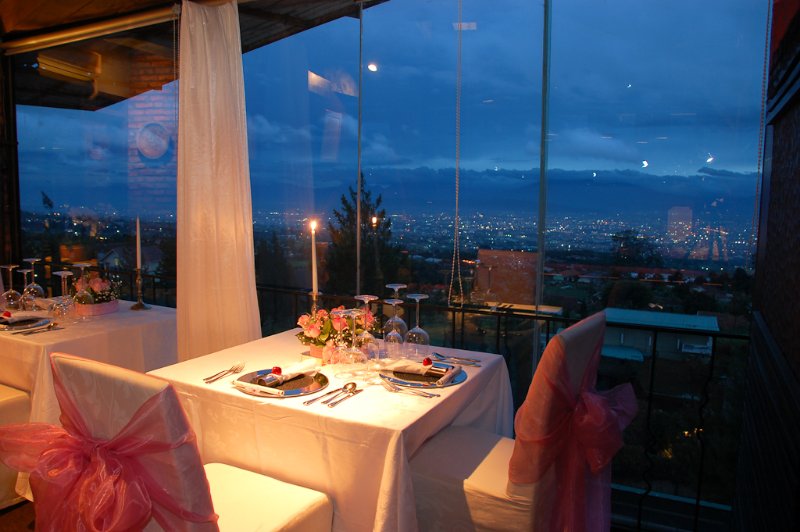 Built with glass walls, you are able to feast your eyes on the sights that encircle the restaurant. See the famed mountain of Tangkuban Perahu from The Peak Resort Dining. This restaurants stands at the altitude of 1210 meters above sea level. It is better to visit this place at night as they put flaming torches on the way to the restaurant. Their menu varies from local dish from oxtail soup until premium steak.
Address: Jl. Desa Karyawangi Ciwaruga Km 6,8 No. 388 (Parongpong), Lembang, Jawa Barat, Indonesia
Phone:  +6222 278 5429
Kopi Ireng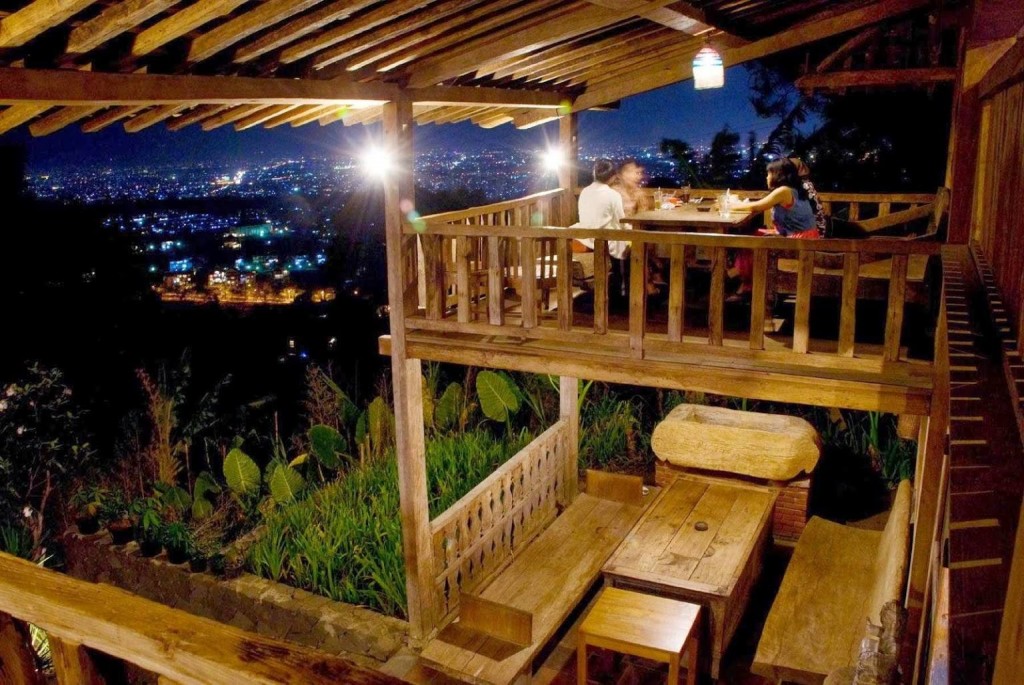 Are you an avid coffee drinker? Kopi Ireng is an exclusive spot for those who like coffee. Not only part of the beverage, they also created special sauce out of coffee for their dish, grilled coffee ribs. Kopi Ireng restaurant is built and decorated with wood materials in a traditional style.  It is warm and inviting and will make you feel at home. Their location in high area allows you to see the entire landscape of Bandung City.
Address:  Jl. Bukit Pakar Timur No. 1, Ciburial, Cimenyan, Bandung Jawa Barat 40198 Indonesia
Phone: +62 22 2531074
Kopi Selasar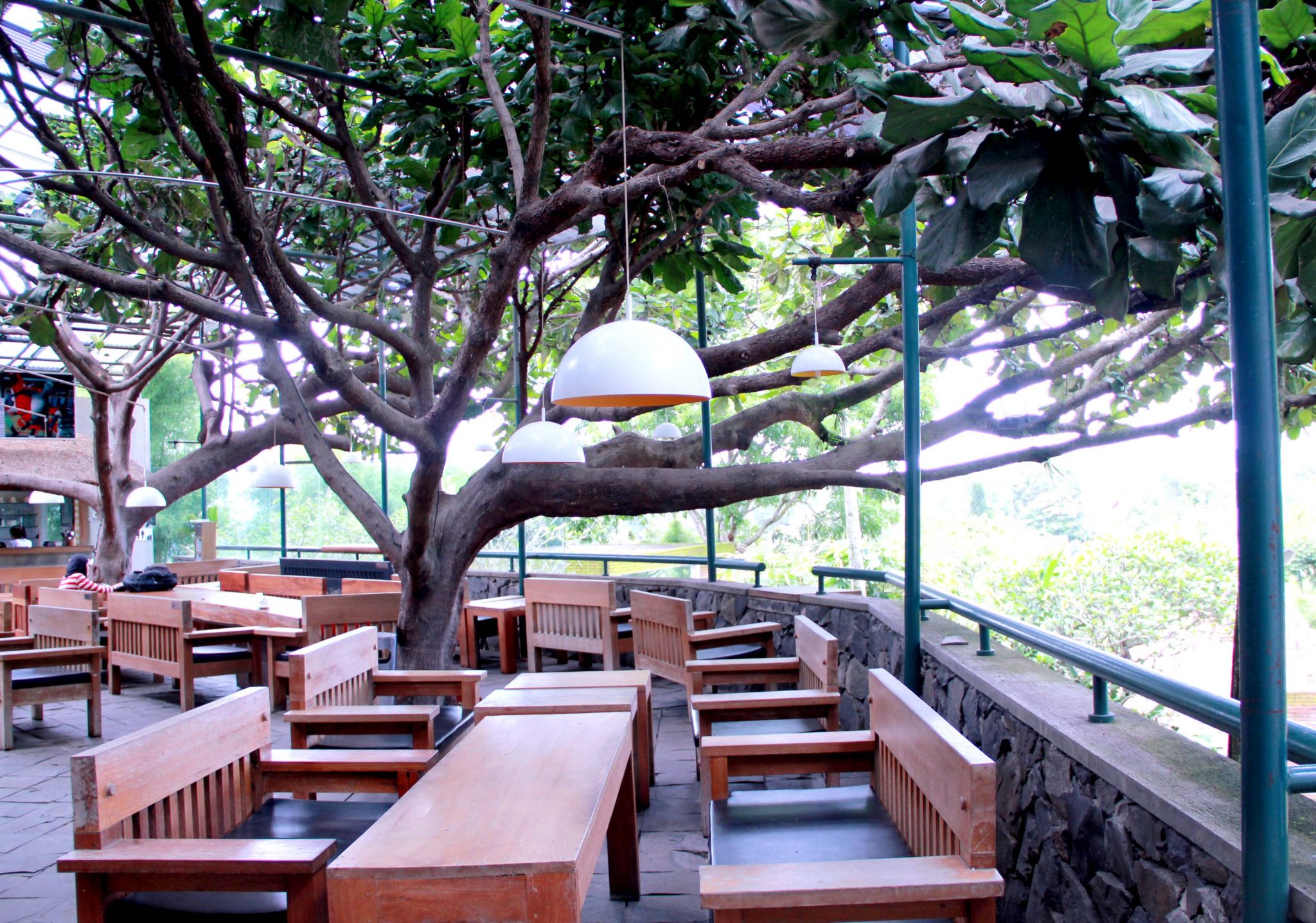 Another coffee spot in Bandung with breathtaking view is Kopi Selasar. This café is situated within Selasar Sunaryo Art Space. Enjoy the sensation of the cool breeze comes from large trees that grow in the midst of the cafe. Besides black coffee, you may try other coffee beverages such as choccocino ice cream and latte art. Their dishes that include lasagna, pasta, tom yam, sandwiches, etc are also affordable.
Address: Jl. Bukit Pakar Timur No. 100, Ciburial, Cimenyan, Bandung, Jawa Barat 40198
Phone: +6222 2507939