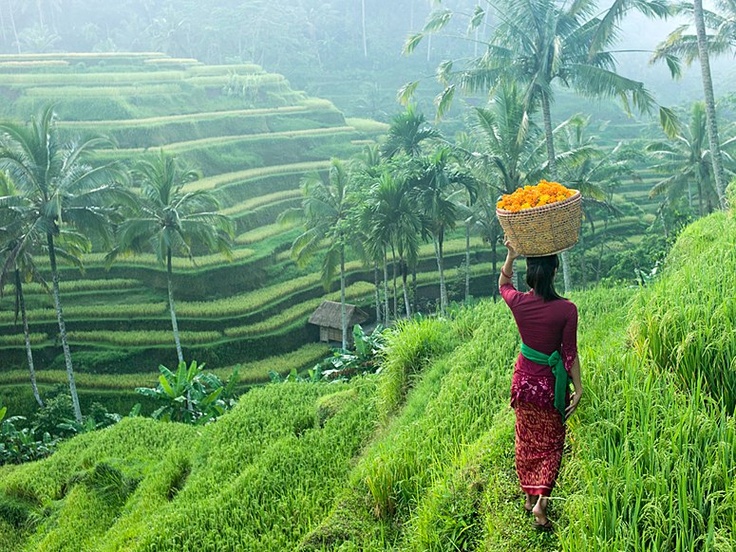 3 Days in Ubud Itinerary with some options too.
The green forests, lush rice terraces, and temples in Ubud complete the beautiful landscape of Bali. A tranquil oasis that is not to be missed. Here is a 3 day Ubud itinerary for a weekend:
Day 1:
Ubud Morning Market, Ubud Palace, Saraswati Temple, Tegalalang Rice Terraces
Start the first day at the Ubud Morning Market. The market sells local food, fruit and temple offerings. Enjoy brunch at interesting cafes there. During the day there are many discounted Balinese souvenirs.
Continue the journey to Ubud Palace and Saraswati Temple.
Enjoy the Tegalalang Rice Terrace to see the view and to walk along the iconic rice terraces of Ubud. It takes about 20 minutes to get there by driving a 2-wheeler or taking a taxi. Drink coffee while enjoying the view of the rice fields and swooping over the iconic terraces on a couple of swings are the most recommended activities to do there.
DAY 2 – Option 1:
Batukaru Temple
From Ubud Palace and Saraswati Temple, continue the journey to Batukaru Temple Ubud to watch the Kecak Dance Show at night. It usually starts at 7.30 pm.
Relax at the bars and clubs there, such as Laughing Buddha Bar or Cafe Luna.
Day 2 – Option 2:
Mount Batur and Tibumana Waterfall
At 4 am, climb Mount Batur to see the sunrise from the top of the mountain. It is 40km from Ubud and takes around an hour to drive before rush hour. The climb to the top takes approximately 2 hours from the start point.
After descending from Mount Batur, continue the journey to Tibumana Waterfall in rural Bangli via a 10-minute hike through the forest. There are two caves that gape behind the waterfall, too. This cave is believed to be the way to Goa Raja Besakih Temple. Visitors are not allowed to bathe or swim in this waterfall because the pool area is often used for sacred rituals.
DAY 3 – Option 1:
Lempuyang and Tirta Gangga
Visit Lempuyang Temple by hiring a 2-wheeler, day tour or taxi for the day. Take photos at the Gate of Heaven with the backdrop of Mount Agung. Visit another temple on the slopes of Mount Lempuyang. Use a sarong while visiting this place.
Enjoy Tirta Gangga in Ababi Village, Karangasem. The distance between Lempuyang Temple and Tirta Gangga is only about 20 minutes. This is a water palace of the Kingdom of Karangasem. Take photos in the beautiful pond decorated with tall statues and koi fish in the pond.
Day 3 – Option 2
Tirta Empul Holy Water Temple and Campuhan Ridge Walk
Visit Tirta Empul Temple in Manukaya Village, Gianyar. It takes 30 minutes from Ubud by driving a scooter or taking a taxi. There is a holy spring pool for Hindu worship. Visitors must use sarong.
Trek the Campuhan Ridge Walk around the Campuhan hills. This is a trail about 2 kilometers long with views of mountains, hills, river valleys along the way.
OR
From Tirta Empul Temple, continue to Goa Gajah. There are many photo objects such as a water shower, a sacred bathing pool, and a row of seven statues of Widyadara and Widyadari.
Which tourist attractions in Ubud do you most want to visit? If you have been to Ubud, do share your experiences, and tips in the comments section below.