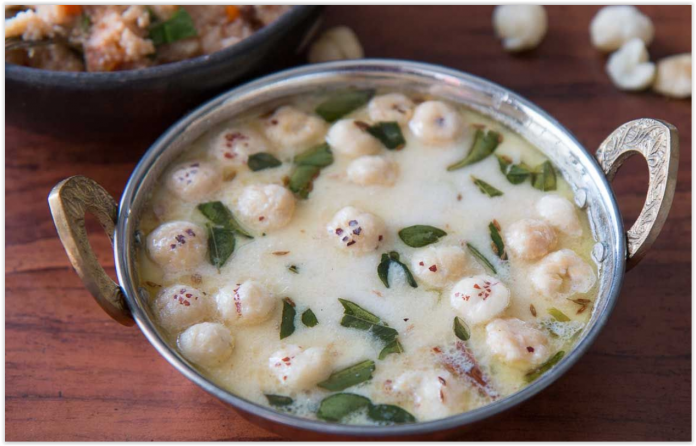 Kadhi is a very popular dish originating from the Indian subcontinent. It consists of a thick gravy based on flours mixed with yogurt to give it a bit of sour taste. It is often eaten with boiled rice or roti. Here are 4 different kadhi recipes which are suitable for navratri fast.
Ingredients
For Kadhi
1 cup sour Yogurt
3/4 tsp Jeera/cumin
1/2 inch piece Ginger
2-Green chilies, minced
Curry Leaves-7-8
Salt to taste
2 tbsp Ghee
11/2 cup water or as needed
4 Optional Styles
Kuttu Ki Kadhi

Add 1/2 cup Kuttu flour to above ingredients

Rajgira ki Kadhi

Add 1/2 cup Rajgira/Amaranth flour to above ingredients

Peanut Kadhi – made with roasted peanut powder

To Rajgira kadhi recipe
1/4 cup ground roasted skinless peanuts
Add prepared tadka and garnish with coriander leaves.

Makhane and Moongphali ki Kadhi – made with ghee roasted

Phool Makhana (Lotus Seeds)

, roasted in ghee and

Prepare Rajgira Kadhi recipe
1/2 cup ghee roasted makhana
2 tablespoons steamed 

Raw Peanuts (Moongphali)

 a
Add prepared tadka and garnish with coriander leaves.
For Tempering
1 tsp Ghee
1/4 to 1/2 tsp red chili powder
Method
Whip together Yogurt, flours, salt, and 1/2 cup water
Heat Ghee, add Jeera, when it crackles add ginger and green chilies
Stir for few minutes, then add curry leaves.
Add the yogurt/flour paste and mix well for a few minutes.
Add 1 cup water and salt as needed
Bring to a boil, Add Pakore and simmer for additional 15 minutes.
Continue stirring, If after adding Pakore the kadhi thickens, add more water.
After 15 minutes of simmer, remove from stovetop and add tempering.
For Tempering
In hot ghee, add lal mirch/Red chili powder.
Pour on top of hot kadhi
Enjoy
Notes
Serve with steamed samvat rice (also known as barnyard millet)/sabudana kichdi and a side cucumber raita or salad.