Do you dream of living in a tree house?
Well your dreams can come true in Indonesia.
Here are some amazing tree houses can book for your next weekend escape!
Omah Kayu Paralayang, Malang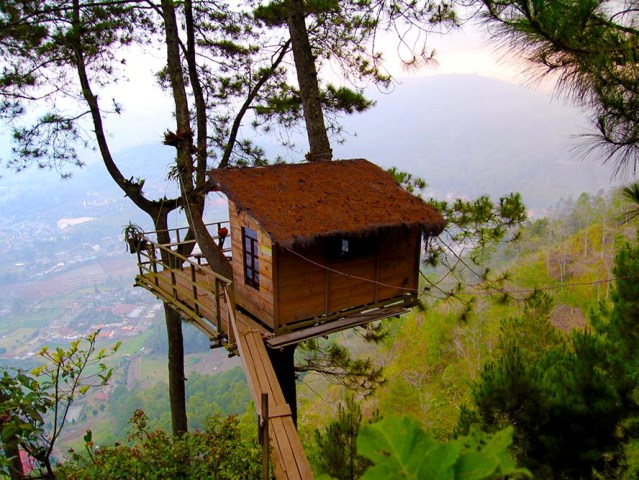 Imagine waking up to a romantic sunrise, the sounds of bird chirping, and the cool air—you can get all of these at Omah Kayu Paralayang. Situated on top of a beautiful hill 1,340 meters above sea level in Malang, you can expect cool, clean, pollution-free air; so much different with the weather in the city. There are six tree houses, and each has the capacity for three people. The best spot in these tree houses is the balcony, where you can gaze at the wonders of Mother Nature has given to us.
Rate: Rp350,000/cabin/night for weekdays, and Rp450,000/cabin/night for weekends
Address: Gunung Banyak, Jalan Songgokerto, Batu, Malang, East Java
Reserve with Bapak Anom at 085746611240 (WhatsApp) or call 085288776565
Magical Treehouse at Balangan Beach, Bali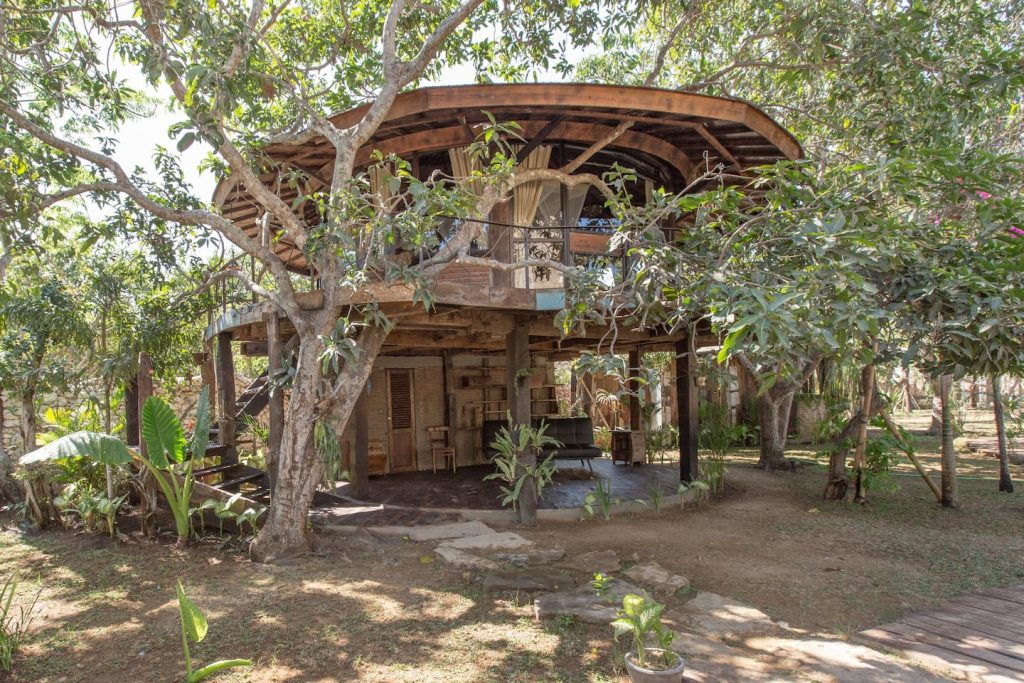 If you're bored with romantic villas on the beach or mountains, Magical Treehouse could be your alternative for unique accommodations in Bali. The tree house is built in a teak and kapok tree grove and you can comfortably enjoy the wonders of nature here. The good thing about Magical Treehouse is that it is located just about 5 minutes drive to the beach!
Rate: Starts from Rp1,000,000/night
Address: Jalan Pantai Balangan, Bali
Contact: 0363-23522
Taman Dayu Treehouse (The Pines)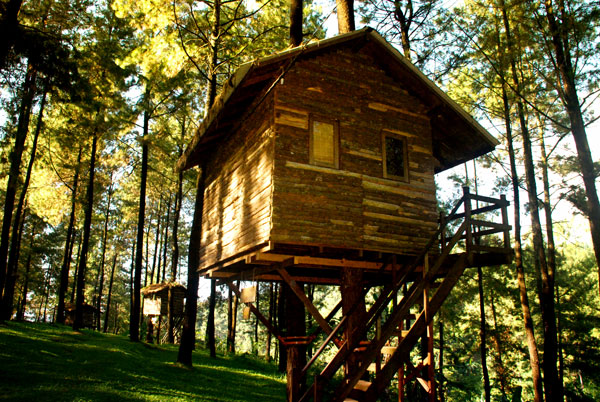 Pasuruan is a city with hot and humid weather—but did you know that it has this lush forest where you can stay in a treehouse? Located around an hour drive from Surabaya, Taman Dayu Treehouse is a must-visit place when you go to East Java. The room is simple with just a bed, decent pillows and a blanket. The air is fresh and clean—with the sounds of bird chirping to wake you up. Don't worry, the weather is not too cold, so you can still wear your thin clothes here. A range of outdoor activities are available here to give you an unforgettable stay.
Address: Jalan Raya Surabaya Malang KM 48, Pandaan, Pasuruan, East Java
Contact 0343-633411 for rates and other information
Rumah Pohon Leo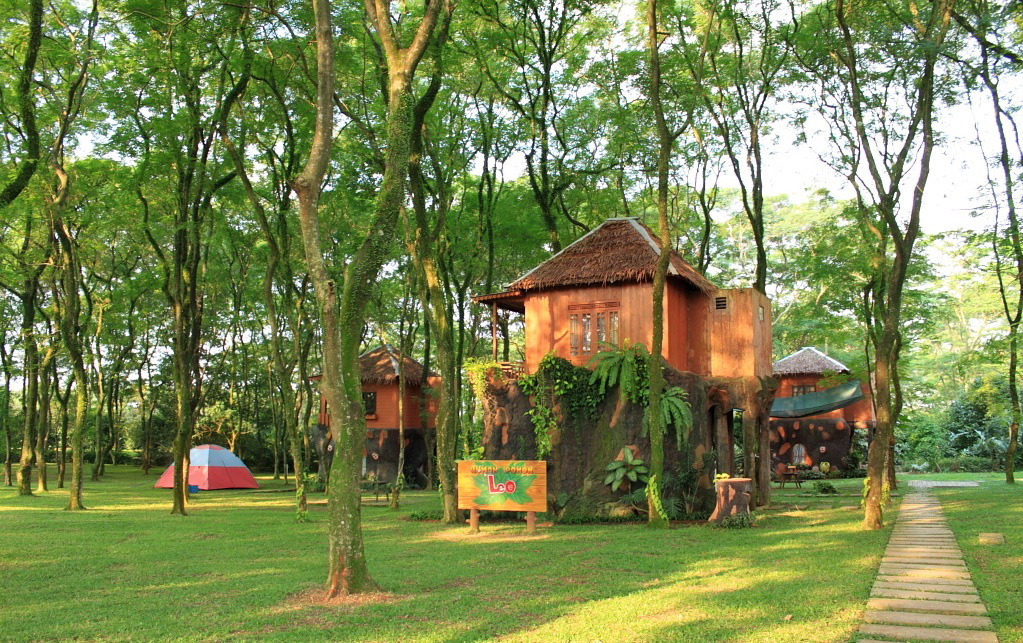 If you think the 'real' tree house is not safe, you can opt to go to Rumah Pohon Leo. The tree houses here are built from bricks with a shape that resembles a tree trunk. Don't worry because it's just as beautiful as the house built on a tree! The location is great to go for a sunset walk while admiring nature.
Address:Taman Buah Mekarsari, Jalan Raya Cileungsi KM 03, Bogor
Contact 021-8231811 – 12 ext. 220, 721 for rates and other info
Green Village Bamboo House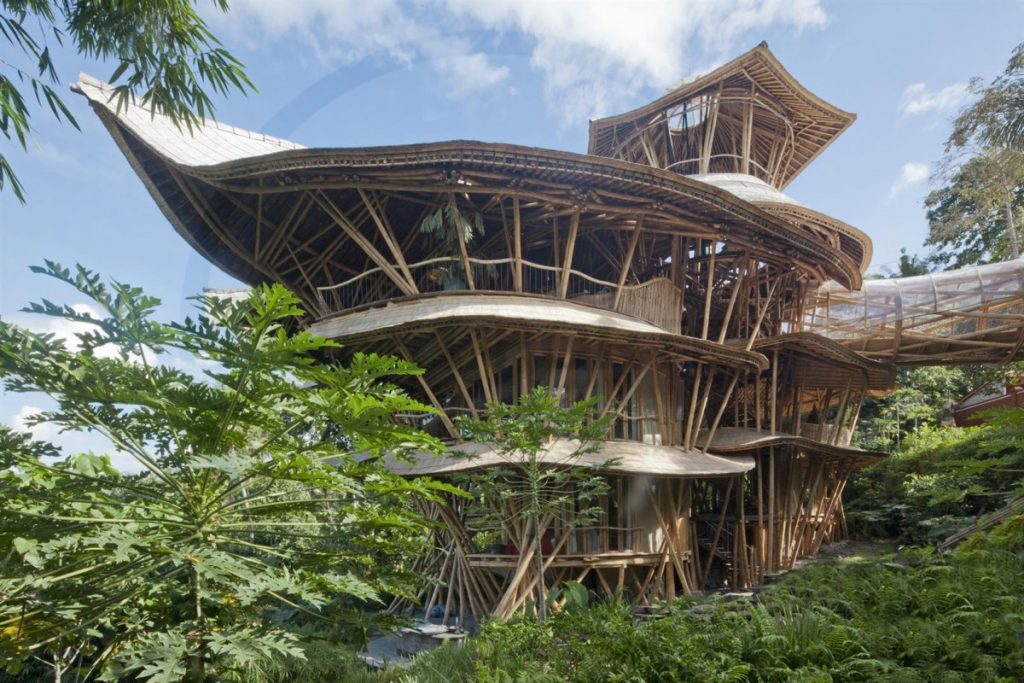 The Green Village is where your imaginary tree house meets luxury. This 6-storeys bamboo structure rest within a river valley along Ayung River, Bali, and it is undoubtedly one of the most unique accommodations you can find in Bali. The accommodation also boasts of incredible amenities and architecture. It is so fancy and perfect for a family vacation.
Rate: Starts from Rp9,500,000/night
Address: Jalan Raya Sibang Kaja, Abiansemal, Bali
Contact: 0363-23522