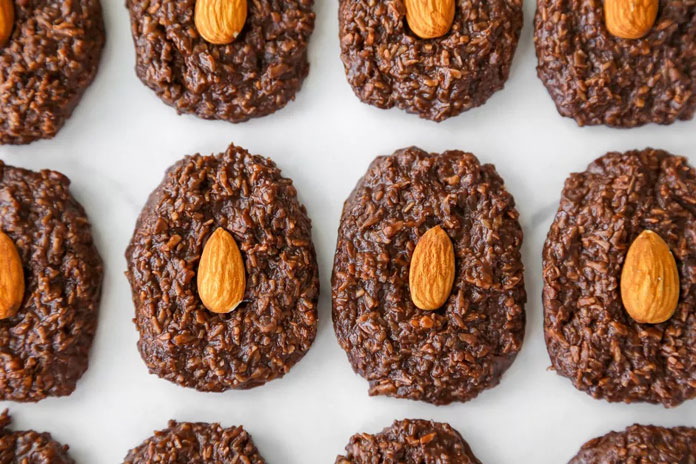 When it comes to desserts, cookies are one of the most enjoyable ones to eat. Unfortunately, there are some cookies that require the oven which makes it very uncomfortable during the summer heat. No-bake cookies are therefore a better choice during the summer as it is much easier to cook and are just as delicious. Try it out!
No-Bake Oatmeal Cookies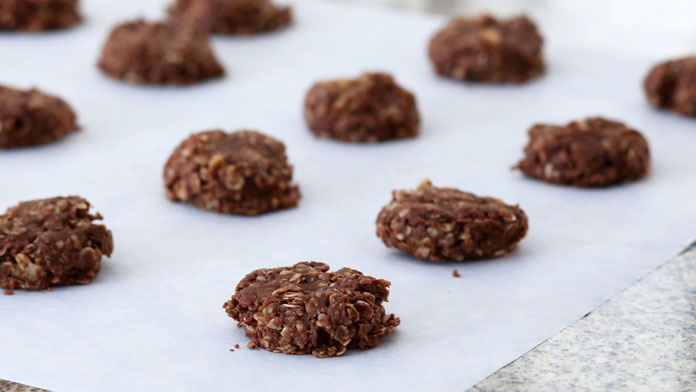 Ingredients:
1⁄4 cup unsalted butter (1/2 stick)
1⁄4 cup whole milk
1 cup granulated sugar
1⁄2 cup semisweet chocolate chips
2 1/2 tablespoons creamy peanut butter
1 1⁄2 cups old-fashioned oats
1 teaspoon pure vanilla extract
Method:
Add the oats, peanut butter, chocolate chips, and vanilla to a medium mixing bowl; set aside. Line 2 rimmed baking sheets with waxed paper and set aside.
Combine the butter, milk, and sugar in a small, heavy saucepan set over medium-high heat. Boil for 1 minute.
Pour the hot milk mixture into the oat mixture and stir well. Drop spoonfuls onto the waxed paper and cool, refrigerated, until the cookies set. If you're in a hurry, you can pop the cookies in the freezer to set faster. Remove from the waxed paper and serve.
No-Bake Almond Joy Cookies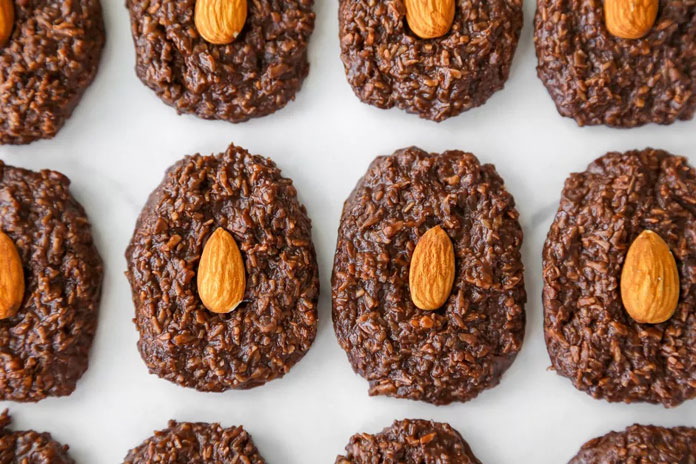 Ingredients:
Oatmeal (gluten free if necessary)
Coconut
Coconut Oil
Almond Butter
Maple Syrup (or date syrup or a mild tasting honey)
Cocoa Powder
Sea Salt
Almonds
Method:
Prepare the chocolate oatmeal layer first. Add all ingredients except oatmeal to a bowl and mix well until glossy. Add oatmeal, and stir come fully coat.
Divide the chocolate oatmeal layer into 12 cookies by pressing the mixture down in a mini muffin tin (I love my silicone mini muffin pan for this).
Prepare the almond coconut layer by adding the almond butter, coconut oil, and honey to a bowl. Mix to combine, and then microwave for 20-30 seconds to warm until it just begins to bubble, but not for too long. Watch carefully to keep the mixture from hardening too much. Remove from microwave, and add coconut, and stir to combine.
Divide the coconut layer between the 12 cookies.
Top with a layer of melted dark chocolate, and 2 almonds if desired.
Freeze until set, at least 25 minutes.
Fudgy Mint Chocolate No-Bake Cookies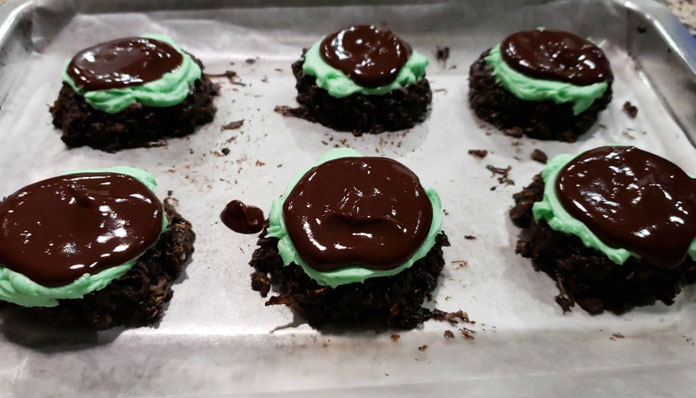 Ingredients:
Cookies
1/2 cup butter
2 cups granulated sugar
1/2 cup unsweetened cocoa powder
1/2 cup milk
1 teaspoon vanilla
1/2 teaspoon salt
3 1/2 cups oats I use quick
2 1/2 cups shredded unsweetened coconut
Frosting
1/2 cup butter room temperature
1 1/2 cups icing sugar
1 tbsp milk
1/2 tsp mint extract
green food coloring
Ganache
3/4 cup semisweet chocolate chips
1 tbsp milk
1 tbsp butter
Method:
Line 2 cookie sheets with wax paper.
In a large pot, combine butter, sugar, cocoa and milk. Bring to a boil over medium-high heat, stirring frequently, and boil 1-2 minutes.
Stir in vanilla and salt. Add oats and coconut and stir to combine.
Drop into 24 spoonfuls onto wax paper. Refrigerate until set.
Meanwhile, make the frosting. To a stand mixer (or use a hand mixer), add butter, icing sugar and milk and beat until creamy and blended. Add in mint extract and food coloring. If necessary, add an extra tbsp sugar or milk to achieve the right consistency — you do not want the icing runny.
Remove cookies from the fridge and spread with frosting. Return to the fridge to let the frosting set.
Make the ganache: In a small pot, combine chocolate, milk and butter over very low heat. Cook and stir constantly until chocolate is smooth. Set aside to cool 5-10 minutes. Spread on cooled cookies, and return to the refrigerator to allow chocolate to set.
Because they are slightly gooey, I like to store them in the fridge or freezer with wax paper between layers so they don't stick together.
No Bake Samoa Cookies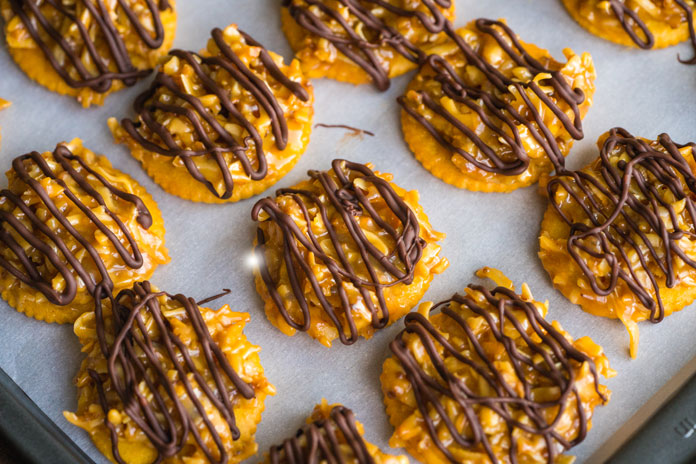 Ingredients:
1 pkg fudge stripe shortbread cookies about 20-24 cookies
1 (11 oz pkg) caramel bits
3 Tbsp heavy cream
2 cups toasted coconut*
2 squares chocolate
Instructions:
Line a baking sheet with foil and place the fudge stripe shortbread cookies stripe-up onto the baking sheet, spaced out about 1-2″ apart from one another. Set aside briefly.
In a medium microwaveable bowl, combine the caramel bits and the heavy cream. Microwave on HIGH for about 30 seconds. Stir, then microwave again for about 15-20 seconds. Stir until smooth & melted. Fold in the toasted coconut to combine.
Working quickly, drop Tablespoonfuls of the coconut caramel mixture onto each cookie, spreading it out to cover the surface of the cookie. Repeat with remaining cookies until all the cookies are covered.
In a small bowl, microwave the chocolate on HIGH power for about 30 seconds, stirring until melted & smooth. Drizzle the chocolate over the cookies (I like spooning the chocolate into a sandwich baggy, seal out the air, and snip off a corner for a makeshift piping bag). Let the chocolate and cookies set, about 15-20 minutes, before serving. Store airtight at room temperature.
*TO TOAST COCONUT: Spread the coconut in a foil-lined baking pan in an even layer. Preheat oven to 300 degrees F. Place coconut in the preheated oven and bake for 5 minutes. Stir, then bake for another 5-7 minutes. Stir once more and bake for an additional 3-5 minutes or until toasted, keeping a watchful eye on the coconut the whole time.
Irish Cream No Bake Cookies
Ingredients:
3/4 cup unsalted butter
2 cups granulated sugar
1 cup Irish Cream Liqueur
1 teaspoon vanilla extract
1/4 teaspoon kosher salt
4 cups 1-minute oatmeal
1/4 cup powdered coffee creamer
1 (3.4 oz.) box instant vanilla pudding mix dry
Instructions:
Add butter, sugar, and Irish cream to a large pot and bring to a boil. Keep on a rolling boil for 90 seconds.
Remove from heat and stir in remaining ingredients, once fully combined, plop large spoonfuls onto wax paper and let set for about an hour.
Notes:
You can replace vanilla pudding with white chocolate, chocolate, or cheesecake pudding.
If you would prefer them to be less boozy, I recommend 1/2 cup of milk and 1/2 cup of Irish Cream liqueur.
It's very important to have a rolling boil for 90 seconds, if you undercook then your cookies won't harden and if you overcook then your cookies will turn out dry and crumbly.
Cookies will have a hard time setting if it's raining or humid.
Which recipe are you interested in trying? Tell us what you think in the comment section below!