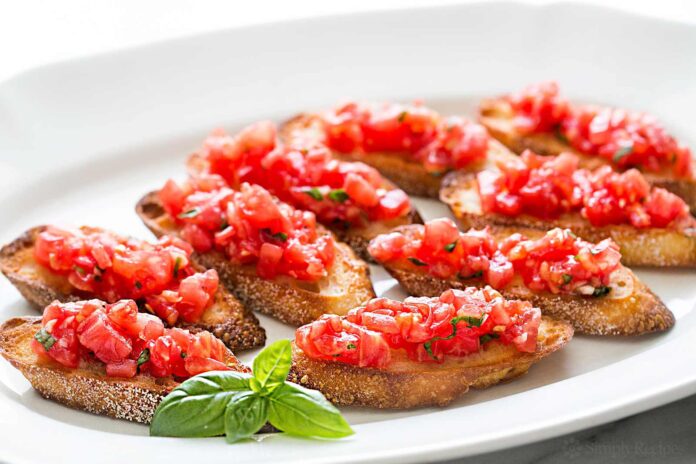 Stale bread is a dilemma that appears in many kitchens. It's tough to eat, but at the same time throwing it away will be a waste. With the world currently paying attention to environmental issues, we have also become more aware of the damage we do to the earth. One of the issues is waste as it emits greenhouse gases. For that reason, we compiled options for stale bread that you can make in order to reduce waste.
Here are some things you can do for stale bread:
Egg-in-hole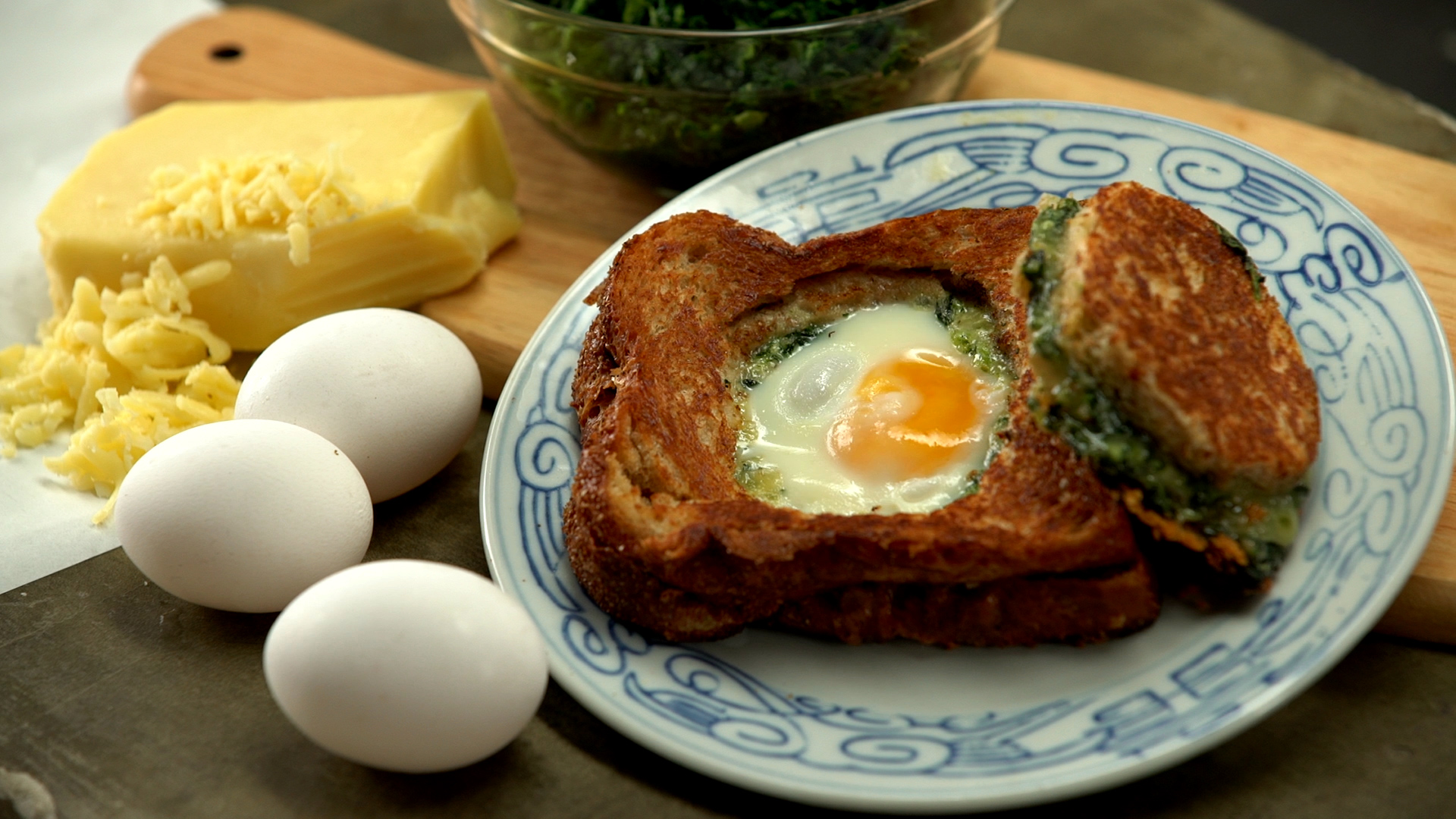 Ingredients:
2 Tbsp Butter
1 slice Bread (I like Texas Toast)
1 lg Egg
Salt & Pepper to taste
Method:
Using a small round cookie cutter  or other round cutter (2 1/8″ is a good size), cut the center out of the slice of bread, saving the center piece. Set both aside.
In a frying pan or on an electric griddle on medium heat, spread the butter onto the hot surface.
Place the bread on the hot buttered surface. Also place the center piece on the pan.
Then crack an egg directly into the hole in the slice of bread.
Sprinkle a pinch of slat and pepper onto the egg. Cook about 1-2 minutes, or until you can flip it. Also flip the center piece.
Flip the bread/egg, and sprinkle a little salt and pepper on that side. Cook until the desired softness of the egg is reached. I like runny yolks, so I cook about 1 1/2 – 2minutes.
If you like sunny side up eggs: Lay the bread on the hot skillet and toast that side. Then flip it and crack the egg into the hole. Season with salt and pepper. Cook until desired doneness of the egg is achieved!
Serve immediately. Use the center hole piece of bread to sop up the runny yolk! Yum!
Breadcrumbs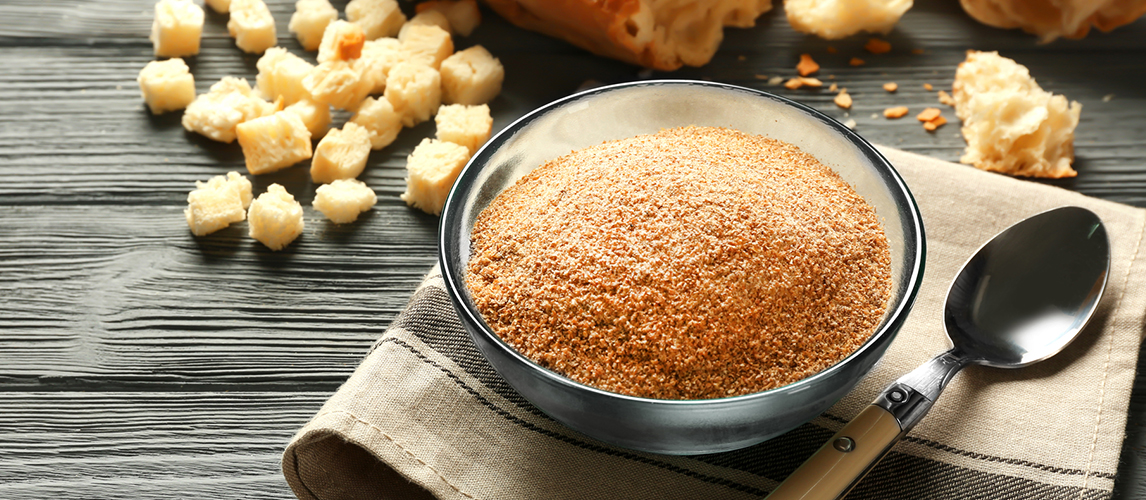 Method:
Preheat the oven to 200 degrees F. Arrange slices of coarse country bread, such as French or Italian bread, on a rimmed baking sheet. Let the slices dry in the low oven heat for about 1 hour.
Fit a food processor with the metal blade. Then, tear the bread into small pieces and drop into the work bowl. Alternatively, drop the pieces into the container of a blender.
Pulse the food processor or blender until the bread pieces are ground into fine crumbs. You may need to do this in batches to ensure that the crumbs are processed evenly.
Pour the crumbs into a bowl, then measure them. If you are not using them right away, store the crumbs in an airtight container in the refrigerator for up to 1 month.
French Toast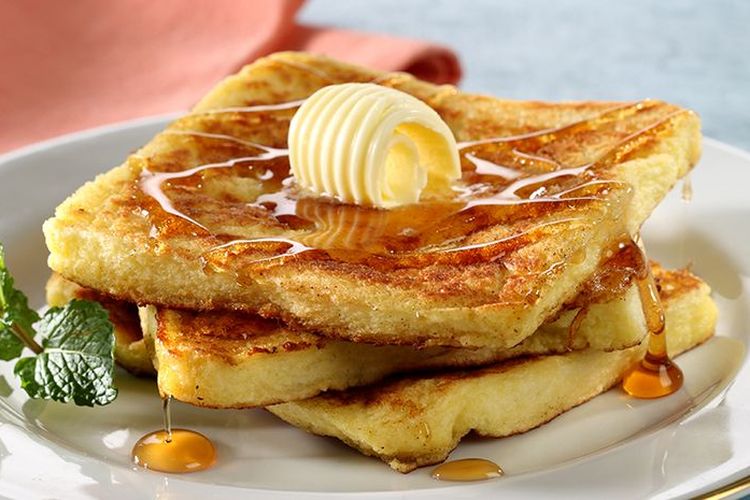 Ingredients:
4 eggs
2 teaspoon sugar
1 cup half-and-half
1/2 teaspoon pure vanilla extract
2 tablespoon butter
8 slices regular white bread
Method:
Gather the ingredients.
Pre-heat oven to 200 F.​
Beat the eggs thoroughly.
Whisk in the sugar, half-and-half, and vanilla.​
Pour the egg mixture into a shallow glass dish. An inch deep should be fine.​
Heat your griddle to medium-low and melt the butter on it.​
Soak a couple of slices of bread (but only as many your griddle can accommodate at once) in the eggs while you count to ten. Flip them over and repeat.​
Carefully remove the soaked slices from the eggs, letting the excess liquid drain back into the dish, and transfer the bread to the griddle.
Flip when the bottoms are golden brown.
When the other sides are also golden brown, remove from the griddle and place on a foil-lined baking sheet and place in your pre-heated oven to keep warm while you cook the remaining French toast.
Serve French toast right away and enjoy!
Bread Pudding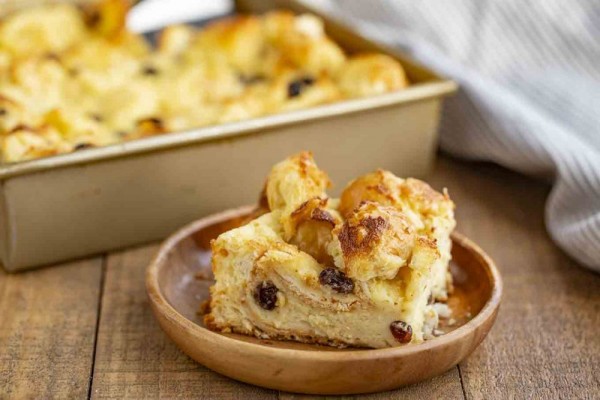 Ingredients:
Day-old bread
5 Eggs
4 cups Whole Milk/Skim Milk
1 Cup Granulated Sugar
Vanilla
Mixture of ground cinnamon and ground nutmeg
Method:
To make this bread pudding, start by spraying a 9×13 baking pan well with nonstick cooking spray. Next, cube your day old-bread into 1-inch pieces and place them in an even layer into the prepared baking dish.
Then, whisk together the eggs, granulated sugar, milk, vanilla extract, and spices. You will be using 5 whole eggs and 4 cups of milk, which may seem like a lot. As the bread bakes it will absorb the liquid, so don't worry!
Once you mix up the wet ingredients, pour it over the bread in your pan. Make sure that the mixture fully coats the bread, if you miss some pieces, just press them down into the mixture to make sure it is coated.
You want to let it sit for about 15 minutes, so the bread can absorb some of the liquid before it goes into the oven too. First prepare the bread pudding then once you're done, preheat the oven. Just let it sit and soak up the mixture while the oven preheats, which is usually right at about 15 minutes.
The bread pudding will take about 45 to 50 minutes in the oven. You will know it's done when the center is puffed up and firm if you gently touch it.
You do want to let it cool for just a little bit once you remove it from the oven so that it's easy to handle. This bread pudding is delicious served with a huge scoop of ice cream and some caramel sauce. But honestly, it's delicious just by itself!
Bruschetta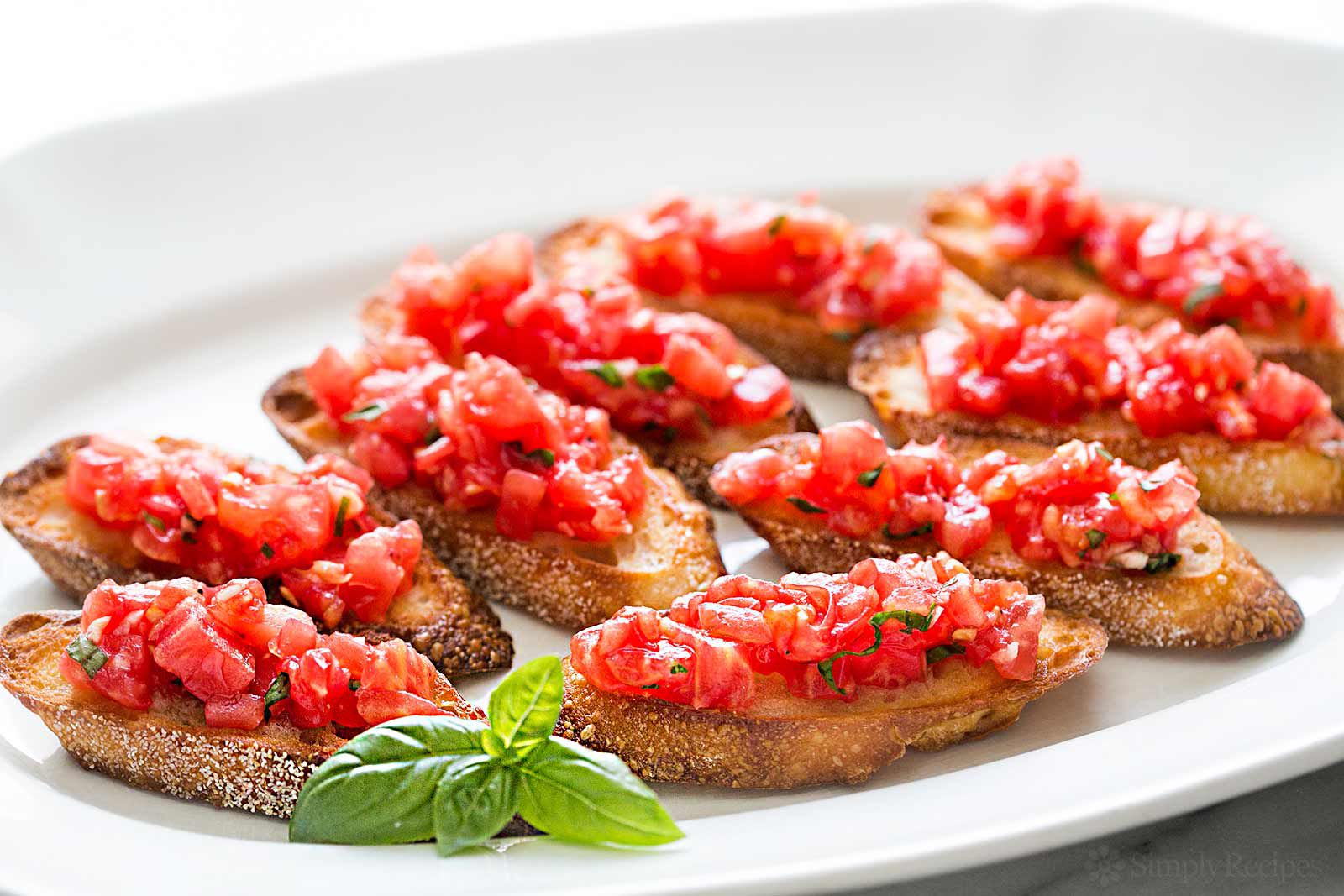 Ingredients:
Ripe Tomatoes: Any variety will do. Use the best tomatoes you can find.
White Onion: You won't find onion in every bruschetta recipe, but it adds a light crunch and additional flavor. With onion, you don't have to overload your bruschetta topping with garlic to make it taste amazing.
Fresh Basil: Only fresh will do. You'll want to use a big handful, whether it's from your garden or the store.
Garlic: Use fresh garlic, pressed in a garlic press or minced by hand. Jarred garlic is just not the same.
Crusty Baguette: Look for a slender loaf of crusty bread. Bake it until it's so crisp that it shatters when you bite into it.
Extra-Virgin Olive Oil: Brush the bread lightly with oil before toasting it and stir some into the tomato mixture for richness.
Method:
Use ripe tomatoes. Tomato bruschetta will always be best served during the summertime, but you can probably get by with cherry tomatoes in other seasons.
2. Drain off excess tomato juice. Most tomatoes (cherry tomatoes excluded) are quite juicy. When you toss diced tomato with salt, the juice exits the tomatoes, and you can end up with a watery bowl of tomatoes. We don't want soggy bruschetta, so pour off the excess juice before seasoning it at the end. This doesn't take any extra time, and produces a more flavorful and consistent end result.
3. Brush both sides of bread with oil. Oiling the bread ensures that both sides are golden brown and crispy (think of the difference between plain toast and homemade croutons). The oil also helps repel tomato juice so your toasts stay crisp.
4. Toast at 450 degrees Fahrenheit. High heat yields extra crispy toasts, which is whatwe are aiming for. Don't broil bread because broilers vary considerably from oven to oven, and no one wants to light their toast on fire.
5. Serve promptly. Wait to assemble your bruschetta until serving the food, because tomato-topped bread will inevitably soften as time goes on. You could make the tomato mixture up to two days in advance, and the toasts a couple of hours in advance.
Spanish Tapas: Pan Con Tomate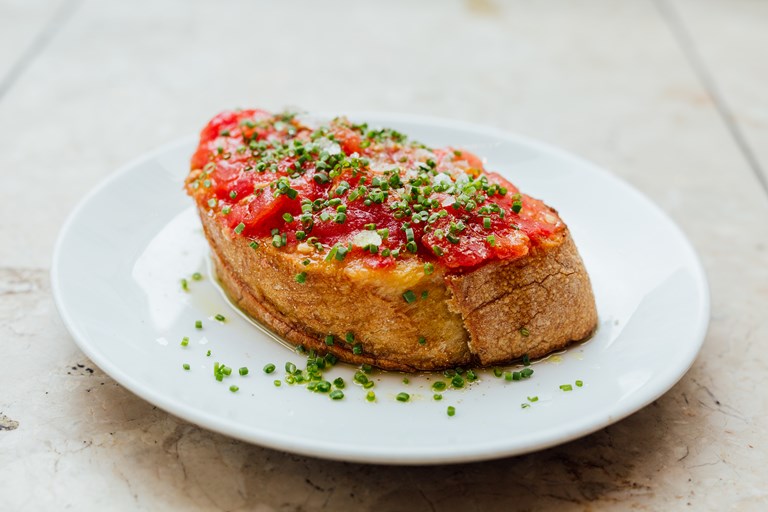 Ingredients:
4 medium tomatoes
Extra virgin olive oil
1 garlic clove
Salt to taste
½ loaf of whole-what, rustic or unleavened bread sliced medium thick.
Method:
Toast sliced bread on a baking sheet at 250 degrees Fahrenheit until evenly browned, flipping halfway through.
Cut tomatoes in half, and grate it into a small bowl on a box grater, discarding the step and skins.
Add about 1 tablespoon of olive oil and a pinch of salt to the bowl.
Cut the clove of garlic in half and rub the raw garlic on the toasted bread.
Carefully spoon the tomato mixture onto the slices of garlic toast, and top with a drizzle of extra virgin olive oil and a sprinkle of sea salt.
Which recipe are you keen on trying? What do you currently do to your stale bread? Share your experiences in the comments section below!