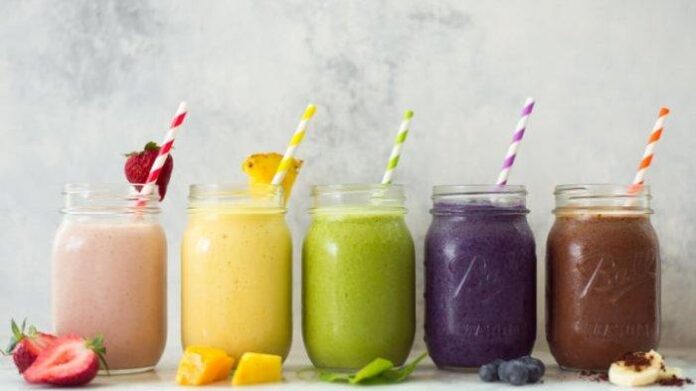 Amongst several minerals that we have all heard, iron is one of the most necessary minerals needed in the body. It's necessity is due to the fact that it is used to make haemoglobin, which is a protein in red blood cells and also moves oxygen around your body. Therefore, when your iron is low, the blood will not be able to circulate the oxygen around the body well.
Speaking of iron, there are mainly two types of iron which are heme and nonheme iron. Heme iron is found in animal food sources such as meat and chicken. Nonheme iron, on the other hand, comes from plants and iron-fortified foods. Unfortunately, you can't absorb nonheme iron as easily as heme cousin. This is where vitamin C comes in, as it helps the absorption of iron in the body.
When you have anemia, it means your body's iron stores are low and there aren't enough normal red blood cells to carry oxygen around. The solution would be to eat more iron-rich foods even if it is nonheme.
Try out these six smoothies rich in iron (some with added vitamin C foods)!
Strawberry spinach smoothie
Ingredients:
Frozen Strawberries.
Spinach.
Frozen Pineapple.
Frozen Banana. (If you prefer to make this strawberry spinach smoothie with no banana, you can omit it and add additional fruit and a small handful of ice)
Almond Milk or any milk you like.
Chia Seeds.
Method:
Add all ingredients to your blender in the order listed.
Tip: If you are using a regular blender (versus a high-powered blender), blend the greens and milk together first, then add the frozen fruit a handful at a time. This will make sure the smoothie blends the ingredients better.
Asparagus avocado smoothie
Ingredients:
1 cup mixed greens
2 cups chopped asparagus, tough ends discarded
½ avocado, peeled and pitted
1 celery stalk, including leaves
1 small tart apple, peeled and cored
Juice from 1/2 lime
Pinch of sea salt
2 cups green tea, cooled
Method:
Combine all ingredients and blend on high until smooth. Add more liquid if necessary.
Strawberry banana tofu shake
Ingredients:
1 package (10 ounces) frozen, unsweetened strawberries, thawed
1 cup plain soymilk
1 small ripe banana, peeled and sliced
1/4 cup honey
1 package (12 ounces) silken soft tofu, drained
2 tablespoons fresh lemon juice
Pinch of salt
Method:
In a blender, puree berries until smooth. Remove, and rinse blender.
Combine the remaining ingredients in the blender.
Puree until smooth and thoroughly mixed, scraping down sides with rubber spatula as necessary.
Divide among glasses and spoon strawberry puree on one side of each glass. Serve immediately or store in the refrigerator. If refrigerating, whisk to recombine just before serving.
Prune breakfast detox smoothie
Ingredients:
1 banana, peeled and sliced
4 Sunsweet® Pitted Prunes, chopped
3 tbsp rolled oats
2 tbsp 2% plain yogurt
1 tbsp chia seeds
1 tsp honey
1 tsp finely grated ginger
1/4 cup spinach or kale
2/3 cup skim or 2% milk
2/3 cup Prune Juice
Method:
Combine all the ingredients in the order of the list into the blender. Puree until smooth.
Mulberry morning smoothie
Ingredients:
1 cup fresh mulberries, washed and drained
1 medium banana
½ cup almond milk
1 cup Greek Yoghurt
¼ cup Oat
1 Tbsp. chia seeds
Method:
Pour all ingredients in the blender and blend on high speed until smooth
Add water if you want a thinner texture and you can add some ice cubes for a chiller smoothie.
Serve and enjoy!
Apricot and almond smoothie
Ingredients:
3/4 C Almond milk (preferably homemade)
1/2 Frozen banana ( I freeze peeled, halved bananas when they're turning brown)
4 Soft dried apricots (organic, unsulphured)
1/2 tsp Vanilla extract
1/8 tsp Almond extract
1/8 tsp Ground cardamom (optional)
Method:
Blend all ingredients together until thick and smooth.
Serve immediately.
What do you think of these recipes? Have you tried any of it? Tell us in the comment section below!