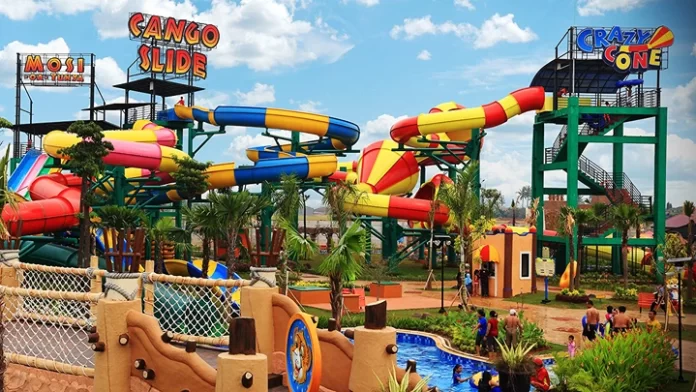 Waterparks are cool, fun, and suitable for the whole family! There are lots of fun waterparks in Indonesia, from adrenaline-pumping to relaxing ones, they're all here.
Here are 7 waterparks in and around Jakarta you must try:
1. The Wave Pondok Indah Water Park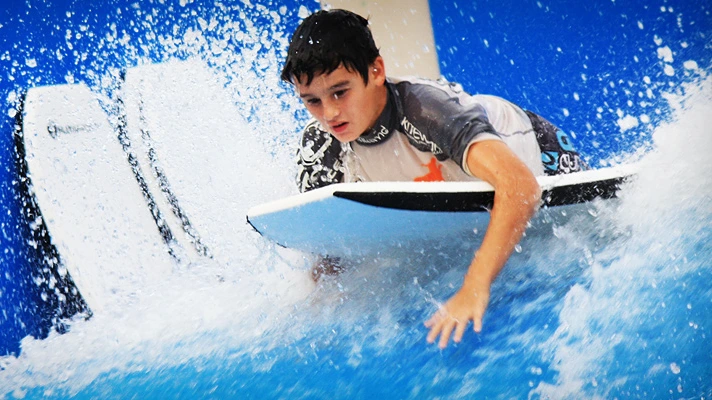 Are you ready to create your personal out-of-the-world surfing experience? In this family suitable waterpark, experience surfing like when we surf at the beach at Flow Rider ride to. On the Flow Rider ride, visitors can safely surf in one place under the care of a well-trained guard. Pondok Indah Water park also has other exciting rides such as Olympic Pool, Aqua Play, Tube Slide, Wave Pool, Whizzard Slide, Lazy River, and Flow Rider.
Address: Jl. Metro Pondok Indah, South Jakarta (Next to PIM I & Street Gallery)
Open: Daily 6AM – 9PM
2. The Jungle Adventure Bogor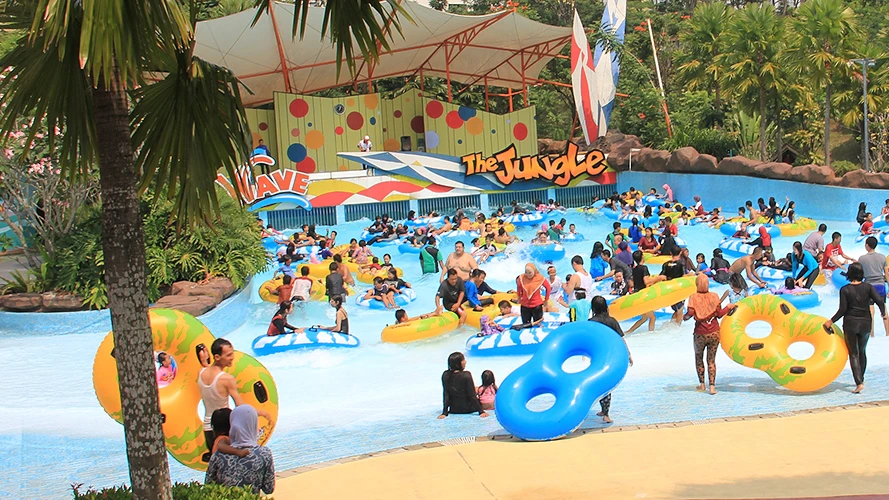 The Jungle Adventure Bogor is located in a mountainous location with Mount Salak as the background, with 60% green area. Inside this waterpark there are various exciting rides such as Leisure Pool, Racer Slide, Kiddy Pool, Kolam Ombak, Tower Slide, Kolam Air Hangat, Fountain Futsal, Giant Aquarium, and Lazy River. There are also educational rides outside the swimming pool, such as the Bird Park.
Address: Jl. Bogor Nirwana Boulevard, Bogor Nirwana Residence (BNR), Dreded Pahlawan, Bogor Selatan, Kota Bogor 16132
Open: Monday – Thursday = 9AM – 5PM, Friday = 9AM – 5PM, Saturday & Sunday = 9AM – 5PM, National Holidays = 9AM – 5PM
Phone: (0251) 8212 666/ WA. 0858 8590 2966
Website: https://www.thejungleadventure.com
4. Atlantis Water Adventures, Ancol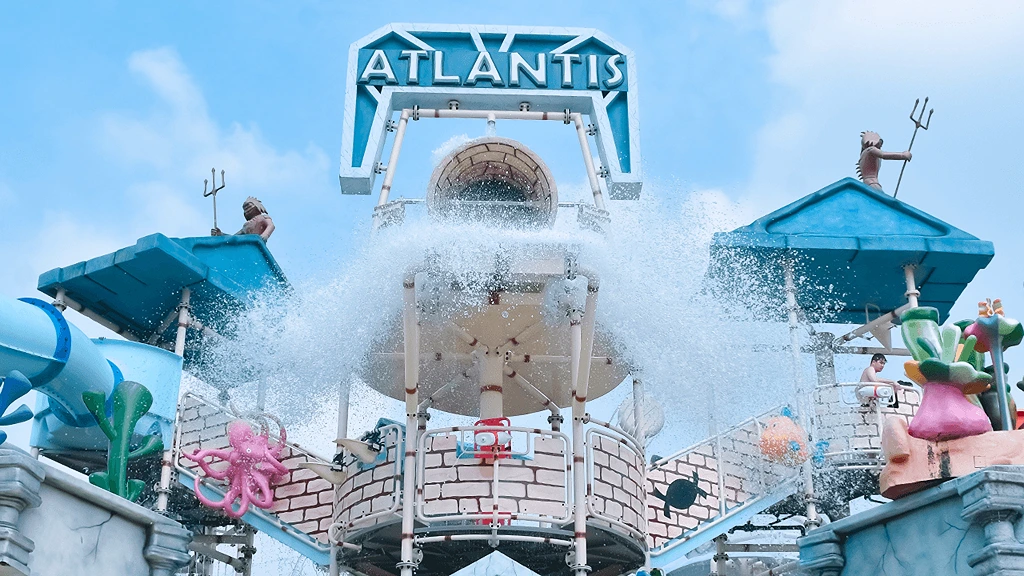 With a unique ancient Mediterranean theme, this place is guaranteed to make anyone visiting this excited. There are various challenging rides such as Dragon Slide, Dragon Race, Crazy Slide, Skybox, Poseidon Wave Pool, Apollo Pool, Antila River, and many more!
Address: Ancol Dreamland, Jl. Lodan Timur No.7, North Jakarta
Open: Weekdays: 8AM – 6PM, Weekends & public holiday 7AM – 8PM
5. Ocean Park Water Adventure, BSD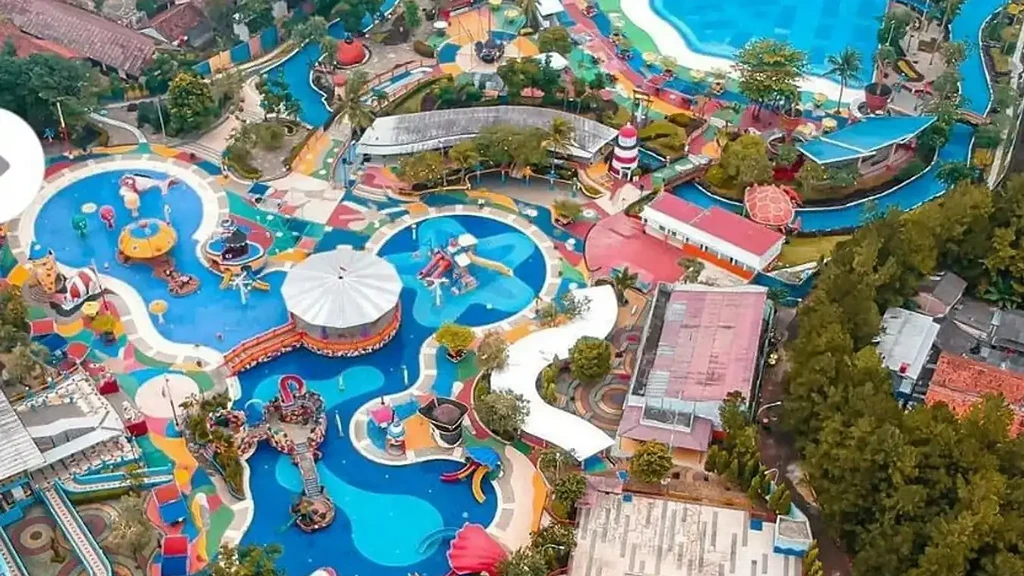 The Ocean Park BSD has rides not only for children, but also for adults. Enjoy a gliding race at the thrilling Flying Tower or Racer Slide, then relax while floating in the Caribbean River and Pacific Wave currents. After swimming, explore a variety of other interesting attractions, from a waterfall made by Lagoona the Bahamas to a flying fox and a 4D theater.
Address: Jl. Pahlawan Seribu, CBD Area, Tangerang Selatan, Banten
Open: Monday-Thursday 11AM – 4PM, Friday Closed, Weekend 9AM – 4PM
Website: http://oceanpark.co.id
6. Waterworld Krakatau, Cilegon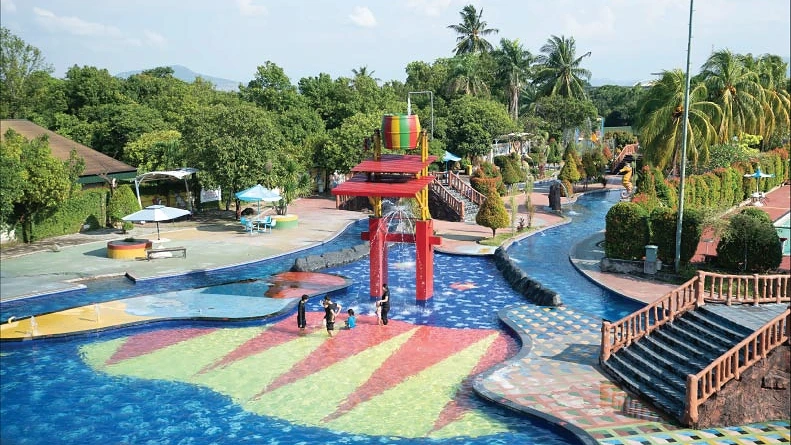 Visitors who want to practice long-distance swimming with international standards can try the Sunda Straits Pool. For lovers of challenges that make adrenaline rise, you can try the Volcano Flow Slide. Meanwhile, the rides that provide a relaxed sensation in the pool area are the Anak Krakatau rides. Other must-try rides here are the Ancient Crater, Dry Pool, and Eruption Rides.
Address: Jl. KH. Yasin Beji No. 6, Kebondalem, Purwakarta, Kebondalem, Kec. Purwakarta, Kota Cilegon, Banten 42433.
Phone: +6221 8671533
Open: Daily 07.00 AM – 05.00 PM
Website: https://krakatauwaterworld.com
7. Go! Splash Panjibuwono Waterpark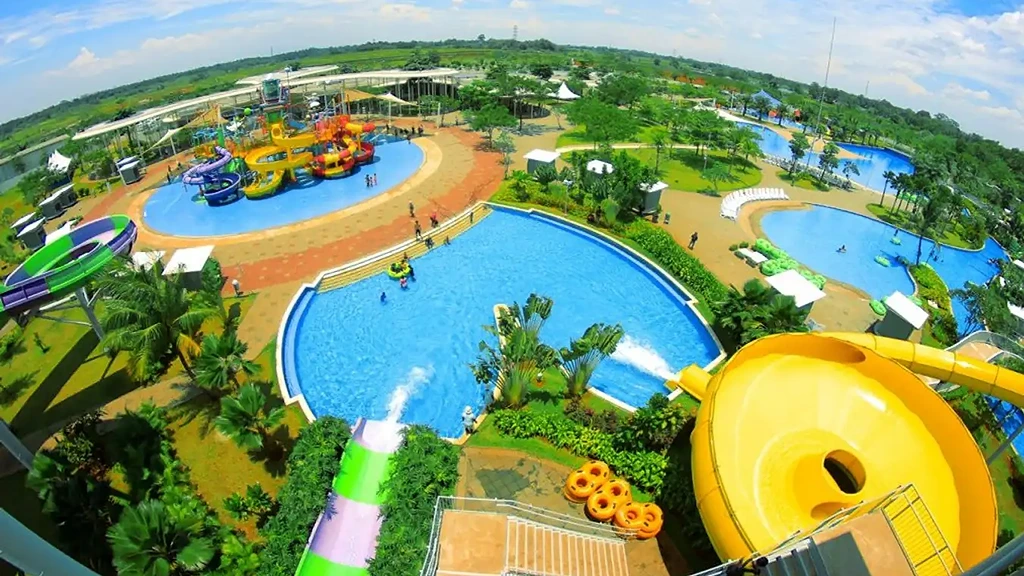 Have the ultimate blast at Go! Splash, the biggest waterpark in North Bekasi! The visitors can set the mind free by sliding from the thrilling 3-floor water slide and enjoy playing in various water playgrounds to release the tension. Share the exciting water adventure with your loved ones here. The fun doesn't stop there as the visitors can also enjoy the Splash/Spray Pads or the Bucket Drop. If the visitors simply want to swim, no need to worry as the water is always cleaned every day.
Address: Kedung Pengawas, Kec. Babelan, Bekasi, Jawa Barat 17610, Indonesia
Phone: +628128736438
Which waterparks have you visited in Indonesia? Share what you think in the comments section below.