If you travel to certain areas in Indonesia, souvenirs or Oleh-oleh (in Bahasa Indonesia) become the one thing that you must bring home. Especially if the souvenirs are edible. It's because each area in Indonesia has its own specialty dishes that you might not find anywhere else.
For example, from Bali you can bring Pie Susu (milk pie); from Medan you can bring Bolu Meranti (roll cakes); or from Surabaya you can bring Sambal Ibu Rudi. Each province seems to have at least one signature food that visitors can buy and bring home.
Recently, you may notice a new type of souvenir that comes in the form of a celebrity cake. We call it celebrity cake because these are really brands made by Indonesian celebrities. City label like Bandung, Malang, or Surabaya on these brands also implies that the cake is the signature souvenir from the city itself. These cakes have become must-try Oleh-oleh from certain major cities in Indonesia.
Curious? There are total 24 celebrity souvenir brands in Indonesia, but we have rounded up the most favorite 7 brands you must try:
Bandung Makuta by Laudya Cynthia Bella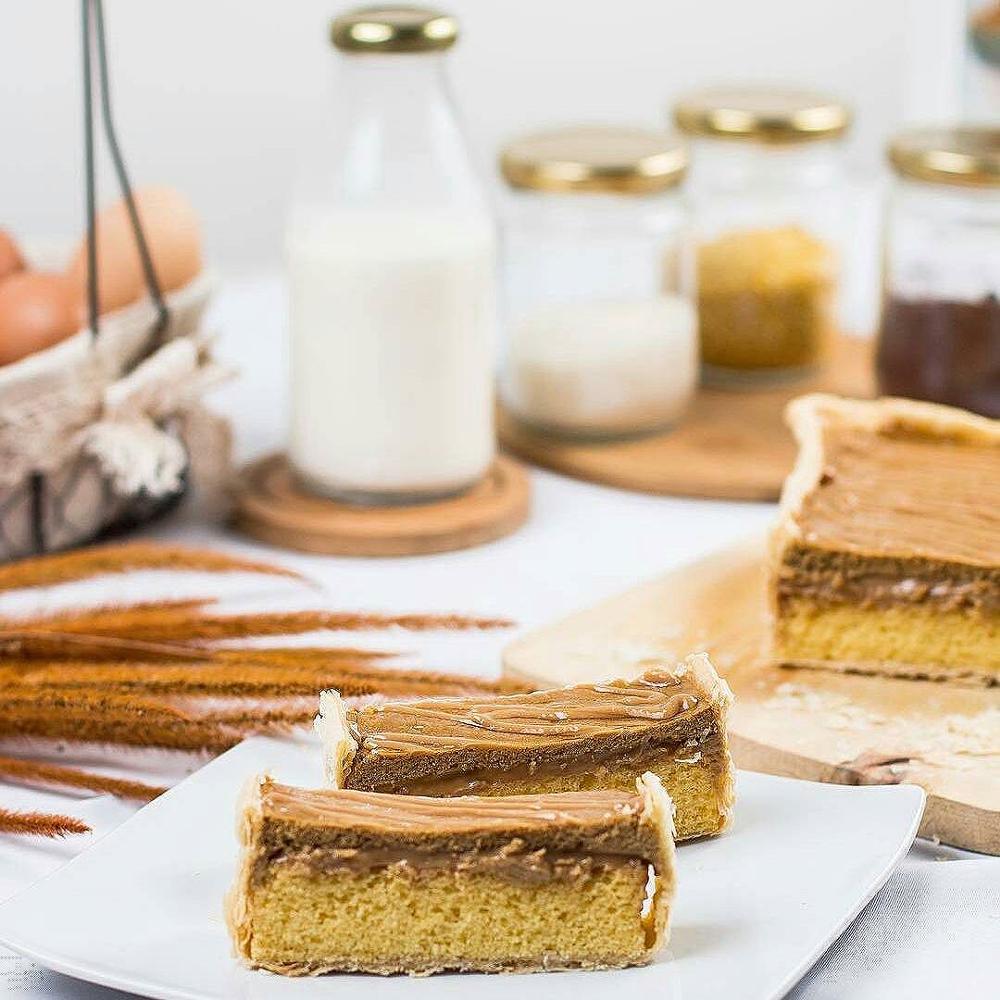 The soap opera actress opened her business on March 2017 and the brand has gained popularity since then. Bandung Makuta itself is a loaf of cake that is "molded" in a pastry skin. The cake is then topped with whipping cream in various flavors. People love the combination of three textures this cake has: fluffy cake, crunchy pastry, and soft cream.The cake is available in six variants: Blueberry, Chocolate, Cheese, Extra Cheese, Lemon, and Caramel. The Bandung Makuta can only be purchased in Bandung and cannot be delivered to other cities in Indonesia.
Address:
Jalan Aruna No 15 Bandung, West Java
Phone 08112109599
Malang Strudel by Teuku Wisnu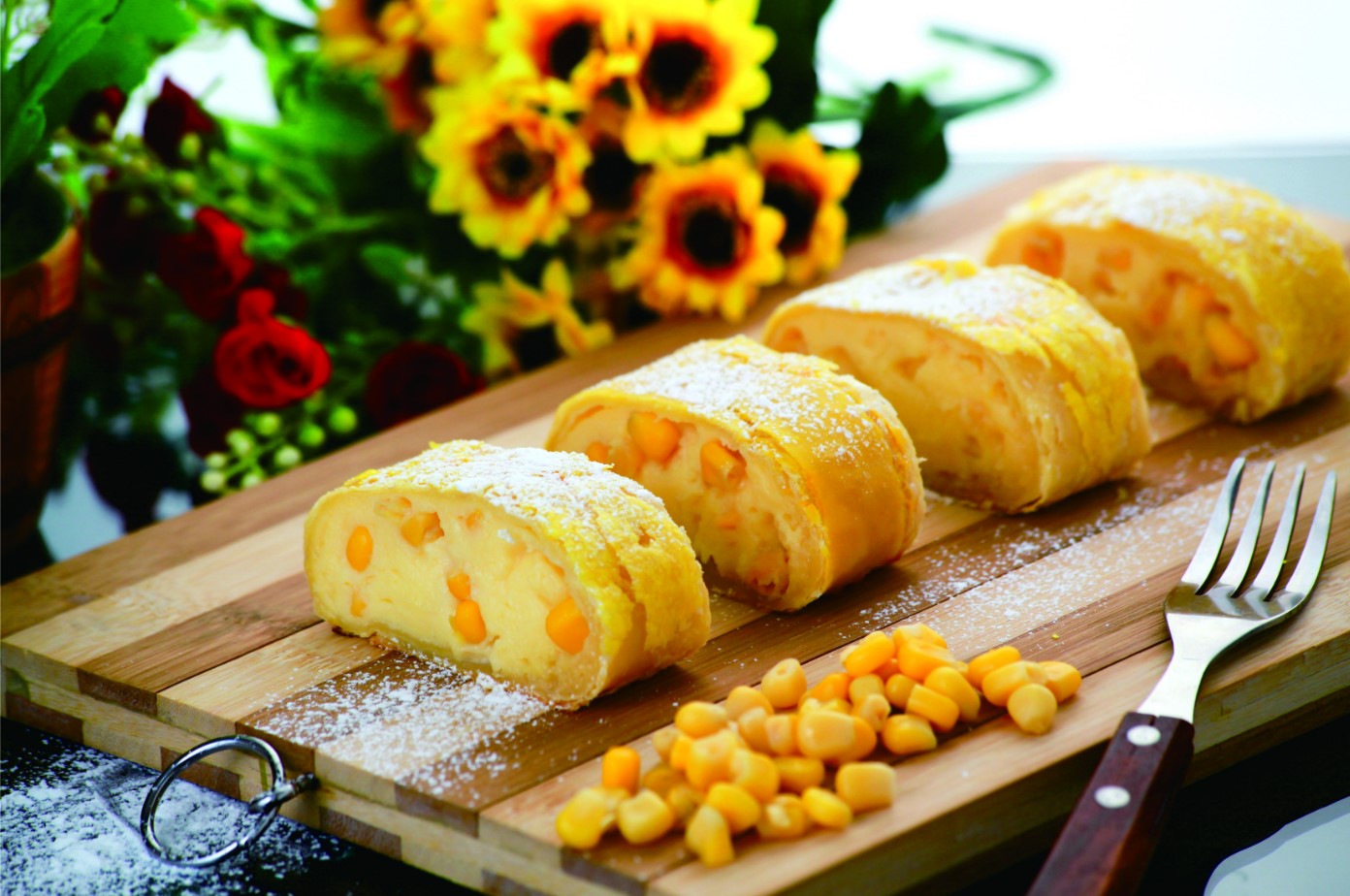 Teuku Wisnu started his celebrity cake brand in December 2014. As its name implies, this souvenir is a type of fruit strudel that is inspired by European baklava. Now, Malang Strudel has become one of the must buy souvenirs from the city of Malang, East Java. Malang Strudel is available in 7 fillings: Pineapple, Apple, Choco Banana, Cheese, Strawberry, Orange, and Mix Fruit. Just like other Oleh-oleh from Malang, you can only get the strudel from Malang Strudel's outlets.
Address:
Jalan Ardimulyo No 14 Singosari, Malang, East Java
Phone 0341-441144
Jalan Soekarno Hatta 2 Kav 6 Malang, East Java
Phone 0341-480242
Jogja Scrummy by Dude Herlino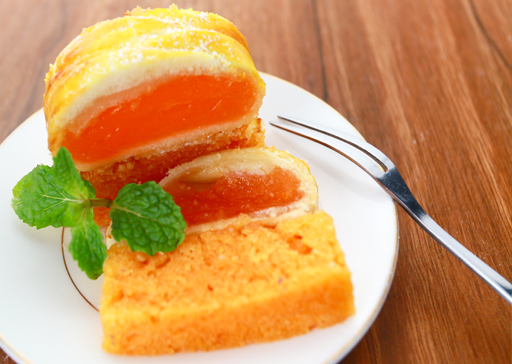 Launched in June 2016, Jogja Scrummy now positions itself among other popular souvenirs from Yogyakarta like bakpia. Similar to Bandung Makuta, Jogja Scrummy is a steamed brownies layered with pastry and various filings, like Mango, Taro, Kaya, Chocolate, Cheese, and Caramel. Aside from creating signature souvenir from Yogyakarta, Dude Herlino, who is famous as soap opera actor in Indonesia, also helps local carrot farmers in Yogyakarta by creating carrot cake variants. Jogja Scrummy can only be purchased from its official outlets in Yogyakarta.
Address:
Ruko Cakra Jalan Kaliurang KM 5.5 No 44 Depok Sleman, Yogyakarta
Phone 0274-2840649
Jalan Jogonegaran, Sosromenduran, Gedong Tengen, Yogyakarta
Phone 0274-561961
Jalan Brigjen Katamso No 198 Keparakan, Mergangsan, Yogyakarta
Phone 0274-4221013
Jalan Laksa Adisucipto 7,5, Caturtunggal, Depok Sleman, Yogyakarta
Phone 0274-485203
Mamahke Jogja by Zaskia Adya Mecca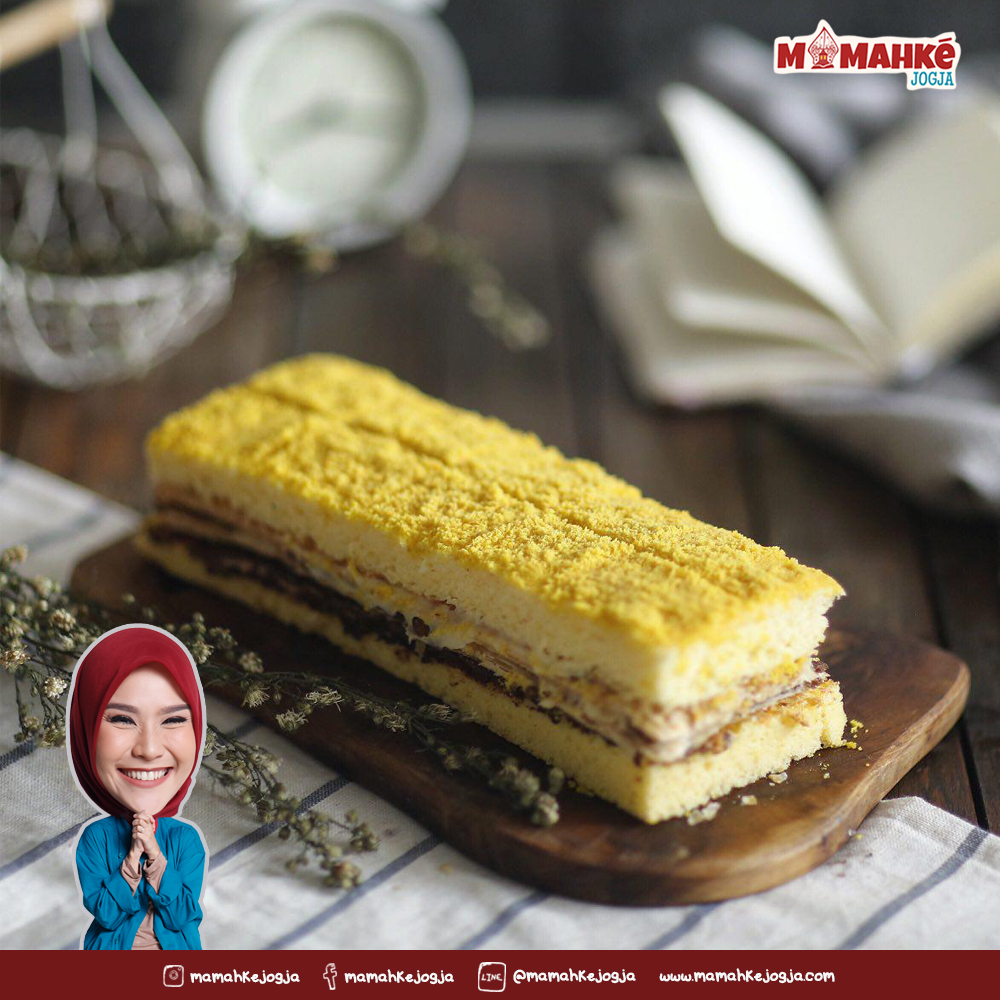 Actually, people hate this brand. Not because the cake is not delicious, but the queue at the outlet is no joke. Everyday people line up at Mamahke Jogja outlet since dawn to get this cake. Mamahke Jogja comes in the form of a bottom layer of cake, a thin puff pastry, and another soft cake on top. It is available in six flavors: Chocolate, Green Tea, Cheese, Red Velvet, Tiramisu, and Choco Banana.
Address:
Jalan Taman KT 1/329 YK (southern of Tamansari) Yogyakarta
Phone 08118063080
Medan Napoleon by Irwansyah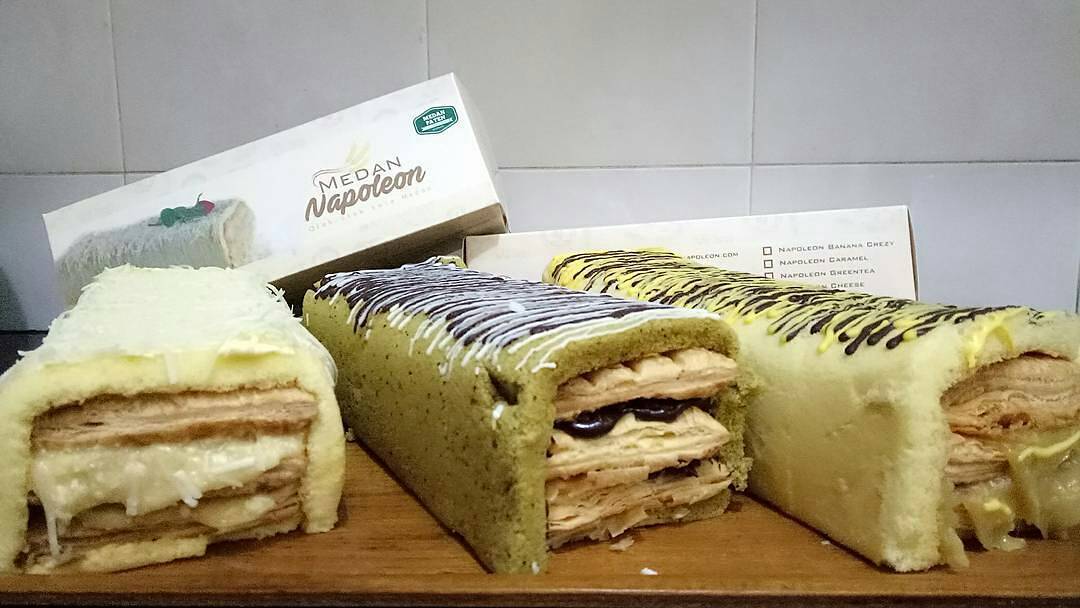 Irwansyah started his business in October 2016. At a glance, Medan Napoleon looks similar to another famous Medan cake Bolu Meranti. However, Medan Napoleon is not a regular roll cake. It is actually a Russian specialty cake, that first made to celebrate the victory of Russia over Napoleon Bonaparte. The roll cake is filled with thin, crispy puff pastry in various flavors like Durian, Cheese, Green Tea, Banana, Red Velvet, and Caramel. It is then topped with chocolate sauce or grated cheese.
Location:
Jalan KH Wahid Hasyim No 46/35 Babura, Medan Baru, Medan, North Sumatera
Phone 061-88814431
Surabaya Snow Cake by Zaskia Sungkar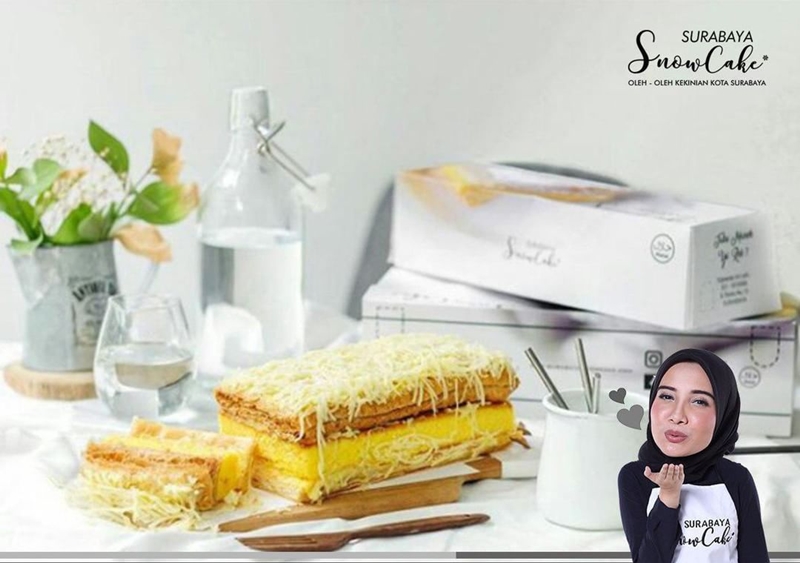 Zaskia Sungkar also follows his husband's phenomenal Medan Napoleon by creating Surabaya Snow Cake. The cake itself really suits the name. Surabaya Snow Cake comes in the form of crispy puff pastry layered with soft cotton cake and another puff pastry. It is springkled with powdered white sugar that resembles snow. The cake is available in various flavors like O'Cheese, Cheese, Choco Greentea, Caramel, Choco Banana, and Vanilla. Surabaya Snow Cake is only available at its official outlets or mobile stores around Surabaya.
Address:
Jalan Flores No 15 Ngagel, Wonokromo, Surabaya East Java
Phone 0818321046
Lamington Pontianak by Glenn Alinskie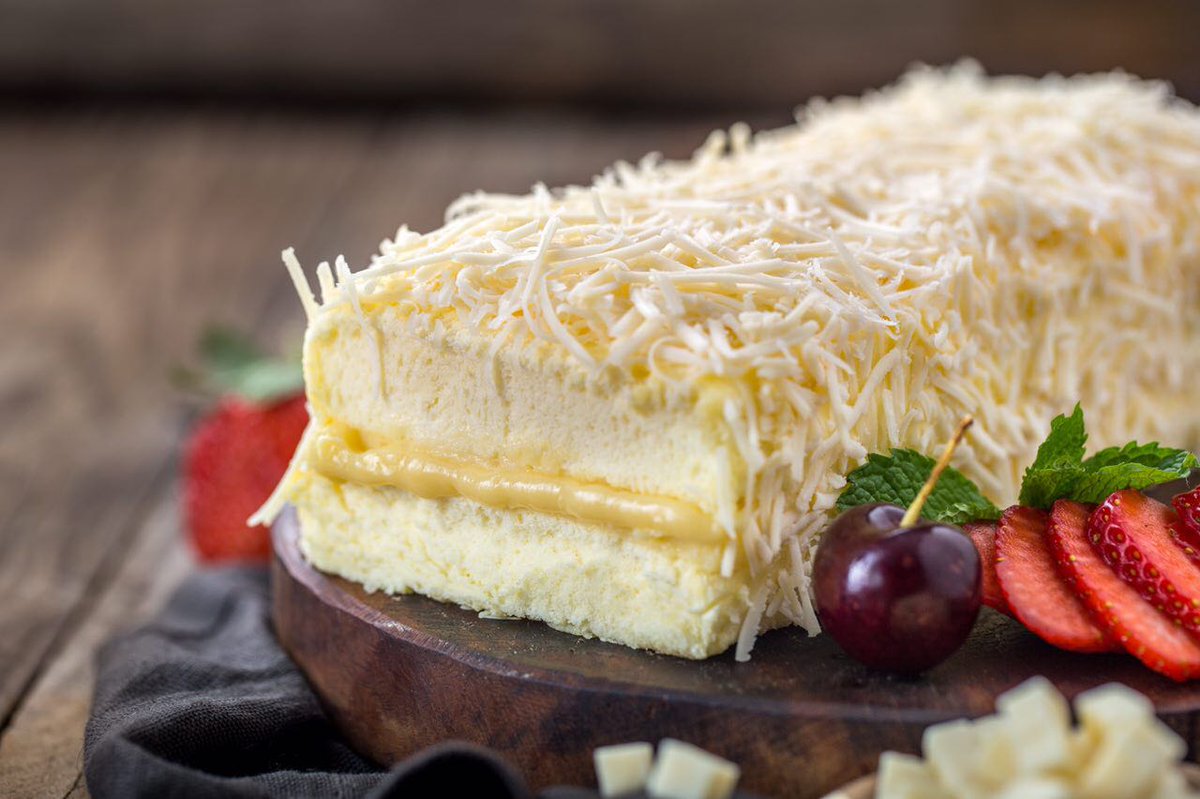 Lamington cake is actually a specialty cake from Australia, but Glenn Alinskie managed to adjust the flavor and texture to suit Indonesians palate. Lamington cake consists of two layers of soft cotton cake with creamy filling and various topping. Lamington cake a la Glenn Alinskie is available in various flavors such as Durian, Choco Banana, Srikaya, Red Velvet, Coconut and Green Tea. Glenn Alinskie gets the durian, pineapples, srikaya and coconut locally from Pontianak, so he also helps local business to grow along with his Lamington cake.
Address:
Jalan Jenderal Ahmad Yani No 116, Pontianak