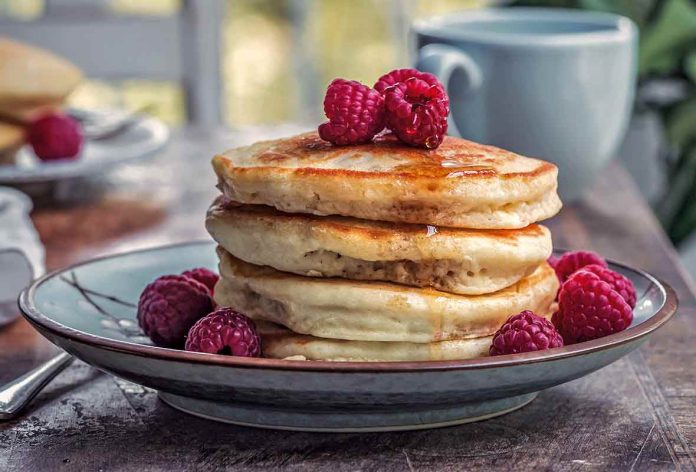 Comfort is classic, comforting and sentimental. It definitely brings up feelings of sentiment and nostalgia when you eat it, for it's both delicious and comforting. Comfort food are also characterized by its high caloric nature, high carbohydrate level, or simple preparation. Vegan comfort food, on the other hand, is not easy to make for it requires more effort and thinking.
Here are 6 vegan comfort food recipes you can try at home:
Vegan French Toast

Ingredients:
1

 

heaping Tbsp

 

chia seeds 

(whole or ground into a fine meal so it's undetectable)

1/2

 

Tbsp

 

agave nectar or maple syrup 

(or sub honey if not vegan)

1

 

cup

 

unsweetened almond milk 

(or any non-dairy milk)

1/2

 

tsp

 

ground cinnamon

1/2

 

tsp

 

vanilla extract

4

–

5

 

slices

 

bread 

(it's important to use a sturdy, rustic bread or it can turn out soggy/soft)
Instructions:
Mix all ingredients except the bread in a large, shallow bowl. Place in the fridge to activate for 10-20 minutes.
Preheat griddle to medium heat (~350 degrees F / 176 C) and grease with 1 Tbsp vegan butter or coconut oil.
Dip each slice of bread in the batter for about 20 seconds on each side. If your bread is dry, leave it in a little longer. If you're using sandwich bread, it should only need 25-30 seconds total to soak.
Place on griddle and cook until golden brown on the underside. Carefully flip and cook until the other side is golden brown as well – 3-4 minutes.
Notes:
Top with desired toppings: You can choose among coconut whipped cream, strawberries, and maple syrup.
Vegan Omelette

Ingredients
1

 

Tbsp

 

flaxmeal

1

Tbsp

 

Oat flour

 

or omit

1/3

 

cup

 (

40

 

g

) 

chickpea flour

(

besan)

1/2

 

cup

 (

125

 

ml

) 

water

1/4

t

sp

 (

0.25

 

teaspoon

) 

salt

a generous pinch of black salt/kala namak

 1/8 t

sp

a generous pinch of garlic powder

 1/8 t

sp

pinch

 

of turmeric

1/2

t

sp

 

baking powder

a few Tbsp each of chopped onion

 

bell peppers, tomato, carrots( 1/3 to 1/2 cup total veggies)

1/2

 (

0.5

 ) 

Jalapeno or serano chili pepper finely chopped

 

or use black pepper/cayenne to taste

1/4

 

cup

 (

7.5

 

g

) 

packed chopped spinach or greens
Instructions:
In a bowl, add flaxmeal and warm 1/4 cup water.

whisk and let sit for 5 minutes. Prep the veggies.

Mix baking powder in the chickpea flour.

Add in the chickpea flour, oat flour, salt, spices and 1/4 cup more water and mix. Whisk for half a minute to combine well and to help the batter get airy.

(Or use garfava(garbanzo and fava bean flour), instead of flax,oat, chickpea. Mix in baking powder in garfava flour and add water. garfava makes a thicker mixture and a fatter fluffier omelette. you might need additional water if the batter is too thick)

Add the veggies, jalapeno, greens and fold in well.

Heat a non stick pan at medium heat and grease a little.

Drop the batter on the hot pan and tap once or twice to spread. (Or use spatula to spread the veggies a bit)

Cover with a lid and cook for 7 minutes.

Take lid off, add a few drops of oil on the edges, cook for another 5-7 minutes(depends on the consistency of the batter).

Flip and cook for 5-6 minutes.

Add more greens and/or non dairy cheese, fold and serve with ketchup, toasts and hash browns.
Notes:
If making a larger batch, or keeping the batter sitting for long, the veggies will leak some moisture into the batter. Check consistency and Whisk a few teaspoons of chickpea flour into the batter to thicken, just before making the next omelette. (This quantity can also make 2 medium-small omelettes. They will cook faster and will be easier to flip)
Vegan Pancakes

Ingredients:
For the dry ingredients:
1

 

cup

 

all purpose flour*

1

T

bsp

 

baking powder

¼

 

tsp

 

salt
For the wet ingredients:
1

 

Tbsp

 

flaxseed meal

1

 

tsp

 

apple cider vinegar

1

T

bsp

 

coconut sugar (or regular sugar)

2

 

tsp

 

melted and cooled coconut oil (or sub melted vegan butter)

2

 

tsp

 

vanilla extract

¼

 

tsp

 

almond extract

1

 

cup

 

+ 1 Tbsp non-dairy milk (unsweetened vanilla almond milk)
Optional mix-ins:
¾

 

cup

 

fresh or frozen blueberries (if using frozen, toss berries with 1 Tbsp flour first)

⅓

 

cup

 

mini chocolate chips, dairy free if desired

Coconut oil or vegan butter, for greasing the griddle/skillet
Instructions:
In a large bowl, whisk together the flour, baking powder and salt. Set aside.

In a separate large bowl, mix together the flaxseed meal, apple cider vinegar, sugar, melted coconut oil, vanilla and almond extract until it comes together. Slowly whisk in the almond milk.

Add the dry ingredients to the wet ingredients and mix until a batter forms; it doesn't need to be perfectly smooth. Stir in any mix-ins you are using, if you are using any. If you want the batter to be thinner, add in another tablespoon of almond milk. Do not overmix.

Lightly coat a griddle with coconut oil and place over medium heat. Add 1/3 cup of the batter to the griddle for each pancake and cook for 3-4 minutes until pancakes puff up and you see bubbles along the edges. Flip cakes and cook until golden brown on underside. If you find that pancakes are browning too quickly then you need to lower the heat a bit. Start on medium heat, then decrease to medium low later so that my pancakes don't burn.

Wipe skillet clean and repeat with more oil and remaining batter. Makes 6 pancakes total.
Notes:
You can also use whole wheat pastry flour or 1:1 gluten free all purpose flour; you may need to add a splash more milk if you use either of these.
If you want thinner pancakes, feel free to add a tablespoon more milk.
*If you don't like coconut oil or don't have it, melted vegan butter, walnut oil, hazelnut oil or grapeseed oil will work. We don't recommend olive oil since it overwhelms the flavor of these pancakes.
Chocolate Orange Mousse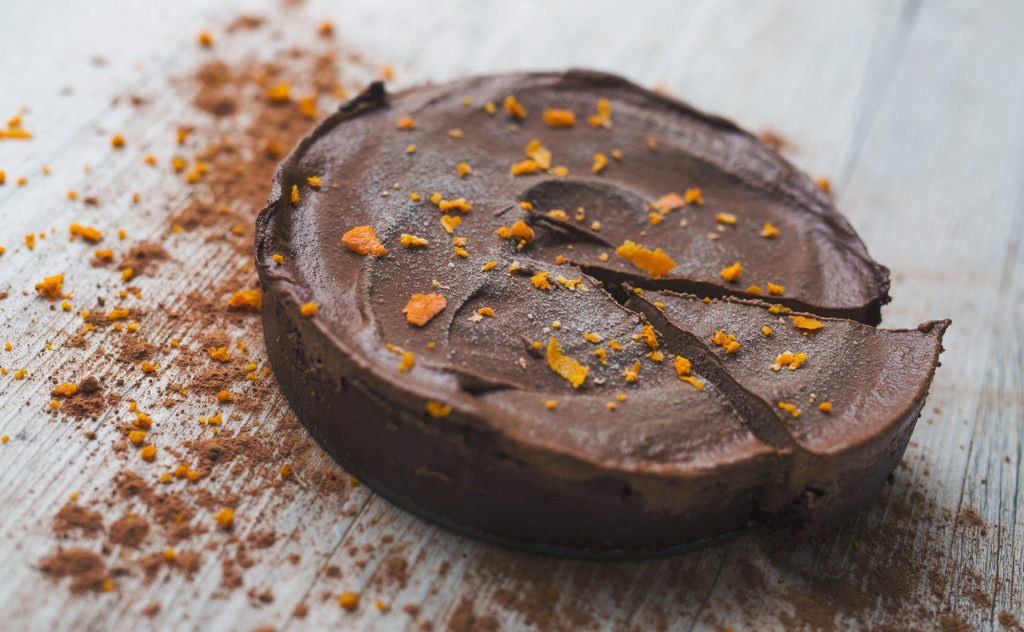 Ingredients:
200 g bittersweet chocolate (You can use sweetened chocolate, but if you think it needs more sweetness, add some agave or other sweetener to the recipe)
1 ½ avocados
½ tsp orange zest
1-2 Tbsp non-dairy milk
Directions:
Break up the chocolate and place it in a microwave safe bowl. Microwave for about 2 minutes or until the chocolate is completely melted.
In a food processor, spoon out the avocado flesh and puree until smooth.
Add melted chocolate, orange zest, 1 tbsp of non-dairy milk and blend. If the mixture seems too thick (it should be pudding consistency) add another tbsp of milk.
Scrape the mousse into a bowl and let it chill for about 1 hour.
Serve topped with chocolate shavings, walnuts, or more orange zest.
Vegan Eggplant Bolognese

INGREDIENTS:
1 medium eggplant (about 500 grams)
1 500 gr cremini mushrooms, stems removed and sliced
2 Tbsp olive oil
1 medium onion, finely chopped
2 stalks celery, finely chopped
2 medium carrots, peeled and finely chopped
1 tsp kosher salt, divided
2 cups dry red wine (such as Chianti)
3 cloves garlic, minced
1 Tbsp finely chopped fresh basil leaves
2 tsp finely chopped fresh oregano leaves
1 tsp finely chopped fresh thyme leaves
1/4 cup tomato paste
1(28-ounce) can crushed tomatoes
220 gr dry rigatoni or penne pasta
For garnish: Fresh herbs, nutritional yeast, or Parmesan cheese
EQUIPMENT:
Baking sheet
Chef's knife
Cutting board
Measuring cups and spoons
Large Dutch oven
Spatula or wooden spoon
Large frying pan
Large pasta pot
Slotted spoon
INSTRUCTIONS:
Bake the whole eggplant: Arrange a rack in the middle of the oven and heat to 350°F. Place the eggplant directly on the oven rack and bake until very tender, 1 to 1 1/2 hours. Cool the eggplant while preparing the rest of the sauce.

Brown the mushrooms: Meanwhile, heat a large frying pan over medium-high heat until hot. Add the mushrooms and brown, stirring occasionally, until they've shrunk by about half, 8 to 10 minutes. Set the pan aside.

Make the soffritto: Heat the oil in a large Dutch oven over medium heat until shimmering. Add the onion, celery, and carrots, and season with 1/4 teaspoon of the salt. Cook, stirring frequently, until the vegetables are softened, 10 to 12 minutes.

Add the wine: Pour the wine onto the soffrito mixture and stir to combine. Reduce the wine by half, stirring occasionally, 5 to 7 minutes.

Add the aromatics and tomato paste: Add the garlic, basil, oregano, thyme, and tomato paste and cook until thickened and fragrant, about 5 minutes.

Add the eggplant and tomatoes: Peel and coarsely chop the cooled eggplant. Add the eggplant, reserved mushrooms, crushed tomatoes, and 1/2 teaspoon of the salt to the soffritto mixture and stir until thoroughly combined.

Simmer: Reduce the heat to low and cover. Simmer, stirring occasionally to prevent scorching, until the sauce is quite thick, at least 1 hour.

Cook the pasta: Bring a large pot of salted water to a boil over medium heat. Add the pasta and cook to al dente.

Finish the pasta in the sauce: Use a slotted spoon to transfer the pasta from the cooking water to the sauce. Don't worry about any pasta-cooking water that might fall into the sauce as well — this will help season and thin the sauce. Cook the pasta for an additional 2 minutes in the sauce.

Garnish with herbs: Serve with additional fresh chopped herbs and nutritional yeast or Parmesan cheese, as desired.
NOTES:
Make-ahead: The sauce can be made ahead and stored in an airtight container in the refrigerator for up to 4 days or in the freezer for up to 6 months.
Storage: Store leftovers in an airtight container in the refrigerator for up to 4 days
Vegan Pasta Carbonara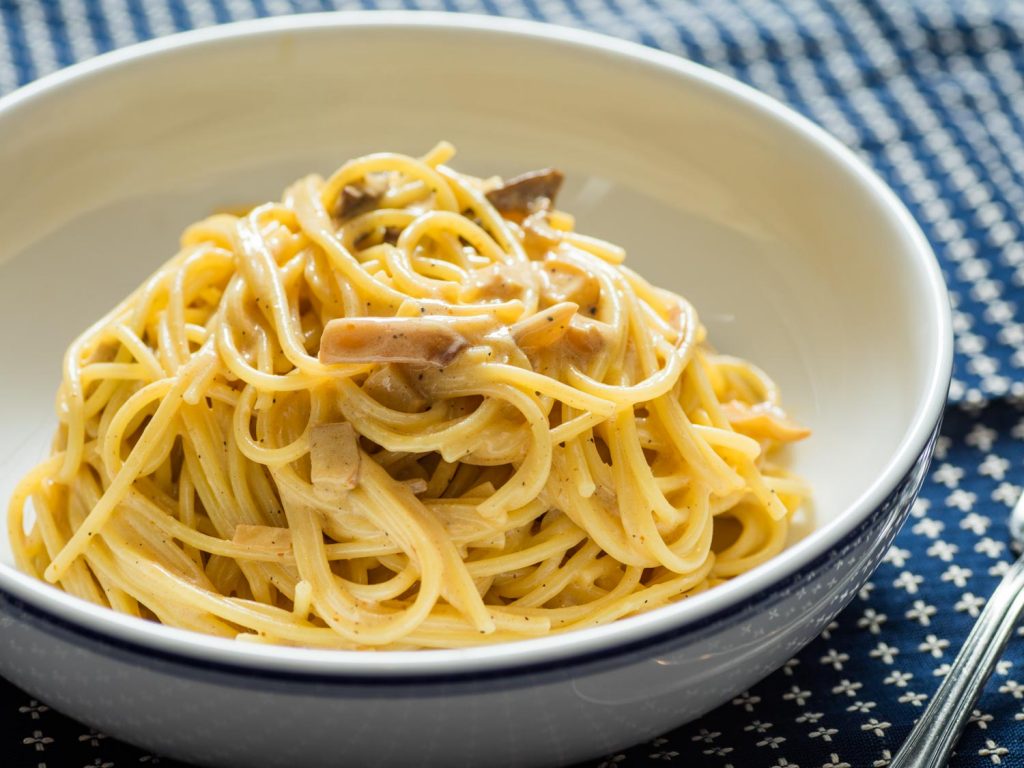 For the bacon:
one (225 gr) package tempeh, cut into strips as thin as you can manage
3 Tbsp Bragg's liquid aminos, tamari or soy sauce
juice of 1/2 lemon plus enough water to equal 1/3 cup
1/4 tsp liquid smoke or 1/2 tsp smoked paprika
2 cloves garlic, minced
5-10 drops liquid stevia, to your taste (don't overdo the sweetness in these)
2 Tbsp extra virgin olive oil, preferably organic
1/2 cup water
For the pasta and sauce:
enough of your favorite pasta for 4 servings, dry (you can use brown rice penne)
1 recipe of your favorite tempeh bacon (see above)
2 Tbsp smooth natural cashew butter
1 Tbsp white miso
1 Tbsp tahini (sesame paste)
1/4 tsp dijon mustard
1 clove garlic, minced
1/2 tsp turmeric
pinch nutmeg
fine sea salt and pepper, to taste
1 cup soy or almond milk
1 cup vegetable broth or stock
2 Tbsp potato or arrowroot starch
1/2 cup fresh or frozen peas (no need to defrost if frozen)
3 Tbsp chopped fresh parsley
Prepare the bacon: cut the tempeh into strips as thin as you can manage. In a large frying pan, mix together the remaining ingredients.  Add the tempeh and turn each strip over a few times to coat it in the sauce.
Turn on heat to medium-low and cook the strips for about 5 minutes until the sauce has begun to evaporate and the bottoms are browned; turn the strips and continue to cook the other side, pushing the bacon back and forth occasionally to prevent sticking, until the liquid ingredients have been absorbed and the bacon is browned and crisp on the outside, another 5-10 minutes.  If the liquid is absorbed too quickly, add a little more water, as needed. Turn off heat and set aside.
Prepare the pasta: Set your water boiling in a large pot. Cook the pasta according to package directions.
Meanwhile, prepare the sauce: In a medium pot, whisk together the cashew butter, miso, tahini, mustard, garlic, turmeric, nutmeg, salt and pepper until smooth. Very slowly, whisk in the almond milk, a little at a time, until the mixture is smooth and well combined. Add the vegetable broth and mix again.
Place the potato starch in a small bowl.   Add about 1/3 cup of the liquid mixture and whisk until smooth; slowly add this to the liquid in the pot. Heat the mixture in the pot over medium-low heat, stirring constantly, until it begins to bubble; cook for about a minute more, stirring constantly, until the mixture is thick and creamy.  If the pasta isn't yet ready, turn off the heat and cover the pot.
Once the pasta is ready, drain it and reserve about 1/2 cup pasta water.  Add the pasta to the sauce pot along with the tempeh and peas and continue to cook over low heat, stirring occasionally, until everything is warmed through, about 10 minutes. If the sauce becomes too dry during this time, add the reserved pasta water (if the sauce remains smooth and doesn't dry out, you can discard the pasta water).  Sprinkle with fresh parsley and serve.  Makes 4 servings.
Vegan Lasagna with Basil Cashew Cheese

Ingredients:
For the Cheese:
1 cup raw cashews, soaked in water for 30 mins or overnight

2 garlic cloves, peeled

1/4 cup fresh lemon juice

1 tbsp Dijon mustard

1/4 cup vegetable broth or water (or more as needed)

1.5 cups fresh basil leaves (lightly packed)

1/2 cup nutritional yeast (gives the cheese flavour)

3/4-1 tsp kosher salt (or to taste) + freshly ground black pepper

1/2 tsp onion powder (optional)
For the Lasagna:
454 g Box of lasagna noodles*

1.5 bottles of pasta sauce or use homemade marinara sauce

3 garlic cloves, minced

1 sweet onion, chopped (2.5 cups)

2 small zucchini, chopped

1 cup cremini mushrooms, sliced

1 large red pepper, chopped

1 large handful spinach

2 pre-cooked veggie burgers, crumbled (optional)

Lemon Basil Cheeze Sauce (from above)

Daiya cheese (as much as desired)
Directions:
Drain and rinse soaked cashews. With the food processor turned on, drop in your garlic cloves and process until chopped. Add in the rest of the ingredients and process until smooth, scraping down the bowl as needed.
Preheat oven to 400°F. In a large skillet, sautee onion and garlic over low-medium heat for 5 minutes. Now add in the rest of the veggies and sautee for another 10-15 minutes. *Season well with Herbamare or kosher salt and black pepper.* This is key or you will have bland tasting vegetables in your lasagna.
Meanwhile, bring a large pot of water to boil. Boil lasagna noodles for 8 minutes, drain, and rinse immediately with cold water.
Add 1 cup of pasta sauce on the bottom of your casserole dish. Add a layer of noodles, half the basil cheeze sauce, half the vegetables, more pasta sauce, another layer of noodles, veggie burger crumbles (optional), the rest of the cheeze sauce, the rest of the vegetables, more pasta sauce, and finally a sprinkle of cheese.
Cover with tinfoil and prick with fork a few times. Bake at 400°F for 40-45 minutes and then remove tinfoil and broil for 5 minutes on medium. Watch closely so you don't burn the edges. Remove and serve. Will keep in the fridge for at least 3-4 days.
Have you tried any of these recipes? Share with us your experience in the comment section below!