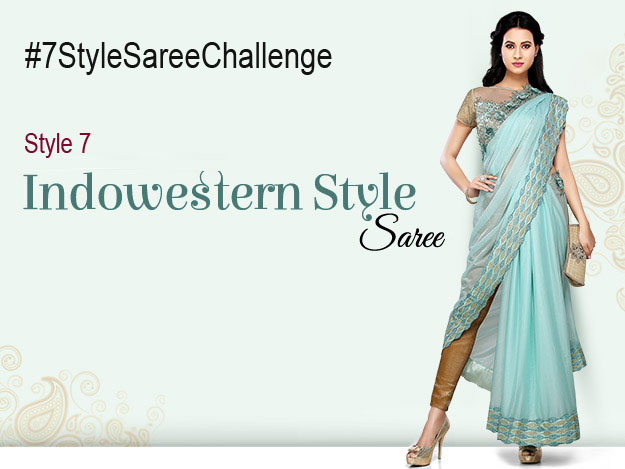 This is the last style of our saree draping style challenge. This is a modern avatar of the saree drape and perfect for University students and young ladies with svelte figures. Drape the saree with your jeggings or tight jeans for the style with comfort. This contemporary style can be seen on fashion runways and a great choice for cocktail parties and even at weddings.
This drape is an innovative adaptation of the traditional one and makes for a great fashion statement. It has become a global trend.
Your Challenge
We invite you to participate in our #7SareeStyleChallenge with Indoindians. Add your photograph or video or facebook live wearing the trendy indowestern style saree drape and post it on your facebook wall or the Indoindians Facebook with hashtags #indoindians #7SareeStyleChallenge #indoindiansSareeStory. Remember to tag @indoindians in your post 🙂 Invite your friends to participate too.
You Need
Printed or any contemporary saree
Complementing Jeggings or Leggings
A smart blouse
A smart Jacket
A pair of Stilettos
Few safety pins
And around 4 minutes
Easy Step by Step to Drape Indo Western Style Saree
Take one end of the Saree, make 6-7 pleats and tuck it in the centre facing left.
Tuck such that the remaining length of the Saree is to your left and emerges from the inner most pleat.
Ensure the Saree length falls just an inch short of the floor.
Tuck Saree towards left measuring your span width. You can even tuck the Saree half way around the back.
Now, pick the other end of the Saree, make pallu pleats.
Bring the pleats from around the back to the front and place it over the left shoulder.
Leave the Saree loose so that it makes a deep U on the right side of the waist.
Now, pin the pallu pleats neatly on the shoulder.
Tips & Tricks
Wear Jeggings/tight jeans or pants, instead of petticoat for this contemporary drape style.
Always wear your footwear beforehand to get the right length of Saree at the foot.
Secure pallu pleats with the help of clamps.
Be ready with basic make-up, to save on overall dressing time.
Keep trendy Jewelry for accessorizing.
If you have enjoyed these saree draping styles, do leave us a comment below…