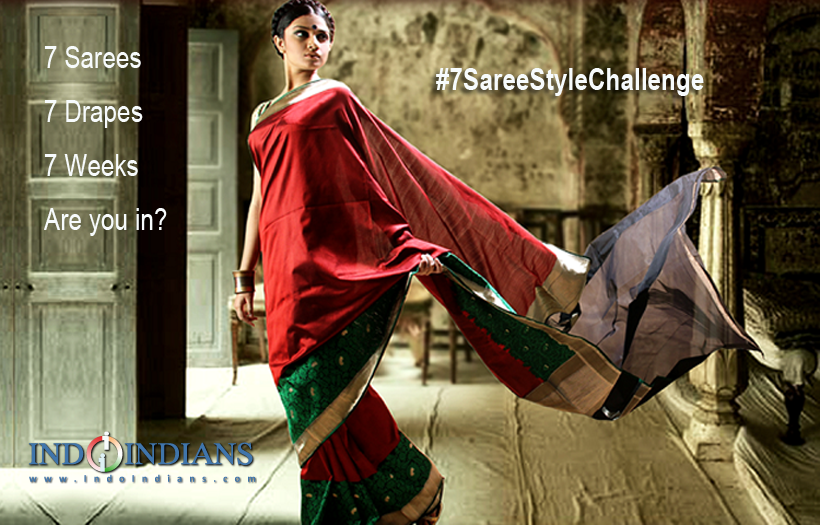 For over 5,000 years, the saree has united men and women through dress across the cultures of India, Bangladesh, Sri Lanka, Pakistan and Nepal: from North to South, rural to urban, labor to leisure and young to old. It has supported and sustained the livelihoods of weavers who represent many of the world's greatest master craftsmen. The saree is steeped in connectivity: from storytelling and identity, family and community, to environment and workplace.
A folktale explains one of the ways the saree was believed to originate: "The Saree, it is said, was born on the loom of a fanciful weaver. He dreamed of a woman, the shimmer of her tears, the drape of her tumbling hair, and the colors of her many moods and the softness of her touch. All these he wove together. He couldn't stop. He wove for many yards. And when he was done, the story goes; he sat back and smiled and smiled and smiled."
The magnificence of a Saree is timeless and unmatched. But what usually gets to women is the question. How to wear a Saree perfectly? Not just those, queries extend further to, how to wear a Saree for a Party or How to wear a Saree to look slim.
At Indoindians, we have attempted to get you out of your draping misery with simple, to the point and easy to follow DIY Saree Draping Videos.
Believe it or not, your days of fussing over how to wear a Saree are over and you can learn how to drape not one or two styles but all of the ten most popular forms of Saree draping styles.
We invite you to participate in our #7SareeStyleChallenge with Indoindians. Add your photograph or video or facebook live wearing the 7 different saree drapes and submit it hashtags #indoindians #7SareeStyleChallenge #indoindiansSareeStory
What exactly is the challenge?
The 7 Saree Style Challenge starts on Tuesday, 14th April 2020, for 7 weeks.
It's simple – every week we will share a saree draping style along with DIY video and we invite you to wear your saree in the same style. You have a whole week to try and perfect the drape, and share it on Indoindians Facebook wall.
What you have to do…
Step 1
Identify your 7 sarees that you will showcase in the 7 different draping styles by Sunday, 19th April and post your selfie with your sarees on your facebook page and tag @Indoindians and hastags #7SareeStyleChallenge #indoindiansSareeStory
Step 2
Watch the videos of each drape as release on every Monday of the next 7 weeks, and try out the drape with your saree till you are happy with the results.
Step 3
Take photographs/videos and even go live on Facebook with the different saree drapes. Try the drape released on Monday, 27th Feb morning. Post your selfie along with your comments below or on FB.
Remember to tag Indoindians and hashtag #7SareeStyleChallenge #IndoindiansSareeStory
Ready, Lets Get Set Go….7 Styles of Saree Draping
The splendor of the traditional Nivi style saree. The Nivi style is the most popular style in which most of us drape the saree. This is also the drape followed by the Air India hostesses and in the hospitality industry as well as corporate world in India >> Nivi Style Saree
The Bengali style Saree is a must have for grand occasions and festival gatherings. All you need is 3 minutes to learn this very classy style of saree draping >> Bengali Style Saree
The style of drape for Nauvari gives a trouser-dress like an appearance, while the sari is tucked at the back. Nauvari sarees usually come in cotton and is worn without a Petticoat, majorly by the Maharashtrian Brahmin women community >> Maharashtrian Nauvari Style Saree
The traditional Gujarati Sarees include Bandhej/Bandhani/Leheriya, made by a technique of Tie & Dye. This produces distinctive patterns making each piece unique. They are made mainly of Silk, Satin, Cotton & Georgette.These sarees are best suited for Indian Festivals >>Gujarati Style Saree
This unique drape can save you tonnes of money ad give you loads of flexibility to redesign your wardrobe for traditional style to be worn on  any special occasions and celebrations >> Lengeha Style Saree 
This saree drape was the of the famous costume designer Bhanu Athaiya. Athaiya added outer pleats and a zipper on the side to make it easier for Mumtaz to dance in. This tightly wrapped silhouette is the perfect wrap for the girl who loves to show off her curves, and killer waistline >> Mumtaz Style Saree 
This is the last style of our saree draping style challenge. This is a modern avatar of the saree drape and perfect for University students and young ladies with svelte figures. Drape the saree with your jeggings or tight jeans for the style with comfort. This contemporary style can be seen on fashion runways and a great choice for cocktail parties and even at weddings >> Indo-Western Style Saree
for any questions and comments, do submit below.