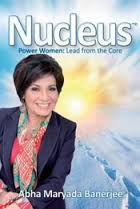 S-O-S: STRATEGY OF SUCCESS – Living a life of well-being and success
Interviews with people who have been successful in any aspect of their life and are willing to share their stories and tips on how they did it. This includes business owners, coaches, speakers, authors, self-growth or self-help gurus, domain experts and more
Abha Maryada Banerjee is India's first woman motivational speaker of international acclaim, rated as one of the Top Ten Life, Business and Success Coaches in Asia Pacific.
Called 'Asian Oprah' and the 'Asian Woman Motivator', she professes 'Personal Mastery' for individuals and 'Emotional Fitness' for Corprate' and Entrepreneurs for achieving human capital excellence.
Author of the watershed super-manual on Leadership for Women, called NUCLEUS: Power Women lead from the Core, Abha has combined four different disciplines-Law, Leadership, Personal development and Universal natural laws to re-define Women's Leadership.
Abha is the REX Global Fellow 2014 for her exceptional contribution to the field of motivation and people building. She is also the recipient of the REX KARMA VEER Awards 2014. Founder of a People Building Company called SUCCESS INDIA LEADERSHIP with extended works in Indonesia and Singapore, Abha's 'vision and mission' is to propagate a 'Mental Freedom Movement' aimed at Personal Leadership and enhancing Workplace Leadership.
Charismatic, passionate, driven, open, dynamic pack of energy and tons of courage, Abha is a strong lady with a lofty mind. In her mind, she says, is housed a very creative side which keeps her creatively engaged in theatre, acting, writing, poetry, calligraphy, sketching and food which is also her passion. She is the author of her bilingual Poetry compilation on Self Search and Motivation called MARYADA 'In Rendition'. Married for 22 years, mother of two, son aged 20 and daughter aged 10, Abha is a livewire speaker who is a unique blend of passion, integrity, spirituality and practical useful knowledge, humorous enough to have you in splits.
More at www.ABHAMB.com