Believes we are what we eat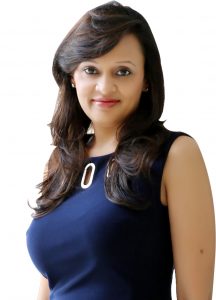 Aditi Srivastava, a dynamic entrepreneur is the Director of Diet Mantra– India's largest and only nationwide chain of Diet and Wellness Clinics running into its 5th year, with the mission that healthier lifestyle management options are available at the doorstep of everyone.
Diet Mantra is the Official Nutrition Partner to Femina Miss India since 2012 till today and Aditi has shared her Diet Tips with the gorgeous Miss India's making not just their bodies fit but also focusing on hair, skin and overall wellness for a more enhanced persona.
Aditi Srivastava Global President INIFD & INIFD Academy of Interiors Largest Global network of Design Learning Centres Aditi is a dynamic, innovative professional with demonstrated success in her 21 years of vast & diversified experience. Her Key strengths are pragmatic leadership, strategic planning and execution, consumer brand building, marketing, business operations management, expertise in Franchise Operations and complete business setup from start-up to rolling.
Aditi has an extensive Global exposure of Operations in the field of Lifestyle, Education, Health & Wellness sphere. As a young professional and President of INIFD Aditi has rewritten history by taking fashion and design education all across India and beyond Indian boundaries in a short span of 5 years by setting up a network of over 100 INIFD Centres. She is instrumental in gaining tie-ups with prestigious Institutes/ bodies like Annamalai University – the most premier seat of learning and Istituto di Moda Burgo – the world renowned institute set up in the Fashion capital of world-Milan, Italy. Under her leadership INIFD has established the largest global networkof design Institutes with centres in London, Chicago, Bangladesh, Nepal, Dubai.
Aditi's vision and mission has been to take quality training and education to the common man to empower them and also create employable manpower.
She is currently spending a lot of her time in Jakarta as her family is settled here. Her time spent here made her realise the need of developing the common youth of Indonesia by working on their English Communication, Personality Development and Confidence Building which she intends toAditi Srivastava is the youngest President to head the largest and most prestigious network of design Institutes – Inter National Institute of Fashion Design (INIFD) & INIFD Academy of Interiors (IAOI).
Her working profile made her personally realize that unhealthy eating habits, tough working hours and stressful living takes a huge toll on our wellness leading not just to weight irregularities but also lifestyle diseases. Diet is the most important energy resource we give to our body hence the right Diet Mantra helps you look good and feel better.
Hence Aditi flag marched Diet Mantra with the vision of healthy lifestyles for one and all.
She believes that every individual has a different body type, for a diet plan to work it has to be customized and that's her primary forte.