By Aruna Harjani
Ankit Bathla was born in New Delhi, 10 October 1988. Indonesian fans have a cute nickname for him: Kitkit.
Ankit started his career as a trainer in American Express before jumping on acting world. His name rocketed after starring in drama series Thapki (2015) which aired in Indonesia. In the series, Ankit acted as Dhruv, a boss who falls in love to a reporter. Previously he also played in drama series Veera as Karan, a good friend of Veera.
"I work hard to be an actor. One day I met a director and he offered me a role in one of his projects. I agreed, because acting is something that I really wanted to do. He explained that it was a small role, but then I said that I would accept any role he offered," said Ankit at his apartment in Kuningan.
His acting career started in 2009. His first role was Billu, an anti-hero in drama series Samman Ek Adhikaar. Then he also appeared in drama series Baante Apni Taqdeer, which aired in one of the biggest TV channels in India, Zee TV. More and more offers came after, such as Mata Ki Chowki, Hamari Saas Leela, Hum, Haar Jeet, Beta Hi Chahiye, and Ek Veer Ki Ardaas.
"Then I came to Indonesia, which became one of the most amazing journeys in my career," he continued.
Among the titles of drama series he'd done so far, he admitted that Thapki is the most special for him. "All the series that I've starred in has their own special story, but Thapki is the most memorable for me. The character that I played was the character that I've always wanted to play. Thapki also raised my popularity in India, which also eventually brought me to Indonesia."
In an interview, Ankit once said that he is now also an Indonesian actor, because he also participates in a number of drama series in Indonesian TV channel ANTV, such as Cinta di Pangkuan Himalaya, Kecil-kecil Mikir Jadi Manten, and the recent one is Jodoh Wasiat Bapak.
Ankit has a younger sister, but she chooses a different career path. His sister is now working as a teacher in India. With beaming face he told that at first his mother didn't agree with his dream to be an actor. His mother always says that he must finish school first before jumping on any career he wants. However, Ankit's acting talent actually inherited from his father who was an actor.
"My father was an actor, but he thought that it was not a job that he could continue. At that time acting career was not as promising as now, so he left it and started a business in textile industry," Ankit shared.
Ankit grew up learning acting in one of the theaters in India. "I went to the theater at 4 in the evening and went back home in the dawn. I only slept for two hours a day, then I went to the campus. Every day I had to finish two hours of filming and I did that for three years in a row," said Ankit who graduated from Sri Guru Gobind Singh College of Commerce of Delhi University, majored in marketing and finance. He also continued his study and graduated with MBA in the same college.
Loves Indonesian culture and the people
Indonesia is a new place for Ankit. He's never heard about a country named Indonesia until Shaheer Seikh, a good friend of his, told and introduced him to Indonesia.
"I've never been in Jakarta before, but I heard about Indonesia from my best friend, Shaheer. For me Bali is a very interesting place in Indonesia. I went to Ubud and work in Jakarta. My drama series Thapki aired in Indonesia and I feel really amazing. It's nice!"
Ankit admitted that he has fallen in love with Indonesia, and doesn't think to go back home. Indonesia is like his own hometown. During his 4 month stay in Indonesia, he has encountered new things. New places, delicious Indonesian foods, and one thing that makes him really love being in Indonesia is his loyal fans. He said that he's never seen hundreds of people shouting his name enthusiastically before.
"Indonesian fans are really amazing. The kind of love that they shower to me is incredible. They took time and left their hometown to meet me. There was a fan who flied from Sumatera to see me. It was really wonderful when they shouted my real name 'Ankit! Ankit!', because in India I was known as Druv (the role I played in Thapki) or Karan in Veera, but people here know me as Ankit and they really love me. They send me gifts and everything. It is very amazing," he said enthusiastically.
Aside from performing in Pesbukers (Indonesian variety show) with other Indian stars, Ankit also spend his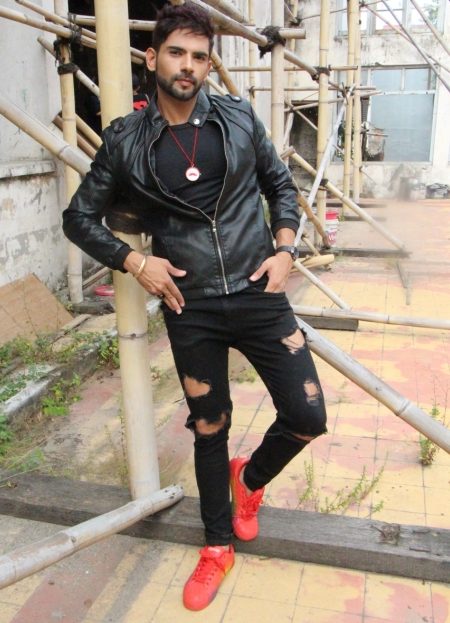 time by visitin g other cities in Indonesia. "I had a meet and greet in Palembang and was so surprised with the enthusiasm. I thought there would be a few of fans only but there were thousands of them and they waited me since early morning. It was really fascinating. This also happened in Pandeglang," said Ankit who will also soon have an event in Medan.
He has received many gifts from his fans. Those gifts were kept neatly in his apartment, and he also wears some of the gifts. Most of the gifts are his framed photographs. He accepts any gifts that his fans give to him. "This is not about brand—this is about love that they give to me. That is why I love this country so much," Ankit explained. "My fans know that I love eating, and they sent me many foods!"
Talking about foods, Ankit admitted that he isn't a picky eater. During his stay in Indonesia, he has tried many Indonesian foods such as Gado-Gado, Sate, Ketoprak, and Nasi Goreng. When he was in Palembang, he didn't forget to try Pempek, which he thinks very delicious.
Being in a foreign country with language barrier doesn't make Ankit depend on his translator. He studies Bahasa Indonesia every Tuesday and Thursday. He thinks that the language class really helps in his role in Kecil-kecil Mikir Jadi Manten, as the role requires him to speak in Bahasa Indonesia. Although he thinks that his Bahasa Indonesia is not that good, but he thinks speaking in different language is very interesting.