Anoop Vaswani started his career in finance with a growing interest in the restaurant industry after he graduated from Oxford Brookes University (UK) in 2006. "In 2012, I moved to Singapore where I developed several food businesses, whilst our group company was developing a property business," he shared with the Indo-Indians team.
"We started the interior design division after I met a very famous, award-winning interior designer from Singapore, David Tay, who is also the Principal of ETHOSpace Singapore. In the belief that there is a strong future in lifestyle for the young affluent market in Jakarta, we decided to establish E & U," said Anoop. His passion coupled with his growing knowledge for lifestyle in context of design, finance and hospitality prepared him well in his management of E&U in Indonesia.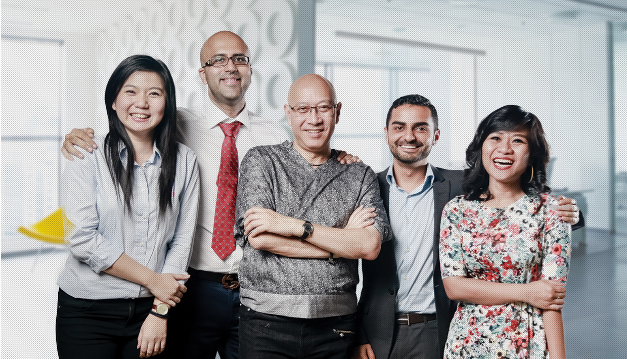 Currently he and his team are focusing on client acquisition. "I'm always on the client side and making sure that they're happy with what we deliver to them," he said. "Our clients are the most important part in our company. At the end of the day, in our designs for any of our creations, we have to make sure that they are satisfied. That is why our clients also have free access to my team whenever they need, to make sure that all of their requirements are accommodated."
Anoop said that most of the time, in property projects, people will hire an architect before they hire an interior designer. "In E&U, besides the experienced interior designers, we also have people who have experience in architecture. So, many of our clients hire us first and then together we work to find an architect for their project. This is how E&U is different from other interior companies."
As the Director, Anoop has a unique leadership style. "I trust my team; they are very focused on their targets and their plans to accomplish them. But I am always behind them to make sure that everything runs smoothly. I also always try to make sure that my team is happy. I believe that if they're happy, then the result of their efforts will be good, and at the end my clients will also be happy."
Anoop realizes that there will always be competition among interior design companies in Indonesia. "Interior design is an art, and people's tastes are different. I might like something but you might not," he shared. "The key is creating a good relationship, not just with your clients but also within our whole organization."
Although he's busy with his career, Anoop tries to balance his professional and personal life. "I start my day in the morning, by dropping my son off at school, work a full day and then go home to spend time with my family," shared Anoop. "I have a good social life, because our group company has a very wide network that I connect with two to three times a week," he continued. "And during my free time, I love watching football matches on TV, playing tennis, exploring new restaurants with my wife & friends and spend quality time with my wife & son."
When asked about the secret to his success, Anoop stated that "success comes from loving what you do."
For more information on E&U and ETHOSpace kindly explore their respective websites at www.eandu.com and www.ethospace.com.sg.