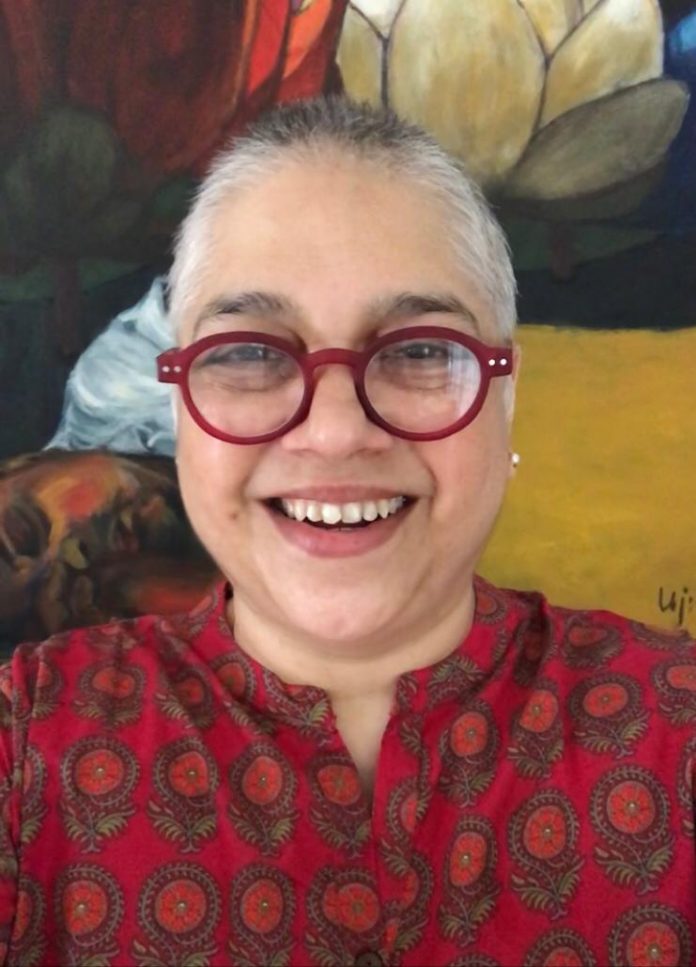 Choker dekha Praner kotha – life seen through my eyes
I started painting quite late in life, about 18 years ago. During this time, I have benefited from the generosity and talent of various teachers in India, Bangladesh and the US. I have exhibited my work several times, including the 13th Asian Art Biennale in Dhaka and the first Art Biennale in Colombo. I am a figurative artist and love the impact that colors bring to the canvas.  
As an artist, I derive most pleasure from the very process of creativity and view the outcome as icing on the cake. This probably is the reason why I continue to experiment with media, material, colors, patterns, textures and compositions. The subject of my attention is people and their thoughts. There are these stories that swirl around my head and through my hands to the canvas.
The two paintings with a yellow background are the first two in the series "Mera Saya" to commemorate a mother's unconditional love and a primal urge to protect her children and keep them safe.  It is my message to all children to value and appreciate her for who she is while they can.
From the very beginning I was drawn to making portraits and the painting with the red background is one made to represent the 5 elements, air, earth, wind, fire, space which are believed to exist in each of us.
I do hope you can get a glimpse of my thoughts or better yet have your own stories and interpretations.  
View and buy Ujawala's artworks here >>
Favorite quotes
"The journey is the reward" – Zen budhist saying
and 
"Be yourself, everyone else is taken" – Oscar Wilde
Solo Shows :
"Portrait Revolution: Inspiration from Around the World For Creating Art in Multiple Mediums and Styles" by Julia L. Kay
"Chokher dekha, Praner Katha" a collection of select pieces made in the last 5 years with a concentration on work finished in the last 3.  Gallery Chitrak, Dhaka, May 29 – Jun 5, 2009
Group Shows :
'Elements' an exhibition held by Artbeat – a creative connect, Jakarta October 9-13, 2019 
Participated in the First Pullman's Art Night event hosted by the Pullman Hotel, Gurgaon, Haryana. April 5-12, 2013
"Patterns & Expressions" a 3 Women Show held at AIFACS, New Delhi, February 18-24, 2012
"Room with a View" hosted by Nivedita Raitz von Frentz and Sandhya Reddy to showcase the work of 6 artists.  Colombo, November 19, 2011
Participated in Sri Lanka's first "Colombo Art Biennale".  The theme for the exhibition was "Imagining Peace".  You can read about my entry here and about the piece I submitted here.  September 10 – 14, 2009
"Mechanical Fantasy – Open Studio", an exhibition of the work produced at the workshop. Britto Arts Trust, Dhaka. January 30, 2009
"Jhaal Muri", an Art & Photography Exhibition on Bangladesh Street Life.  Bay's Galleria, Dhaka. November 8th – 23rd, 2008
13th Asian Art Biennale 2008, a key art event in the region, organised by Bangladesh Shilpakala Academy, Dhaka showcasing the art of established and young artists from 27 countries, October 21-November 19, 2008
Kormoshala Chapchitra Pradarshini, a group show of prints at the Gallery Chitrak based on work produced by workshop participants and a few guest artists, June 13th-18th, 2008.
In Search of Beautiful Impressions, a group show of prints with participation from leading artists and students of the Institute of Fine Art, Dhaka. June 2nd-4th, 2008 at the Bengal Gallery of Fine Arts
Friends & Faces, a Two Women Show, March 16th – 31st, 2008, Dhaka at the Standard Chartered Bank Art Gallery.
SHAKO Group exhibition and Poetry reading to mark International Womens Day, March 7 & 8th, 2008, Dhaka, Bangladesh hosted by Rubana Huq of Monsoon Letters.
UNWA Juried Silent Art Auction at the Mascara Ball 2007 to raise funds for the Hurricane Sidr Relief Fund. Held on December 7th at Pan Pacific, Hotel Sonargaon, Dhaka, Bangladesh