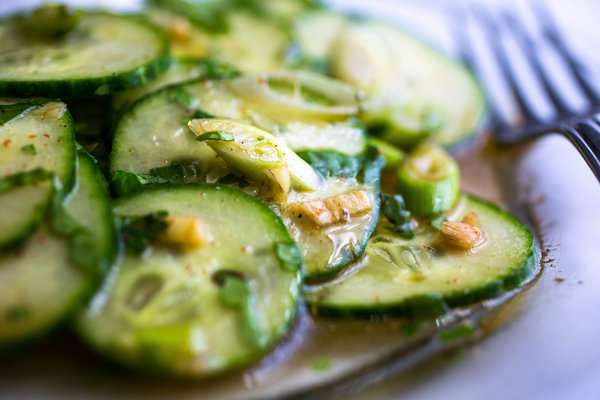 Asinan is a sweet and sour pickled cucumber salad. Generally, asinan consists of various pickled vegetables and fruits. But the simpler version calls for pickled cucumbers, which is easier done at home. Whether you want to add your favorite fruits and vegetables as well, that is entirely up to you.
Ingredients:
Serves 4
3 Cucumber, large
1 Onion, med
1 Thai chile dressing
1/4 c Vinegar, white
1/4 c Oil
1/2 t Salt
2 t Sugar
1/2 t Garlic powder
Directions:
Peel and thinly slice the cucumbers. Slice the onion thinly.
Seed and thinly slice the chili.Seed and thinly slice the chili.
Put the cucumber slices in a shallow bowl, arrange the onion slices on top and sprinkle with the chili slices.
Combine all the ingredients with the dressing, mixing well.
Taste and adjust seasoning with salt.
Pour the dressing over the onions and cucumbers and refrigerate a few hours or overnight if possible to allow flavors to blend.