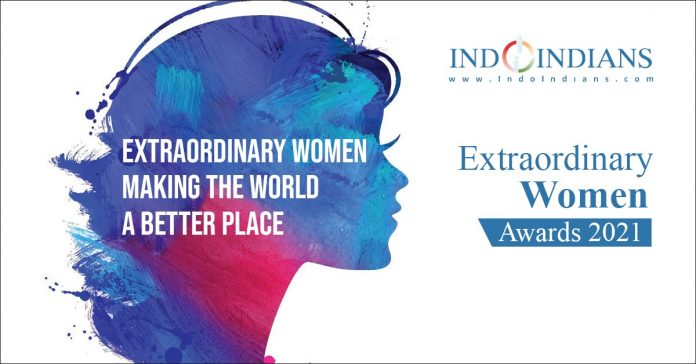 Indoindians Extraordinary Women Awards 2021
In recognition of International Women's Day on 8 March, Indoindians is calling for nominations for the 2021 Extraordinary Women Awards.
Every woman is of worth and substance. The awards program is a uniquely powerful celebration of extraordinary women, the outliers in various fields, who have made an extraordinary contribution to the improvement of the quality of life in our community.
Award nominations are open to our Indoindians community, and honorees reflect diverse fields of expertise of Indian women living in Indonesia. The Awards program is also an opportunity for the community to come together.
Nominations are now open for the 2021 Indoindians Extraordinary Women Awards.
Do you know an extraordinary woman? Nominate an inspiring woman today!
Nominate women who are your role model as a leader, a strong sense of self, and inspiration to others.

MANDATORY CRITERIA: Nominee must meet each of these points
Must be 18 years or older
Must be a resident of Indonesia
Indian or of Indian origin
Nominations must include 2 references (not from family members)
Nominators may be non-profit organizations, clubs, business associations or individuals
TELL US ABOUT YOUR NOMINEE: (Minimum 100 words/Maximum 1,000 words).
Please consider the following questions when telling us about your Nominee:
How does she demonstrate commitment to the community i.e. sponsorship/leadership of community activities/events?
How has the community benefited from her efforts?
How many people have benefited from her community support?
Does she coach others in a way that motivates or encourages others to excel
Does she share her experience and act as a mentor?

AWARD SELECTION PROCESS:
Nominations received will be reviewed by a nominations committee for completeness and basic eligibility.
References will be checked.
Award recipients will be selected by a Selection Panel consisting of award sponsors and Indoindians.
Recipients will be announced via an online award event.
Categories
There are categories to recognize exceptional women of all ages and all fields.
Champion Awards
– Lifetime Star Award (age 60+)
– Rising Star award (age 21 to 30)
– Young Star award (below age 21)
– Mentor of the Year
– Corporate of the Year award
Sector Excellence Awards
– Entrepreneur
– Business
– Social Impact
– Community Spirit
– Education
– Technology
– Innovation
– Environment
– Culinary
– Fashion & Design
– Entertainment & Media
– Literature
– Arts & Culture
– Sports Excellence
Additional categories may be considered based on the nominations received. We are expecting the caliber of nominations to be extremely high given the plethora of talent
About the Awards
Indoindians Extraordinary Women Awards is a platform to promote the positive impact women make on society. To recognize, honor, celebrate and bring greater visibility to women's achievements in various fields. The awards encourage ambition, empower confidence and inspire new female leaders now and into the future.
Encouraging women to put themselves forward or by nominating suitably qualified women, the diverse strengths and achievements of successful women across industries, and backgrounds is celebrated.
Judging and prizes
Finalists will be shortlisted for each awards category and a judging panel will pick one winner in each category.
The winners will be showcased on Indoindians.com and all of its channels.
Additionally, all winners and runners-up will be invited to join the Indoindians Leader's Room program. This leadership program is designed to support women in getting to their next level of success.
Supporting Partners