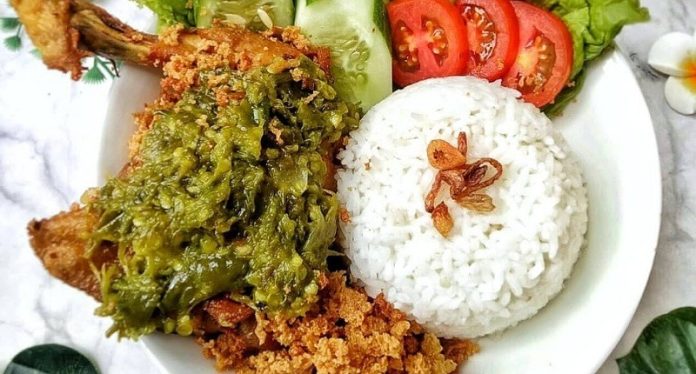 Try this spicy chicken recipe
Ayam Geprek is a popular Indonesian dish that typically consists of crispy fried chicken that's been smashed or pounded and served with a spicy chili paste or sambal. The term Ayam Geprek may not have a direct translation, but it essentially describes the method of preparing the dish.
Here is a viral video of this popular street food, Ayam Geprek Sambal Hijau, in Jakarta, Indonesia
And a simple Ayam Geprek recipe for you to try at home:
Ingredients:
For the Fried Chicken:
4 boneless chicken breasts or thighs
1 cup all-purpose flour
1 cup cornstarch
1 tsp salt
1/2 tsp white pepper
2 eggs, beaten
Cooking oil for deep frying
For the Sambal (Chili Paste):
5-10 red bird's eye chilies (adjust to your spice preference)
3 cloves garlic
1/2 tsp salt
1 tsp sugar
2-3 kaffir lime leaves, thinly sliced
1 small tomato, diced
1 lime, halved
Instructions:
Start by preparing the sambal. In a mortar and pestle, grind the red bird's eye chilies, garlic, salt, and sugar until you have a coarse paste. If you don't have a mortar and pestle, you can use a food processor.
Heat a little oil in a pan and sauté the chili paste until it's fragrant and the oil separates from the paste. This should take about 5-7 minutes. Add the kaffir lime leaves and diced tomato and cook for an additional 2 minutes. Set the sambal aside.
Sambal Cabe Hijau recipe here >>
For the Fried Chicken. In a mixing bowl, combine the all-purpose flour, cornstarch, salt, and white pepper. Dip each piece of chicken into the beaten eggs, allowing any excess to drip off, and then coat the chicken with the flour mixture. Make sure the chicken is evenly coated.
Heat a deep fryer or a deep pan with cooking oil to 350-375°F (175-190°C). Fry the chicken pieces until they are golden brown and crispy. This should take about 8-10 minutes. Make sure the chicken is cooked through. Remove the chicken and drain excess oil on paper towels.
To Serve
Place the crispy fried chicken on a serving plate. Using a pestle, a meat mallet, or the back of a spoon, gently smash the chicken to flatten it.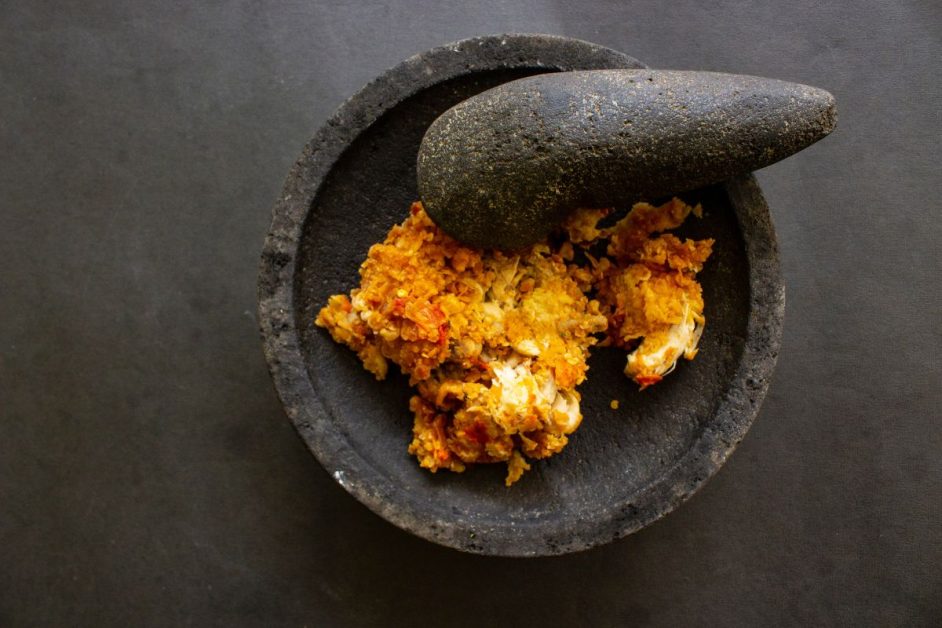 Squeeze lime juice over the smashed chicken. Then, spoon the prepared sambal over the top of the chicken.
Serve your Ayam Geprek with steamed white rice or Indonesian-style fried rice (Nasi Goreng) for a complete meal.
Enjoy your homemade Ayam Geprek with its delightful combination of crispy chicken and spicy sambal! Adjust the spiciness to your taste by adding more or fewer chilies in the sambal.