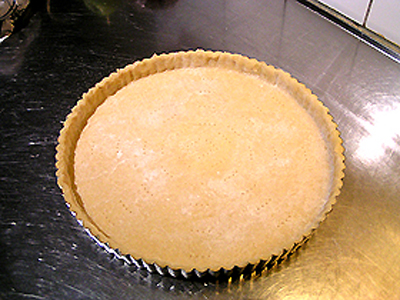 BAKED PASTRY
gredients:
1-1/4 cups all-purpose flour
1/4 teaspoon salt
2 tablespoons shortening
4 tablespoons cold butter, cut up
Ice water
Directions:
In medium bowl, mix flour and salt. With pastry blender, cut in shortening and butter until mixture resembles coarse crumbs.
Sprinkle ice water, a tablespoon at a time; mix gently with a fork after each addition, until dough is moist enough to hold together.
Shape dough into a ball. Dough will be easier to use if refrigerated for 30 minutes before rolling.
On lightly-floured surface, with floured rolling pin, roll dough to an even thickness and beyond the edges of an inverted pie plate.
To move pastry, drape gently over rolling pin and ease into pie plate. Trim edge, leaving 1-inch overhang. Fold under overhang and crimp edge of pastry.
Baked Pastry:
Preheat oven to 400 degrees. Bake pastry for approximately 10 – 15 minutes to desired doneness and browned color.
Yield: One Pastry