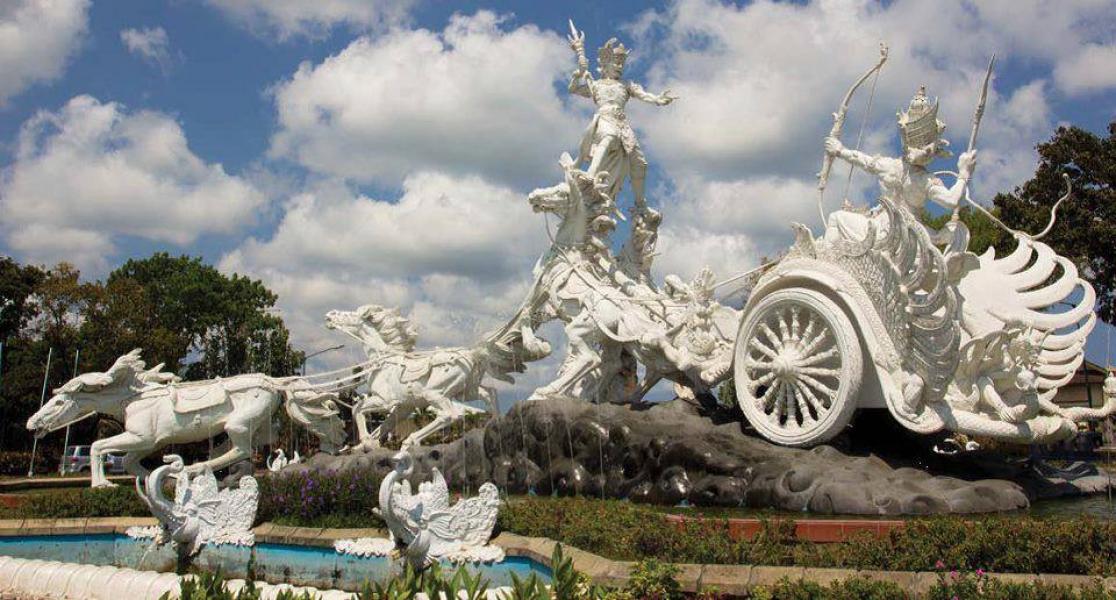 By Rosemarie John – Built in 1993, the colossal white statue of a mythological battle scene from the epic Mahabharata depicts Ghatotkacha, a courageous and powerful knight, the son of Bhima looming down on Prince Karna before being slain by the Princes arrow from his chariot.
Identified as a flying knight responsible for air defence and security protection for the Pandava Kingdom, it is only befitting that the magnanimous statues presence is believed by many Balinese to provide spiritual protection and safety to all outbound and inbound flights on the Island of the Gods.
Located at an intersection at the north-east road of the Ngurah Rai International Airport, this incredible artistic sculpture portrays a fight scene from the Kurukshetra War between Ghatotkacha on the Pandava side, against Prince Karna whose horse-drained chariot is driven by Salya from the Kaurava side.
Aside from being intelligent and extremely powerful, Ghatotkacha was considered a loyal, diligent and respectful figure whom the Balinese revere as a man of admirable qualities deserving of praise and is often portrayed as a legendary character in Wayang Kulit (shadow puppets), the traditional puppetry and drama of Indonesia.
Text by Rosemarie John © All Rights Reserved
Rosemarie John is an Aerospace and Defence Journalist. Visit www.rosemariejohn.com for more information.