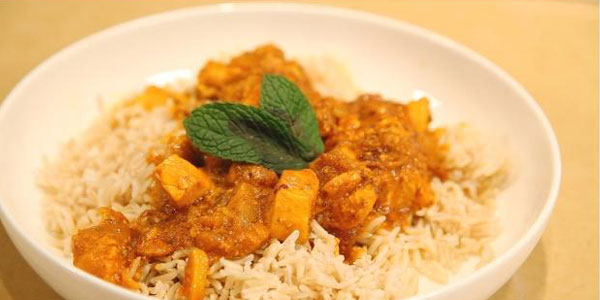 Chicken is the protein of choice in many households. It's delicious and can be cooked a variety of ways. Make a healthy meal for the family by cooking up Bal's version of no-butter chicken.
Ingredients :
2 tablespoons canola oil
1-1/2 cup red onion, chopped
2 tablespoons fresh garlic, minced
1 tablespoon fresh ginger, chopped
2 tablespoons tomato paste
1 tablespoon brown sugar
1 tablespoon cumin seeds
1 tablespoon garam masala
(recipe follows; can substitute store-bought variety)
1 teaspoon red pepper flakes
1 teaspoon ground turmeric
1/2 teaspoon kosher salt
1 pound boneless, skinless chicken breasts, cut into cubes
1/4 cup plain, low-fat yogurt
1/2 cup water
Method :
Put a large skillet over medium-high heat and add the oil. When it starts to get hot, add the onion, garlic and ginger, and cook for 4 minutes, or until the onion is golden.
Add the tomato paste, brown sugar, cumin seeds, garam masala, red pepper flakes, turmeric and salt, and cook for 2 minutes.
Add the chicken cubes, and stir well to coat. Add the yogurt and water and cook, stirring until the chicken is done, about 8 minutes.
Serve the chicken with roti or rice.
TOTAL TIME: 27 min
Prep: 7 min
Cook: 20 min
YIELD: 4 servings
LEVEL: Easy
Source: Chef Bal Arneson