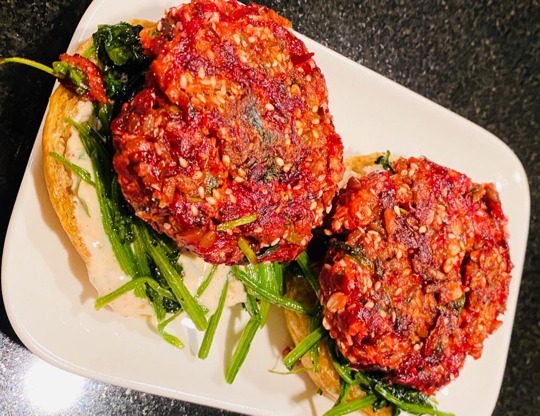 Here is a very satisfying vegetarian burger recipe that checks all the boxes – healthy and tasty, by Geetika Sainani – Beetroot Burgers with Tzatziki Sauce
Ingredients:
Grated Beetroot
Instant Quaker Oats
Red Rice, half-cooked
Red chilli powder (optional)
pink salt
coriander leaves, chopped
Ghee or olive oil
Wheat bun
spinach
slice of onion
slice of tomato
grilled beetroot
chat masala
sesame seeds
white pepper
Tzatziki Sauce ingredients:
2 Tbsp grated cucumber
2 Tbsp greek yoghurt
white pepper
himalayan salt
lemon drops
garlic
coriander
Instructions:
Add coarsely grated beetroot with instant quaker oatmeal and half cooked red rice. Then add in red chili powder (optional), pink salt, sesame seeds and coriander leaves. Mix all.
Make balls out of the patty and flatten on greased tava and brush with ghee or olive oil.
Grill the patty for 3-4 minutes each side. The heat must be kept medium, then low.
Take the whole wheat bun, split in two and grill.
Make sautéed spinach with garlic, white pepper, butter/ghee and pink salt. Cook for one minute.
Make tzatziki sauce using 2 Tbsp of grated cucumber with 2 Tbsp greek yoghurt, white pepper, Himalayan salt, lemon drops, garlic and coriander
Assemble the burger by putting on sautéed spinach, tzatziki sauce, slice of onion, slice of tomato and grilled beetroot. Sprinkle roasted cumin seeds powder and chat masala on it.