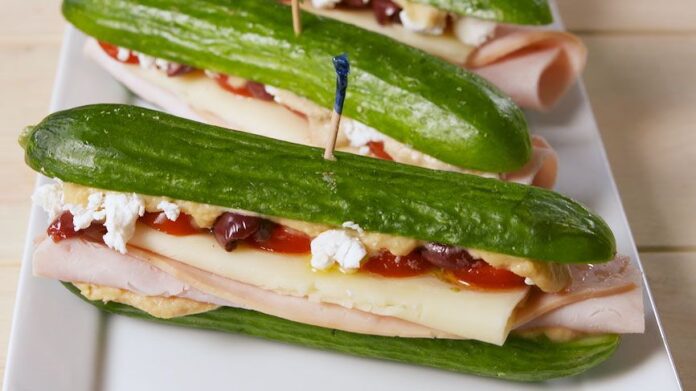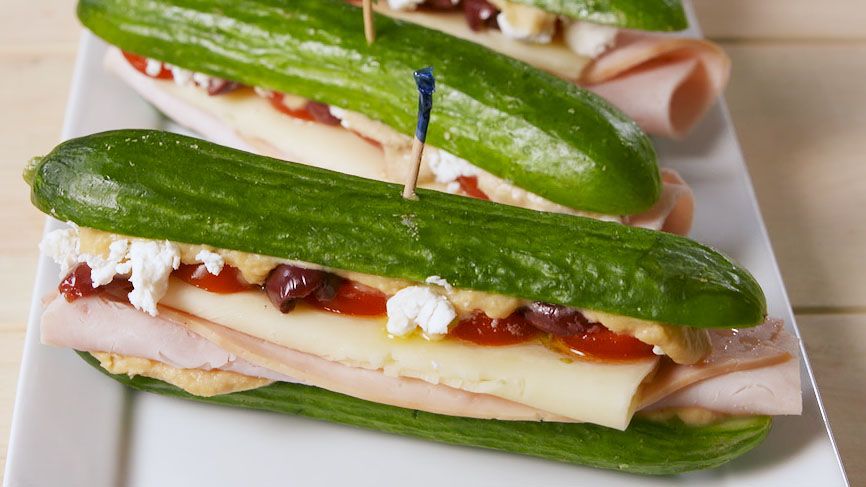 As underrated as it may be, cucumbers are a superfood. It contains a lot of the nutrients like vitamins B1, B2, B3, B5, B6, C. Other than that, it is rich in zinc, potassium, iron, calcium, folic and more. Luckily, it is also a versatile ingredient in which there are a variety of ways to cook it for a delightful dish or snack!
Here are some of the ways you can cook it, beyond just cucumber salads:
Sour cream & onion cucumber crisps

Ingredients:
4

 

cups

 

thinly sliced English Cucumbers

 

with skin (about 2 large)

2

 

tablespoons

 

extra virgin olive oil

1 1/2

 

tablespoons

 

buttermilk powder or nonfat dry milk powder

1

 

tablespoon

 

onion powder

1

 

tablespoon

 

dried minced onion

2

 

teaspoons

 

garlic powder

1

 

teaspoon

 

dried dill weed

1/2

 

teaspoon

 

coarse sea salt

2

 

teaspoons

stevia sugar/monkfruit sugar
Method:
Coat sliced cucumber with olive oil and set aside.

Whisk the rest of the ingredients together in a bowl.

Lay the slices evenly onto the dehydrator shelves. Sprinkle dry mixture over the slices.

Cover and dehydrate for 4- 6 hours.
Cucumber, lime & mint ice lollies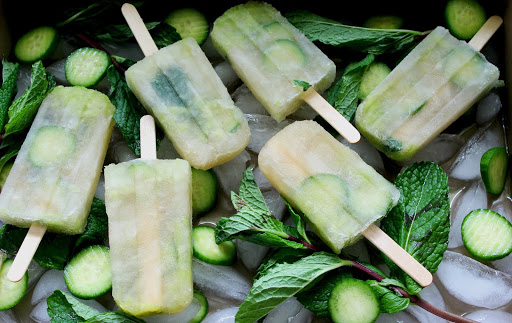 Ingredients:
1 Lebanese cucumber, roughly chopped
¼ cup (60ml) Light agave syrup (nectar)
⅓ CUP (80ml) Lime juice
1 Tbsp chopped mint leaves
2½ cups (625ml) water
2 Baby cucumbers (cukes), thinly sliced
Method:
Place the Lebanese cucumbers in a small food processor and process until smooth.
Using a fine sieve, strain the mixture and discard the pulp to create approximately ¼ cup (60ml) of liquid. Place the liquid in a medium jug, add the agave, lime juice, mint and water and whisk to combine.
Divide the mixture between 8 x ⅓-cup-capacity (80ml) popsicle moulds. Divide the baby cucumbers between the moulds and freeze for 1 hour. Insert popsicle sticks and freeze for a further 2–3 hours or until frozen.  Makes 8.
Cucumber sandwiches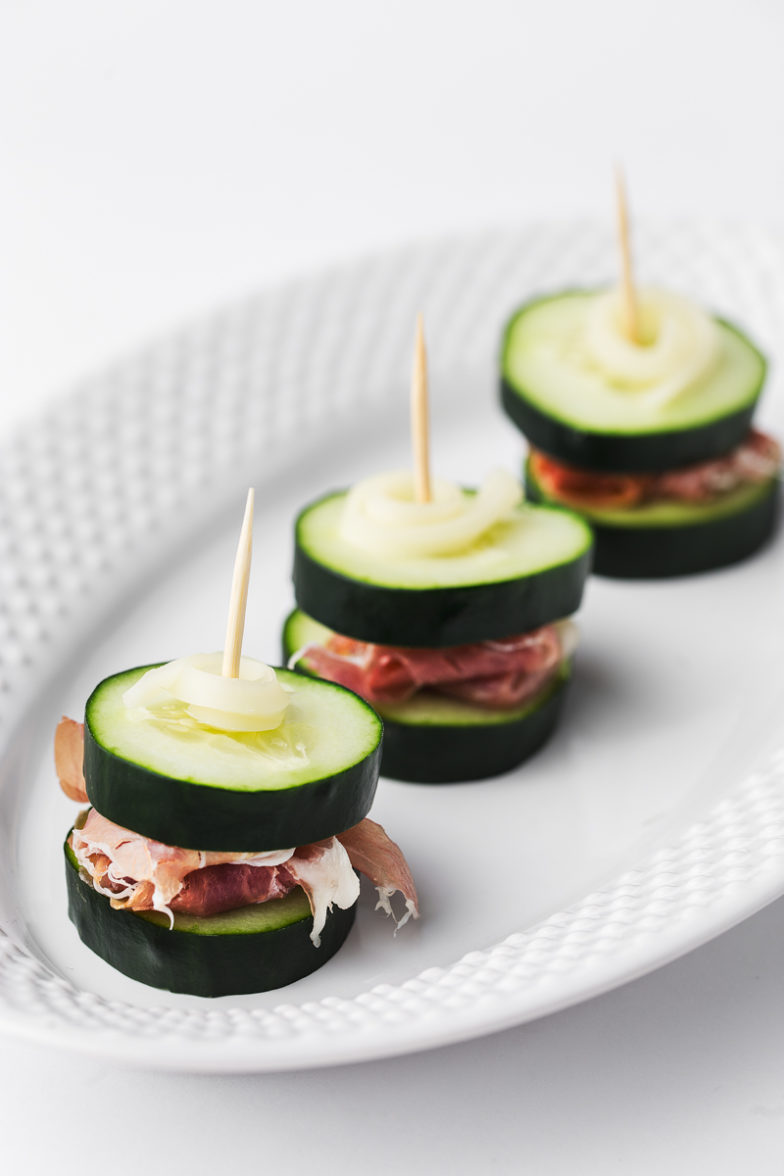 Ingredients:
Cucumber slices
Prosciutto/any meat
Cheese
Toothpicks
Method:
Slice cucumbers.
Slice the cheese into long thin strands
 Prepare prosciutto
First, stack one piece of cucumber with prosciutto on top.
Put another cucumber on top of the prosciutto, then stick a toothpick in the middle to balance the snack.
Finally, wrap the strand of cheese around the toothpick.
On-The-Go Cucumber Snack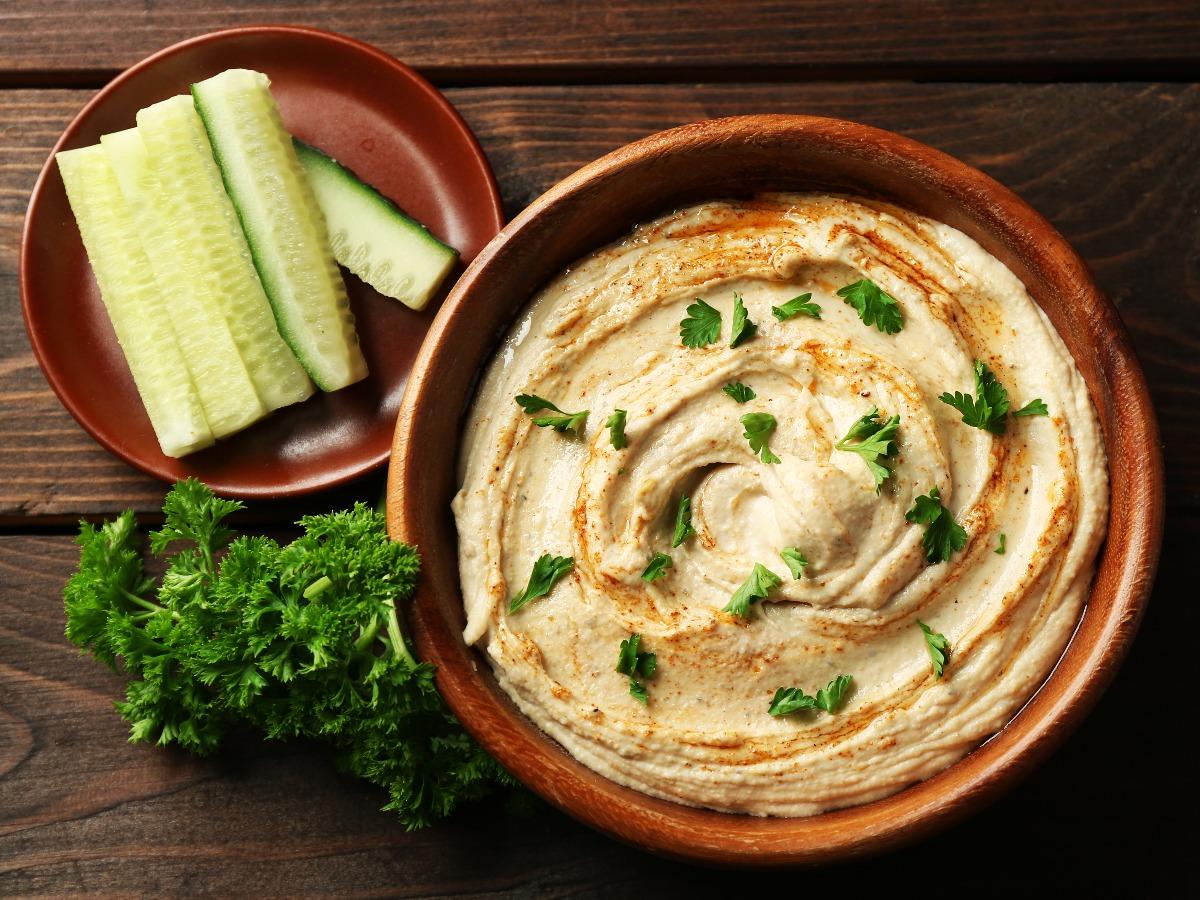 Ingredients:
Cucumber
Hummus/Garlic Dip/etc.
Method: 
Pack everything in plastic bags or lunch boxes.
When the time comes, all you need to do is open the package and dip the cucumbers.
Cucumber Avocado Roll-Ups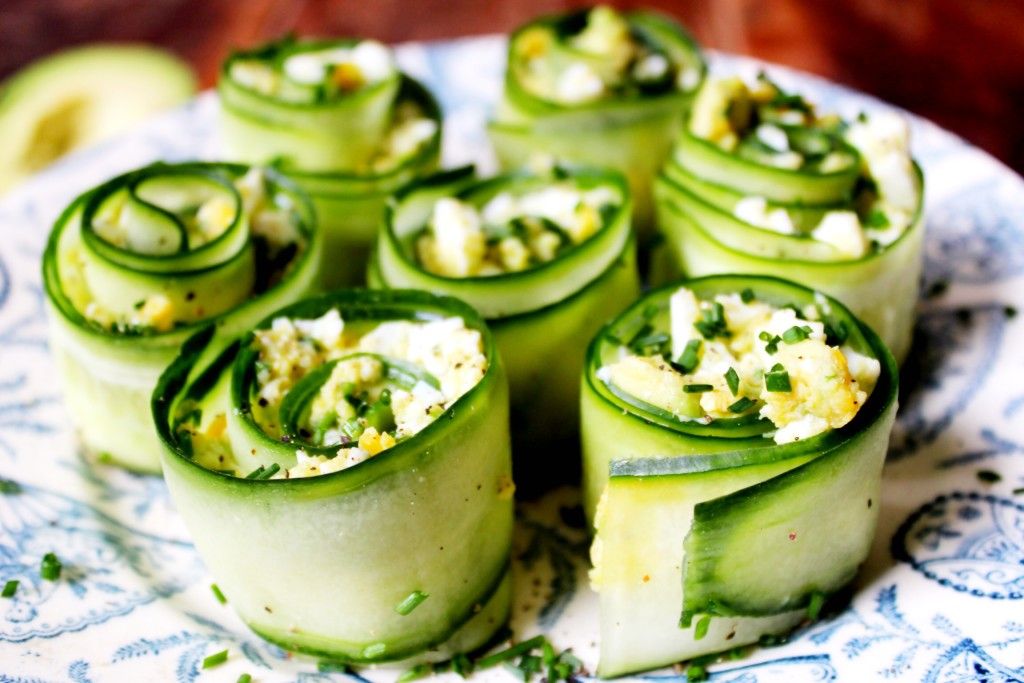 Ingredients:
Cucumber
mashed avocado with cilantro
capers
Method:
Cut thinly sliced cucumbers so you can roll it up with avocado
Mash avocado with some cilantro, then add to the cucumber.
Add a caper as garnish and serve it on a pretty plate
Tuna Cracker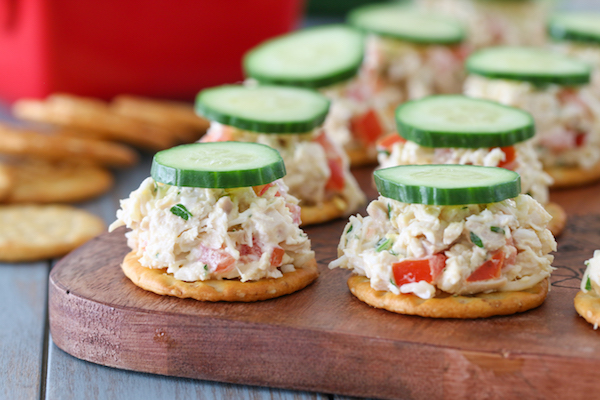 Ingredients: 
Cucumbers
Cajun pepper
Tuna
Cracker
Method:
Place a piece of cracker.
We added a little lemon, salt and cajun pepper to the tuna.
Add the tuna on top of the cracker.
Put cucumber on top.
Sun-dried Tomatoes & Cucumbers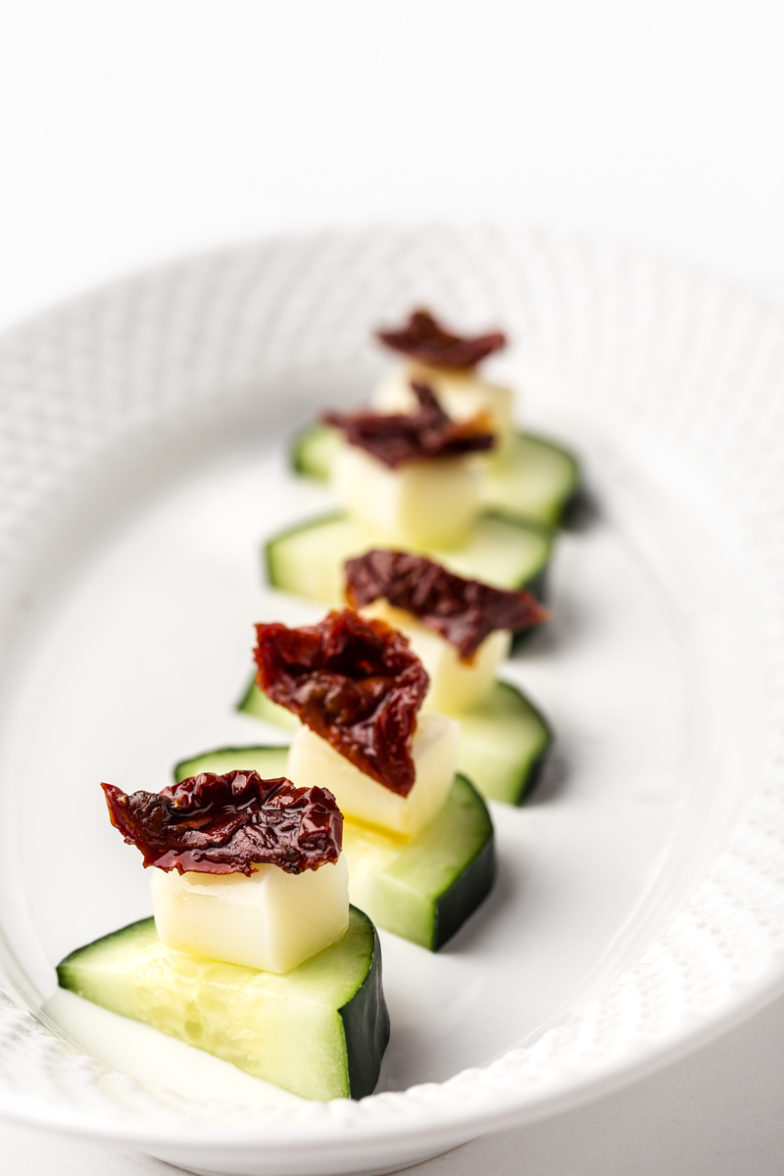 Ingredients: 
Cucumbers
sun-dried tomatoes
cheese
Optional: For an even healthier version of this snack, try substituting the sun-dried tomatoes for little garden tomatoes.
Method:
Slice the tomatoes and and cucumbers.
Cut the cheese into blocks.
Stack the cucumber, cheese and sundried tomatoes in that order.
Cucumber sushi rolls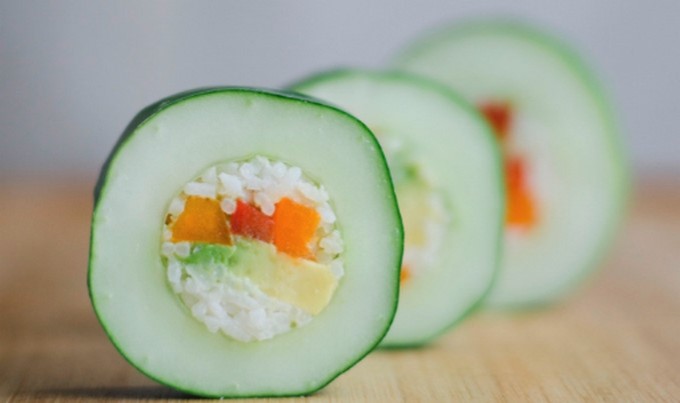 Ingredients:
Sushi
2

 

cucumbers

1

 

cup

 

sushi cooked rice

1/4

 

firm avocado

 

sliced

1/4

 

red bell pepper

 

sliced

1/4

 

orange bell pepper

 

sliced

Optional: you can also try adding julienne cut carrots, red cabbage, sprouts, or scallions
Spicy Mayo
1

 

Tbsp

 

light mayonnaise

1/2

 

tsp

 

sriracha
Instructions:
Cook rice by instructions on package. When finished, do not stir rice and allow it to cool. This will make for a stickier to hold everything together.

Cut each cucumber in half and remove seeds with either a small spoon or knife to create a long, hollow tube (see pictures).

Spoon in a small amount of rice, then compress towards one side of the tube. Gently insert a slice of avocado and a few slices of pepper, then add more rice to fill gaps, compressing and adding more rice until packed full.

With a sharp knife, slice cucumber into 1/2 inch thick pieces. If you start to notice the filling is loose as you cut, stuff in more rice and peppers where needed.

Serve with soy sauce or spicy mayo.
Spicy Mayo
To make spicy mayo, mix 1 Tbsp mayo and 1/2 tsp sriracha.
Finger Cucumber Sandwiches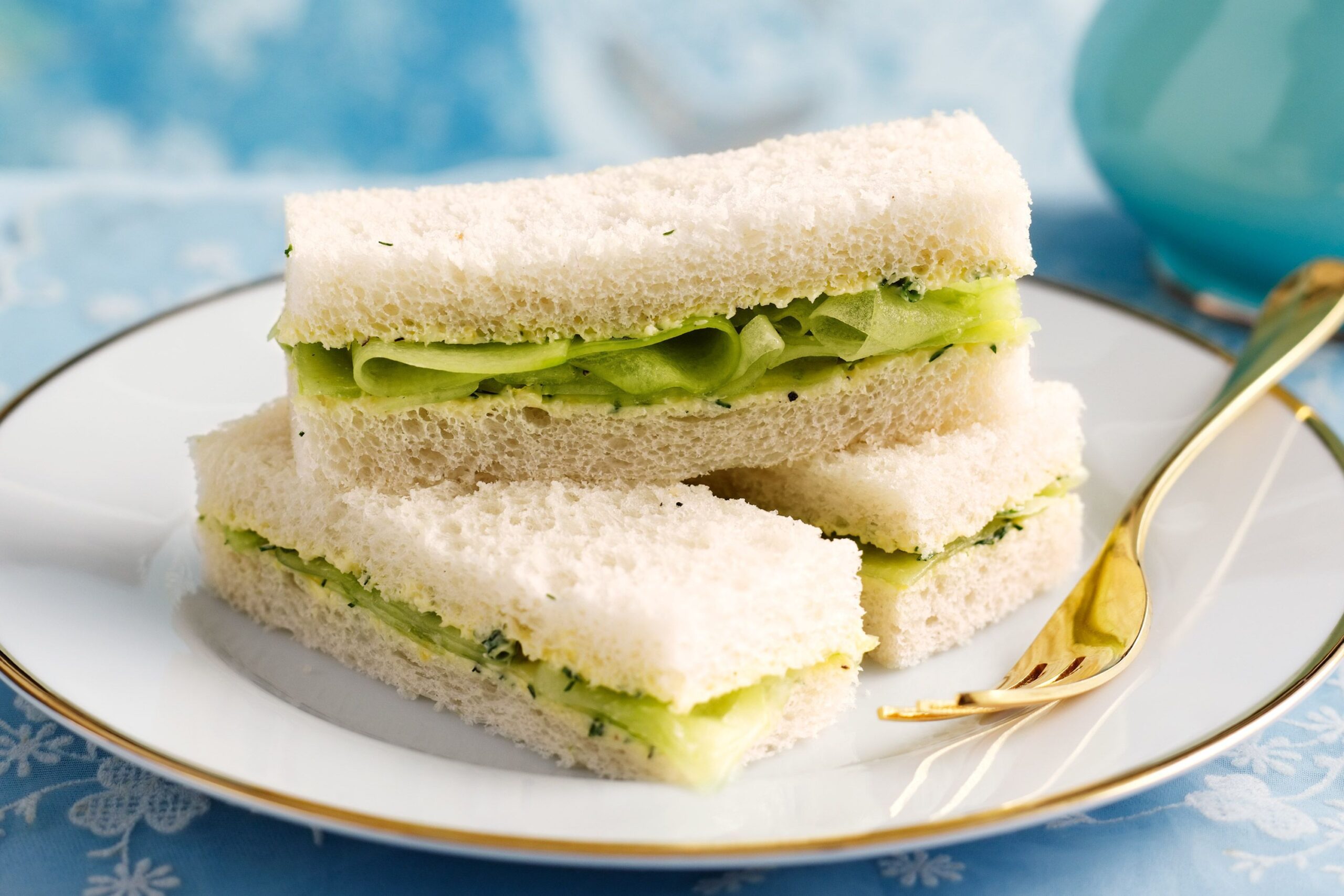 Ingredients:
cucumber
some vinegar
salt
unsalted butter
brown bread
Method:
The first thing to do is to peel the cucumber.
Next, slice the cucumber. You want to make sure that all your slices are complete circles, and that they are as thin as possible.
Once you've sliced the cucumber, put all the slices into a bowl and add a dash of vinegar. Not too much though, or else the cucumbers will be pickled.
Then sprinkle a pinch of salt across the cucumber and lightly toss the slices.
Then add another sprinkle of salt and leave to rest for about 45 min.
While the cucumber slices are resting, you can prepare the slices of bread-and-butter. Brown bread compliments the flavour of the cucumber, but you should be careful not to select a loaf which is seeded or coarse.  Ideally, the bread should also be sliced as thin as paper.
Spread the unsalted butter across the slices-it is wise to use unsalted butter here since the cucumber has been resting in salt and vinegar before it is put on the sandwich, and we don't want our sandwiches to be too salty.
Once the cucumber has finished resting in the salt and vinegar, toss it again lightly and then (gently) pour the cucumber from the bowl and into a sieve. This should ensure that any vinegar rinses off the cucumber mix and will prevent your sandwiches from being too soggy.
Arrange some slices of cucumber on a slice of bread. If the slices are very thin, then it's best to have two slices of cucumber on top of each other in the sandwich.
Place the other slice of bread on top of the cucumber to complete the sandwich.
Now place your hand on top of the sandwich, firmly but without crushing the bread, and remove the crusts using a sharp knife.
Once you have removed the crusts, the next thing to do is to slice it into finger sandwiches. You can usually get three finger sandwiches out of one sandwich.
Arrange the cucumber sandwiches on an ornamental dish or a cake stand if you have one.
Prepare the afternoon tea and serve your cucumber sandwiches on small cake plates.
Turkey Cucumber Sub Sandwich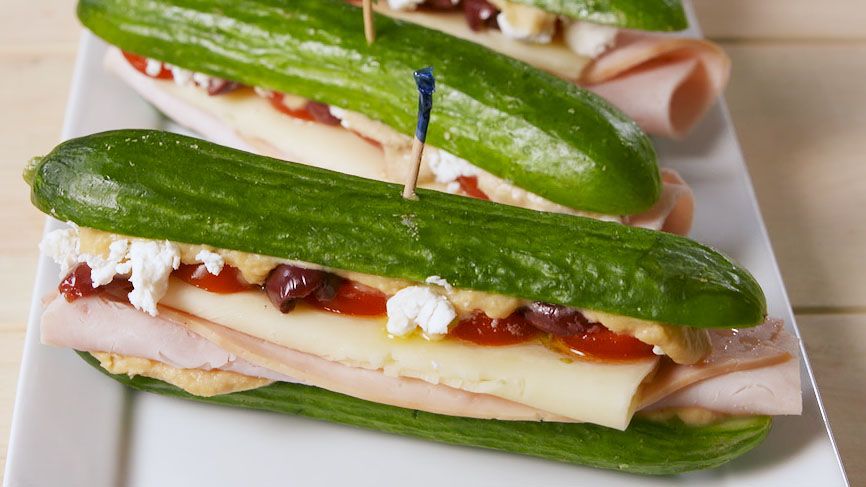 Ingredients:
1 large Cucumber
1/4 pound lean Turkey Meat
4 tablespoons of fat free Cream Cheese
Method: 
Start by taking a kitchen knife and slice just a bit off one side of the long end of the Cucumber. We're going to do this in order to stand it on one end. From there, go ahead and slice just a bit off of both sides. This is so when we cut it down the middle and lay them down they won't roll around. Once finished, slice it down the middle and lay both slices of cucumber on their backs.
Next, take a spoon and scoop out the cucumber body. We want to hollow it out in order to make room for the Cream Cheese and Turkey Meat.
Once you've got it hollowed out, go ahead and lay just a bit (2 tablespoons on each side) of cream cheese. Don't put too much or it'll shoot out once you take a bite.
When you're done with that, evenly distribute your Turkey Meat on both sides.
Cucumber and lemon cake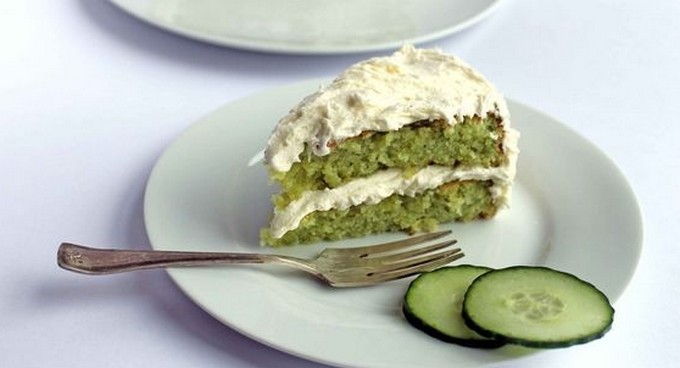 Ingredients:
200 g cucumber about half a cucumber
Zest and juice of half a lemon
115 g butter softened
150 g granulated sugar
1.5 teaspoons vanilla extract
2 eggs
150 g plain flour (all purpose flour)
2 teaspoons baking powder
For the elderflower icing:
75

 

g

 

butter

 

softened

150

 

g

 

icing sugar

 

(confectioner's)

1

 

tablespoon

 

elderflower cordial

 

or lemon juice if elderflower isn't available
Method:
Preheat the oven to 170C/325F. Lightly grease 2 x 7in sandwich tins or a 9inch round cake tin.
Leave the skin on the cucumber and de-seed it by cutting it in half lengthways and scraping the seeds out with a teaspoon. Cut into chunks and puree until smooth. Stir in the lemon juice.
Cream the butter, lemon zest, sugar and vanilla together for a few minutes until light and fluffy.
Add the eggs, one at a time, beating each one in well.
Stir in ⅓ of the flour, then add ⅓ of the cucumber and continue until it is all combined.
Bake in the preheated oven for 35 minutes. Allow to cool slightly in the tin and turn out on a wire rack to cool completely before icing.
For the Elderflower Icing:
Beat the butter, icing sugar and cordial (or lemon juice) together until smooth and fluffy. Keep in the fridge until ready to ice the cake.
Notes: If you can't find Elderflower cordial, lemon juice works nicely too!
Which one of these recipes are you most excited to try? Share your results in the comments section below!