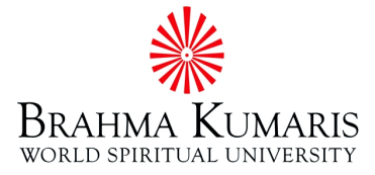 Prajapita Brahma Kumaris Ishwariya Vishwa Vidyalaya, (Brahma Kumaris in short) is a unique Vishwa Vidyalaya ( university ) and a well known spiritual value based educational institution. Through it's teachings, the institution has gained global acceptance and unique international recognition. The institution believes in the parenthood of God and the brotherhood of man and is open to the people of the entire globe irrespective of their caste, creed, age and social, economic or political status.
Administrators
Dadi Janki is the Chief of the Brahma Kumaris and a world-renowned spiritual leader.
History
Prajapita Brahmakumaris Ishwariya Vishwa Vidyalaya was established in Sindh Hyderabad (now in Pakistan) in the year 1937. The institution has a very unique, unexpected and interesting beginning in an atmosphere of incredible divinity. The process of the establishment of the institution and the divine force behind it can be clearly understood when we get glimpses of some extraordinary events that unfolded in the life of an ordinary man called Dada Lekhraj, who himself had the least idea of what was to follow later.
Bramha Kumari Centers in Indonesia

City
Address
Contact Information
Jakarta
National Coordinating Office
Brahma Kumaris
Jalan Cibulan 111/15
Jakarta 12170
T 62-21-724 6794
E jakarta@id.bkwsu.org
Jakarta
Brahma Kumaris
Jl. Sunter Karya Selatan VI
Blok B8/5 Sunter
Jakarta Utara
Jakarta
T 62-21-645 8054
F 62-21-6530 2912
E utara@id.bkwsu.org
Denpasar
Jalan Gatot Subroto I No.53
Denpasar 80231
Bali
T 62-361-425 100
F 62-361-845 0100
E denpasar@id.bkwsu.org
Ubud
The Meditation Shop
Jalan Raya Penestanan
Penestanan Kaja, Sayan
Ubud 80571
Bali
T 62-361-973 014
E ubud@id.bkwsu.org
Surabaya
Jalan Manyar Jaya 111/3
Surabaya 60118
Jawa Timur
T 62-31-594 8529
F 62-31-593 6024
E surabaya@id.bkwsu.org
Gianyar
Lotus House
Jl. Bhayangkara no. 108
Lingkungan Candi Baru
Kelurahan Gianyar 80511
Bali
T 62-361-943448
E gianyar@id.bkwsu.org
Singaraja
Jl. SKIP No.30
Singaraja 81116
Bali
T 62-362 26668
F 62-362 26668
E singaraja@id.bkwsu.org
Source: www. http://omshantiretreat.org