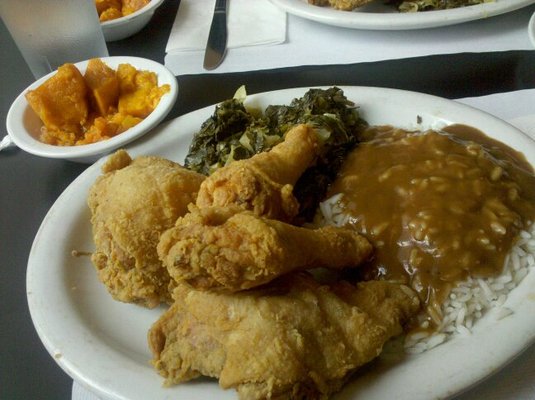 By Rosemarie John – The food ownership debate between Malaysia, Singapore and Thailand on which city Hainanese Chicken Rice originated from initially has gone on forever.
---
Being least of my concerns, I am just thankful that Chinese Immigrants who migrated to these lands brought along with them, their rich heritage and amazing food culture for us all to savour centuries later.
So, here I am back home for Christmas and on my way to do some last minute shopping, I discover a new Chicken Rice Shop right in the middle of my own home turf! How can this have eluded me!! All shopping plans were put on hold, and with just a U-Turn and several minutes of acquiring a parking spot, I was seated in 'New Restaurant Ipoh Chicken Rice' all geared up to order. What is Hainanese Chicken Rice?
Hainanese Chicken Rice is usually represented by steamed chicken. However, roasted chicken is also an option for those who haven't quite acquired the taste of traditionally steamed Chinese chicken yet. Some have found it to be a tad bland thus opting for the latter.
Apart from the chicken, a typical plate of chicken rice consist of rice that has been cooked in chicken broth, chilli sauce made up of garlic, ginger, chicken broth and ground chilli and a bowl of chicken soup garnished with spring onions and white pepper. The must have side dishes are stir fried bean sprouts and Crackling Roasted Pork Belly called 'Siew Yoke' in Cantonese.
Now, New Restaurant isn't your typical chicken rice shop, they have a menu catering to an array of Chinese authentic dishes from sweet and sour pork to steamed fish. The chicken and pork was succulent and the steamed fish was just out of this world. Those who seek the hot and fury can opt for the Home Style Steamed Fish which comes with a spicy chilli paste on top.
Two friends could easily have a decent meal with a combination of chicken, pork, fish, vegetables and drinks at approximately MYR50.00 (USD16) in total. A single portion of roasted chicken could set you back MYR4.00 (USD1.30), single portion of roasted pork at MYR9.00 (USD2.90), a plate of bean sprouts at MYR2.00 (USD0.70) and steamed fish at MYR25.00 (USD8.50) respectively.
New Restaurant is what I would define as a one stop Asian 'Soul Food' experience! If you're ever in Malaysia, make it a part of your must do list. They have many branches all over town and you can find them at: (1) No 2, Jalan SS15/4B Subang Jaya (2) No 107, Jalan Gasing 10/1 Petaling Jaya (3) No 1, Jalan 13/149L Bandar Baru Seri Petaling (4) No 25G & 25A (Level 1) The Boulevard Midvalley City, Lingkaran Syed Putra, Kuala Lumpur.
Text & Photographs by Rosemarie John © All Rights Reserved
Rosemarie John is an Aerospace and Defence Journalist. She is currently based in Jakarta as a Freelance Writer and can be reached at rosemarie.johnc@gmail.com or visit www.rosemariejohn.com for more information. Follow her on Twitter @GypsyScribbles and on Facebook at http://on.fb.me/9v6pNY
{module Rosemarie – Chicken Rice for the Soul}Â