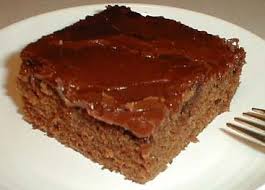 Did you know that you can use coca cola for baking? Here is recipe for not only a yummy, super moist cake but also its frosting with coke. Try it and do share your feedback.
Ingredients:
2 cups flour
2 cups sugar
1 tbsp baking soda
1 cup butter
1 cup Coke Classic
1/2 cup buttermilk
3 tbsp cocoa
1 tsp vanilla
2 beaten eggs
1 1/2 cups miniature marshmallows
Directions:
Sift together and set aside flour, sugar, and baking soda In small saucepan combine butter, 1 cup Coke Classic, buttermilk, and cocoa. Bring to a boil then add vanilla.
Slowly pour into flour mixture.
While stirring, add beaten eggs. Fold in miniature marshmallows.
Pour into baking pan that has been sprayed with no stick spray. Bake at 350º for 30 to 45 min. Cool approximately 5 to 10 minutes.
Frosting ingredients:
1/2 cup butter
6 Tbsp Coke Classic
3 Tbsp cocoa
1 tsp vanilla
1 box powdered sugar
1 cup pecans
Directions:
Bring Coke, butter and cocoa to a boil and stir in vanilla and powdered sugar.
Mix and then add pecans and pour over hot cake.