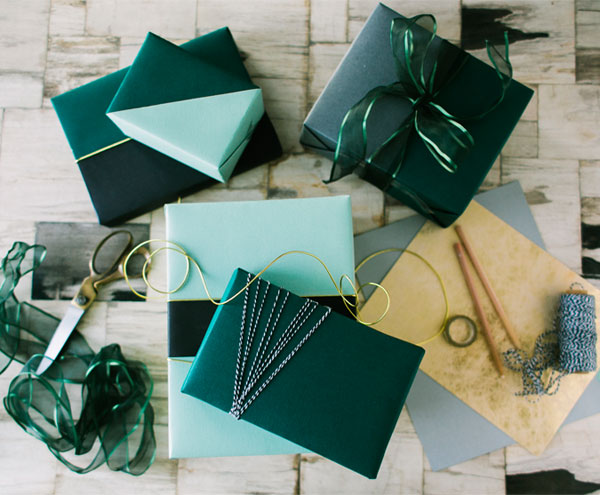 When the gift is carefully chosen, it's worth presenting beautifully, in wrapping that's simple, yet creative. However, you want to spend your fortune on the gift itself, not the wrapping. Here are a few suggestions:
The Rubber Stamp
Buy ordinary brown wrapping paper, using a rubber stamp, stamp all over the non-shiny side with black ink. Then using a gold pen, add little squiggles. Tie with shiny gold ribbon.
The Box
Make a 'box' to fit the gift, out of corrugated cardboard, there are a variety of different colors available, then cut a shape of your choosing (star, simple flower, heart) out of shiny matching card, punch a hole through it and use as a gift tag.
The Natural Look
For a 'natural' look, use plain brown paper to wrap the gift then tie raw raffia around the wrapped gift. You can tie a small posy of dried flowers to the middle leaving using the raffia or try other natural things such as wheat, seedpods. Another idea to decorate the plain wrapping is to glue starfish or miniature pinecones to the front of the gift.
Take the tube 
Wrap your present with in old cardboard wine holder and secure it with tape. Wrap the tube in plain brown paper. Tie torn slips of muslin at each end. Top the knots with cheat's bows (a length of ribbon shaped into two loops with the ties hanging down and secured at the center with a piece of florist wire, elastic or a narrower ribbon) affixed with glue or florist wire.
Go into print
Put your present in a box, and then wrap the box with a newspaper or magazine cover.
The Odd Ball
Wrap an odd-shaped gift with ordinary brown paper. Pack mats of shredded colorful paper around the shape to make a ball and wind around with string to hold it firmly in. It's a little messy to unwrap, but stunning to look at.
An old fashioned kerchief
Loosely wrap as soft gift like a scarf, in thin brown paper or tissue. Twist out the corners and tie round with short pieces of ribbon or raffia like an old-fashioned knotted head kerchief.
The Book Cover
Using an old lidded box, wrap the base and lid separately in brown paper. Line the base of the box with colored tissue before placing the gift inside. Photocopy the cover of your favourite books and use stick on the lid. Make a ribbon bow for the lid.
Button Your Presents
Glue colorful buttons on top of a gift container wrapped in brown paper, colored tissue or cellophane.
Write Sassy Letters
Wrap your gift with brown paper and cover the surface with Letraset. You can use the letters of the recipient's name, or you can hide a message among the alphabet. Use colored or clear cellophane to make a big bow.
The Food Stamp
Cut shapes out of a potato, then you dip the potato in paint. If you get too much paint on it, just dab it with a tissue to remove some of the paint, and make shapes all over brown paper. Or you can take an orange or a lemon, cut it in half, and cut out a little bit of the flesh between the sections, dip it in the paint, and voila, you've got orange shapes all over the paper. Then take raffia and wrap it around the covered present, with a card attached to it.
Cook the present
Paint an old cooking pot in bright colors, then put the present in it.
The Treasure Hunt
Decorate a box to look like a pirate's treasure chest. Then hide it. Draw a treasure map, showing where the gift is hidden. This could turn out into a fun game, especially for your children.
Christmas Tree Decorations
If there are a few small gifts (for Christmas) wrap them separately and hang them from the tree with ribbon.