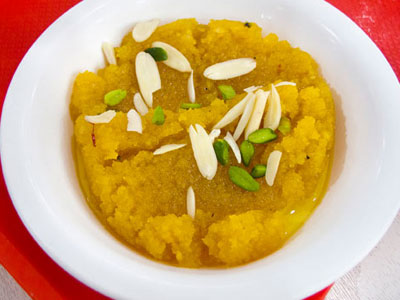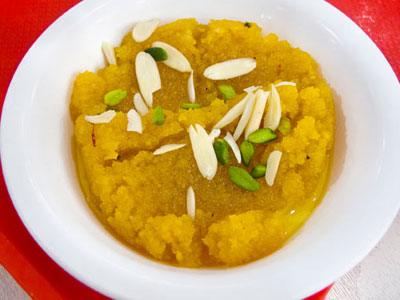 Sweet dish of lentil
Ingredients :
1cup. Moong dal
1cup Sugar
1/2 cup Milk
2 cups Water
8 nos. Almonds
4 nos. Cardamoms
1/2 tsp. Saffron
3/4 cup Mawa/khoya
1 cup Ghee
Method :
Wash and soak the dal overnight.Grind coarsely, using very little water.
Prepare a one string sugar syrup with sugar and water.
Soak saffron in hot milk. Crumble mawa into fine granules.
Blanch almonds, Cool and peel them and cut finely.
Heat ghee in a kadhai and add ground dal and fry till golden brown on a low heat and keep stirring
Add the sugar syrup and saffron milk. Mix well and cook till halwa is of dropping consistency.
Add mawa and cook till it dissolves.
Serve hot, garnished with crushed cardamoms and and sliced almonds.