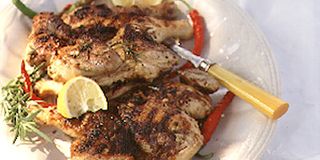 DEVILED CHICKEN
Control the heat in this dish by adjusting the amount of pepper flakes in the marinade.
Ingredients:
Serves 4
2 pounds Chicken breast, boneless, skinless
2 teaspoons Lemon juice
1/4 teaspoon Crushed red pepper flakes
1/2 cup Olive oil
Salt and pepper to taste
Directions:
Combine the lemon juice, pepper flakes, oil and seasonings.
Pour over the chicken.
Cover and marinate for 1 hour (turning a few times). Grill the chicken.
Serve with your favorite rice dish!