Diwali Message from Sri Sri Ravi Shankar
YOU ARE A BEAUTIFUL LAMP TO SPREAD THE LIGHT OF JOY AND KNOWLEDGE.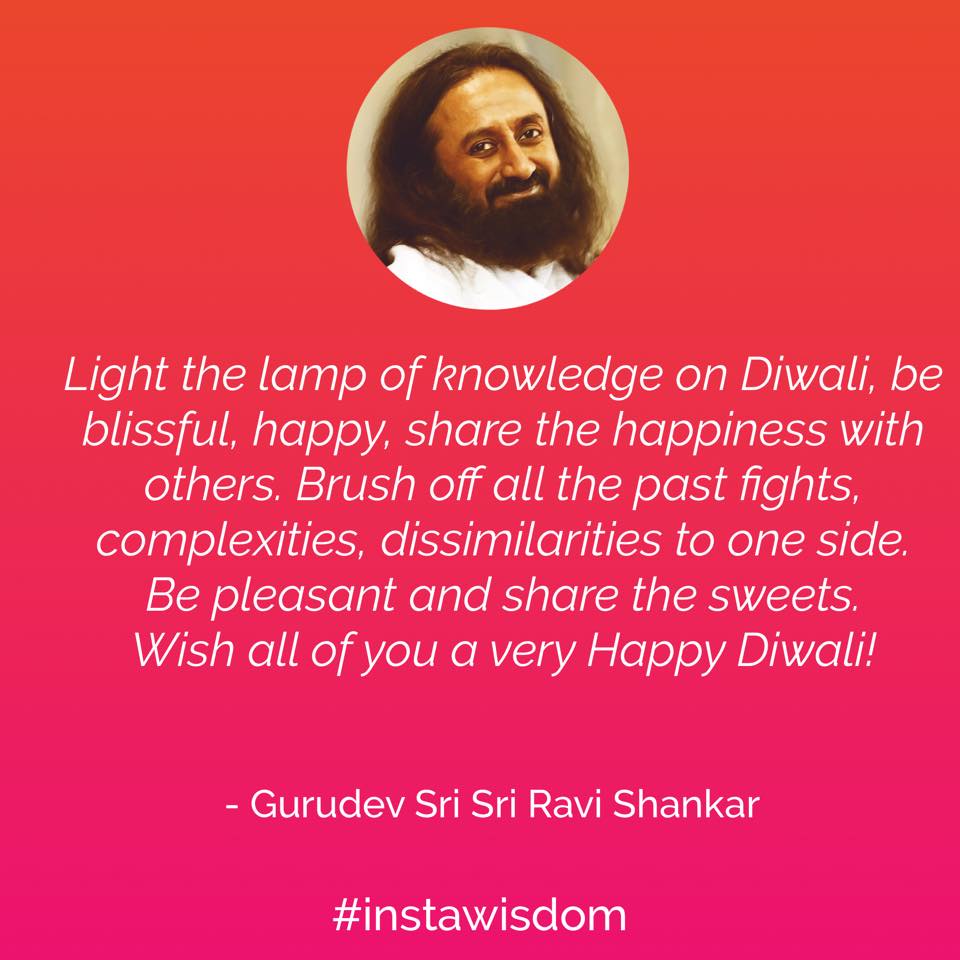 Wish you all a peaceful Deepavali.
Acknowledge and lit the lamp within…
Celebration of Diwali is to remind you that you too are a lamp.
Life is like a light. Our soul is also a light; it has always been associated with light. Lamp has a very unique relationship with our life during many different ceremonies in life.
It is not sufficient to light just one lamp to bring light. All the lamps in our society need to be lit.
"Sangachhatwam", which means let us all walk together, and may there be light and happiness in everyone's life. That is why on the festival of Diwali, we light not one but many lamps. Lighting one lamp alone does not suffice to dispel the darkness (ignorance and negativity). That is why in Diwali we light so many lamps during the night and come together to celebrate. That is why it is called as Deepavali.
Once the light of knowledge dawns from within, then there is light everywhere in the world around us. The whole world starts scintillating with the light of knowledge. To convey the unique importance of spiritual knowledge in our life, we celebrate Diwali.
Lord Buddha said, "Aappah Dipo Bhavah". Lord Buddha says that one should not think that one has really celebrated Diwali simply by lighting oil lamps in the house. The real essence is that you too should shine with the radiance of knowledge, so that you can illumine the path of many others in life.
In the Yoga Sutras, Rishi Patanjali has said, "Murdha jyotishi siddha darshanam"(Vibhuti Pada, #32). It means that once you recognize the (Divine) light within you, you will attain perfection, and many Siddhis (extraordinary abilities) will be awakened. Your intellect will be refined and illumined.
So this Diwali, light the lamp of knowledge within you, be happy, content and spread this happiness to many others around you. Drop all the problems and negativity of the past and put it aside. Be in harmony with everyone else, let there be sweetness and gentility in your behavior towards everyone.
Light lamps to spread light everywhere and also remind yourself that you too are a beautiful lamp and are here to spread the light of joy and knowledge. Everyone who comes to you should experience the light of joy, no one should feel sad. This is what you should pray for.
The author is a humanitarian leader and the founder of The Art of Living organization. He can be followed on @srisri (on Twitter) & facebook.com/SriSriRaviShankar (Facebook)
For more information please click http://www.artofliving.org