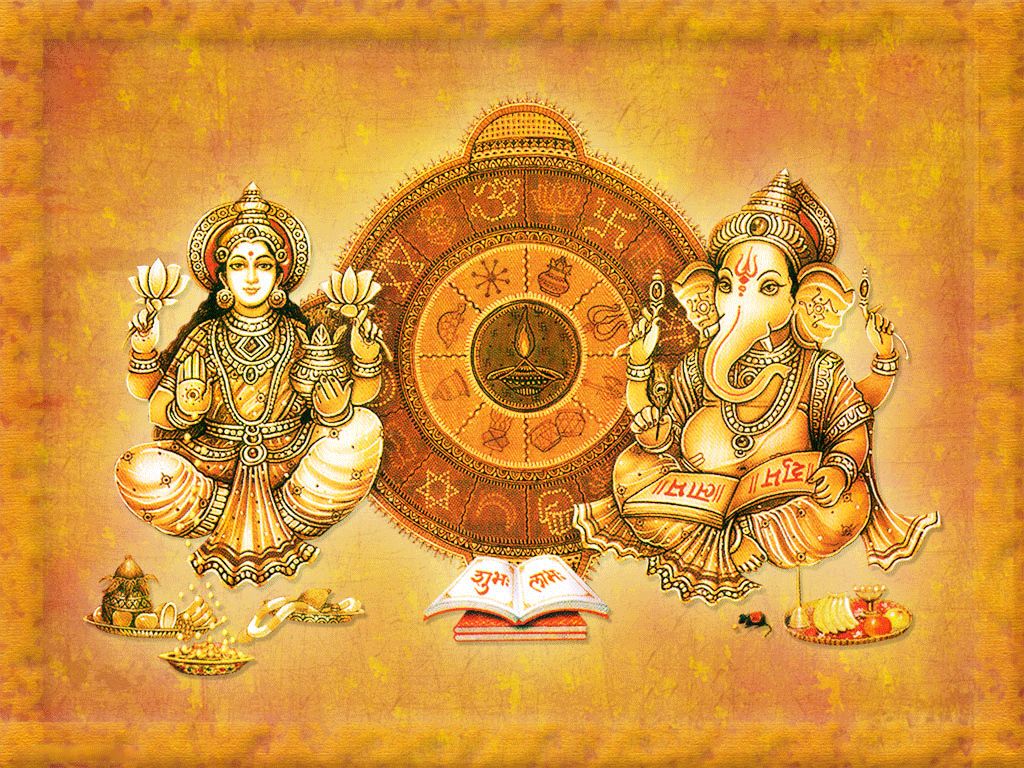 First and foremost step is to clean the house. Through the puja we are inviting Goddess Laxmi to our house and she likes everything to be neat and clean. In some communities, even the broom is worshipped on the Laxmi Puja day. This symbolically represents the need for cleanliness.
Important Items Needed For Puja
Here is the list of the Deepavali samagri for you:
Red fabric – 1 meter
Betel Nuts (supari) – 25
Cloves (Laung) – 25
Cardamon (Elaichi) – 25
Almonds (Badam) – 25
Flowers
Betel leaves – 25
Coconut – 1
Rice grains and Puffed rice – 1 small bowl each
Incense sticks – 10 -20
Camphor – 1 packet
Sandalwood powder – 1 tablespoon
Pure ghee – 1 can
Sindoor
panchamitra made with water, Milk, curd, honey, ghee
Books – 1
Pen – 1
Fruits – 15
Sweets (Mithai) – 1 kg
Silver / Gold coins
Diya – 2
Kalash (bowl) -1
Thalli (steel plate )- 1
Mango leaves
Silver idols of Laxmi Ganesh
Laxmi Puja Process
First decide on a place to perform the puja.
Spread a clean cloth and create a bed of rice.
A Kalash (pot) is placed on the bed of rice.
Fill about 75% of the Kalash with water.
Put a betel nut, flower, a clean coin, and some rice in the Kalash.
Now arrange mango leaves around the opening of the Kalash.
Place a Thaali (a small plain plate) on the Kalash.
On the Thaali, draw a lotus with turmeric powder and place the idol or small photograph of Goddess Laxmi.
Place some coins on the Thaali.
On the right of Kalash, place the idol of Lord Ganesha.
If you need, you can also place the idols of Saraswathi and your favorite deities.
Create a peaceful and calm atmosphere. The best way is to close the eyes and meditate on 'om.'
Take some water and sprinkle on all puja items to purify them.
Do puja with haldi, kumkum and flowers on the Kalash.
Light a lamp.
Now take some flower and rice in the hands and close the eyes and meditate on Goddess Laxmi. You are now invoking Goddess Laxmi. If you know mantras, recite them. Otherwise just simply meditate on Goddess Laxmi. Here is a simple Sanskrit mantra dedicated to Goddess Laxmi.
Namosthesthu Maha Maye,
Shree padee, sura poojithe,
Shanka, Chakra, Gadha hasthe,
Maha Laxmi Namosthuthe
Now sprinkle the flowers and rice on the idol of Goddess Laxmi.
Take out the idol of Goddess Laxmi and place it on a Thaali. Clean the idol with water, then with milk, curd, ghee, honey and sugar. Then clean the idol again with water.
Place the idol back on the Kalash.
Now offer garlands made of marigolds or leaves of bel tree, sandalwood paste, kumkum and other daily puja items including lighting incense and agarbhatis.
Now make offerings of coconut, fruits, sweets, betel nuts and betel leaves.
Next make offerings of Batasha sweets, puffed rice, luang, elaichi.
Lastly, perform a silent Arati for Goddess Laxmi. And meditate on Goddess Laxmi.
Take some of the 'prasad' (that will stay for long period of time) and place it at the place where ornaments and cash is usually kept.
 Aarti:
Finally, perform the aarti for goddess Laxmi. The aarti can be accompanied by a small bell. A peaceful and sublime atmosphere should prevail during the Pujan. Do not light crackers while the Puja is on or immediately after it.
Do send us your Diwali puja pictures to add to this page.