Dr Kiran Bedi: A Woman of Substance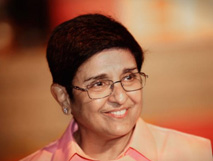 Dr Kiran Bedi, joined the officer ranks of Indian Police Service in 1972 and became the first woman in India to do so.
She worked with the United Nations in New York as the Police Advisor to the Secretary General, in the Department of Peace Keeping Operations
She holds a Law, Masters, Doctorate degree. She is also a Nehru Fellow (post doctoral) – Has been a National and an Asian Tennis champion
She is a recipient of the prestigious Ramon Magsaysay Award (also called the Asian Nobel Prize),
She is the founder of two NGOs, Navjyoti and India Vision Foundation, which reach out to thousands of under -served children, women and men. Currently her NGOs are running B-Schools in partnership with Universities and Vocational Institutes for Indian youth.
Kiran Bedi has been voted as India's most admired (THE WEEK 2002), most trusted woman in India. (Readers Digest, March 2010, Navbharat Times 2012), MSN Most Admired Indian Female Icon 2011 and amongst top 10 women Icons of 2013 by The Economic Times.
A nonfiction feature film on Dr Bedi's life entitled Yes, Madam Sir has been produced by an Australian film maker, Megan Doneman. The film was adjudged the "Best Documentary" at Santa Barbara International Film Festival and is available on Amazon.com
She has been in the vanguard of a nationwide movement of India Against Corruption.
Dr. Bedi has a biography, I Dare and is an author of several books, namely it's Always Possible, What Went Wrong, As I See, Broom and Groom, India Protests. She anchors radio and television shows and is a columnist.
For more information may visit her websitewww.kiranbedi.com or tweet @thekiranbedi