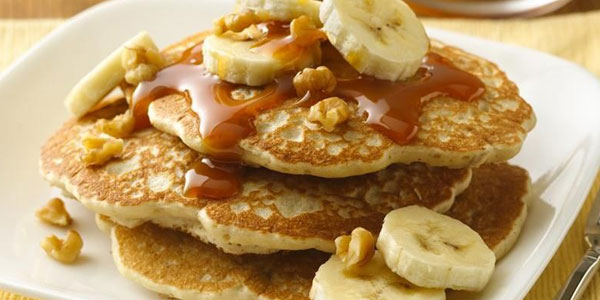 A breakfast special with just 3 basic ingredients – flour, milk, and eggs. Once you see how easy it is to make them from scratch, you'll never go back to those pre-packaged pancake mixes ever again!
Ingredients :
1 cup (125 g) flour
1 teaspoon (4 g) baking powder
¼ teaspoon (1 g) baking soda
a pinch of salt
2 tablespoons (40 g) caster or brown sugar
1 egg
5 tablespoons (35 ml) vegetable oil or melted butter + extra for greasing
1 teaspoon (4 ml) apple vinegar
100 ml milk
Metho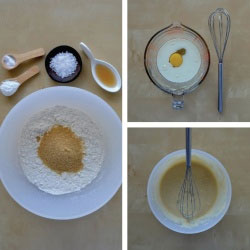 d :
Mix flour, baking powder, baking soda, sugar and salt in a bowl.

Add vinegar, which, in contact with baking soda, will create some bubbly foam. This helps the pancakes to raise and become especially fluffy.

Whisk egg, milk and oil in a bowl. Mix with dry ingredients and beat until combined.
Grease a non-stick pan with a tablespoon of oil or melted butter. It only needs to lightly coat the surface, so absorb the excess oil with a piece of folded paper towel. Don't discard, as you'll need it later.
Heat the pan over a medium-low flame. Pour 2 tablespoons of the batter onto the hot pan to make one pancake.
You should be able to fit 2 to 3 pancakes in a large pan.
Cook until bubbles appear on the surface, or for around 2 minutes. Flip the pancakes and cook for another minute until golden.
Keep the cooked pancakes in a warm place while you continue to cook the rest. Grease the pan with the oily paper towel between each batch.
Serve warm with whatever topping you fancy.
Although the classic accompaniment of pancakes is a drizzle of maple syrup, caramelized seasonal fruits like bananas are yum.
Ingredients :
3 bananas; Ambon, Raja or Cavendish
100 ml maple syrup or honey
A knob of butter
A pinch of salt
Method :
Heat a shallow pan over a medium flame and pour in maple syrup or honey. Cook for 2 minutes until it starts to bubble.
Peel and slice the bananas into 1-cm thick rounds. Slide them gently into the bubbling caramel. Be careful not to burn yourself, it's really hot.
Add butter and salt, and swirl the pan gently to move the bananas around so they're evenly coated by the caramel.
Cook for about 3 minutes until they're tender but not mushy. Serve over the pancakes.