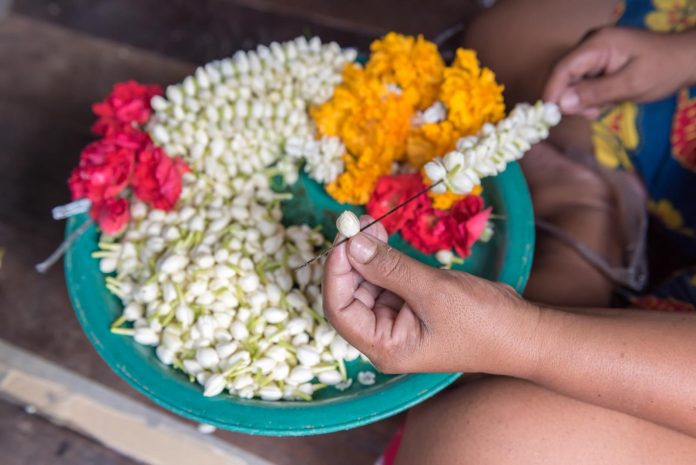 Garlands have been used in many cultures across the world as symbols of purity, beauty, peace, love and passion. Flowers, leaves and foliage, delicately strung into garlands, wreaths etc. have been worn as adornments or hung as decorations since time immemorial.
Shanthi Seshadri has been making flower garlands for temple and prayers every week for the past 24 years. She will share the techniques and tips to string flower garland at home.
What you need:
Jasmine flowers
Few colorful flowers
long needle
thread
scissors
She demonstrated the technique to make jasmine garland with a long thin needle and thread. The jasmine flowers were threaded through the needle in a circular manner so that the flower buds were arranged around in all direction. Other flowers were threaded in a similar fashion to add pops of color.
Mango leaves were folded and also threaded to provide a contrast color on the garland.
The garlands can be made ahead and stored in a covered steel utensil in the refrigerator for a day or two.
About Shanthi Seshadri: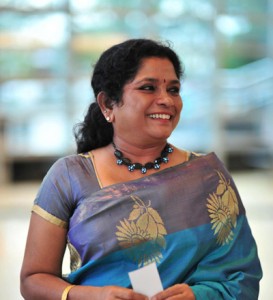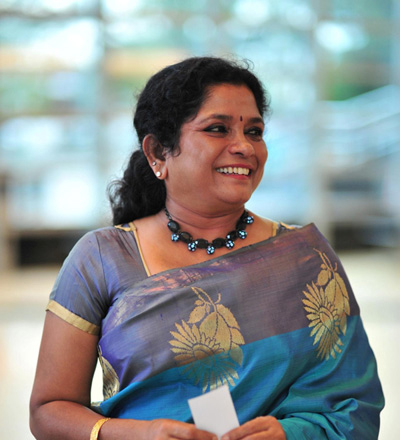 Shanthi Seshadri, is a multi-talented and very creative artist dabbling a variety of art forms and styles. She has also spearheaded events at the temple and is still one of the key members in planning and executing the weekly prayers as well as annual week-long festival.
She is very good at making different types of flower garlands and decorations as can be seen every week at the temple.