Jakarta, the bustling capital of Indonesia, is a city known for its vibrant culture and rich heritage. Amidst the modern skyscrapers and bustling streets, Jakarta is home to various temples that reflect the diverse cultural and religious landscape of the country. Let's embark on a journey to explore some of the remarkable temples that grace the city.
Here are some of the notable temples in Jakarta:
1. Aditya Jaya Temple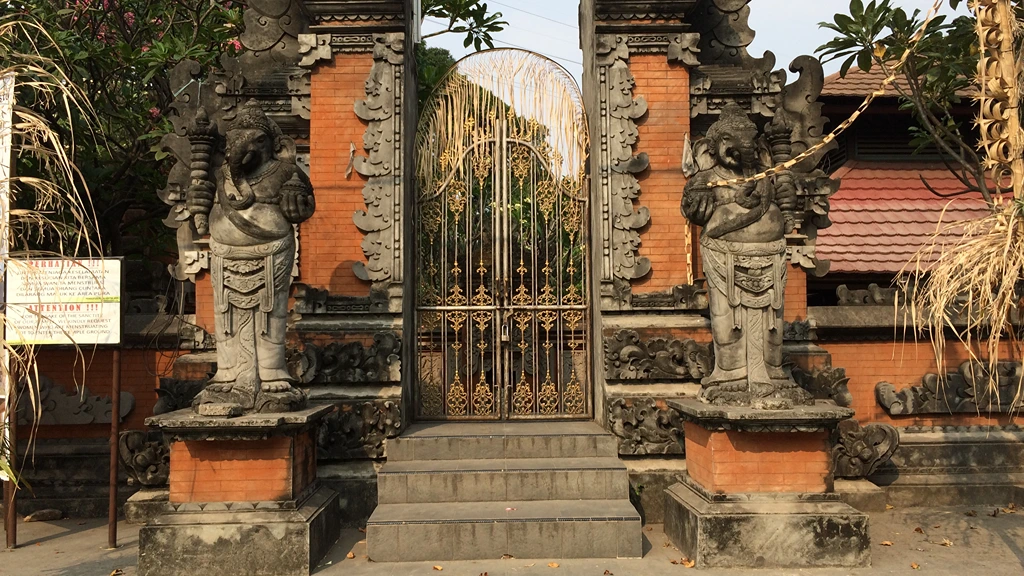 Aditya Jaya Temple is located on Jalan Daksinapati Raya, Rawamangun, East Jakarta. In its history, this place has become one of the oldest temples in Jakarta. The existence of Aditya Jaya Temple cannot be separated from the history of the struggle of Jakarta Hindus to get a place of worship since 1955.
In the end, it was only in the 1960s that the government responded to this desire. Having been constrained, finally the laying of the first stone for the construction of the Aditya Jaya Temple was carried out in 1972 by Drs. Moh. Hadi. After that, the physical development began by making Padmasana.
Location : Jl. Daksinapati Raya No.10, RT.11/RW.14, Rawamangun, Kec. Pulo Gadung, City of East Jakarta, DKI Jakarta.
2. Mustika Dharma Temple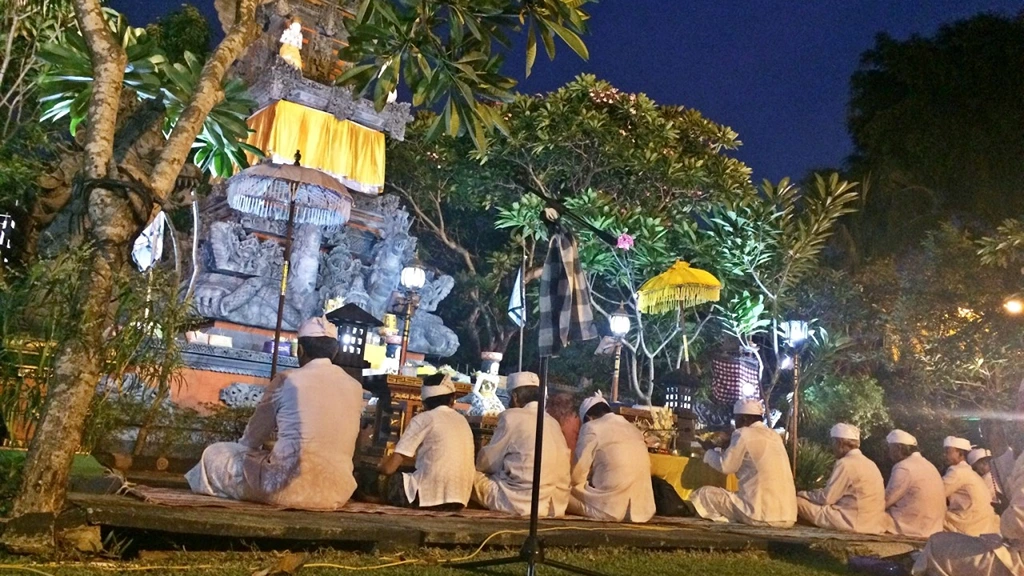 Next is the Mustika Dharma Temple. Quoting the website of the Jakarta Cultural Office, this temple was built as a place of worship for Hindus in Cijantung, Jakarta. At that time, Pusro AD was laying the first stone. This was done because of its proximity to the Armed Forces complex. Even though it has a national level, the shape of the building still uses the traditional model.
Location : Jl. RA Fadillah, Cijantung, Kec. Pasar Rebo, East Jakarta.
3. Segara Temple Jakarta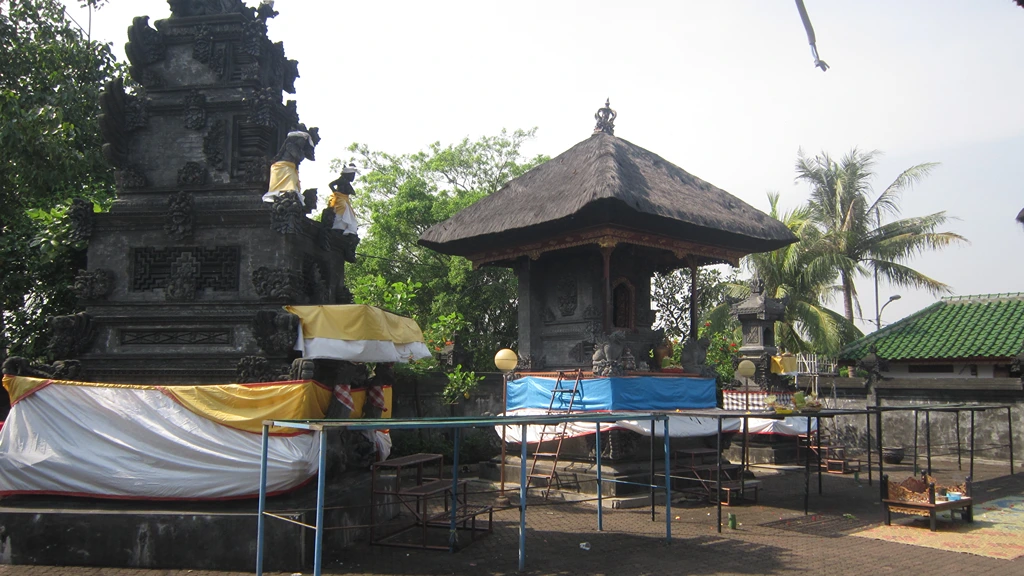 Unlike the usual Hindu places of worship, this temple is located by the sea. The place itself is in the Cilincing area, North Jakarta.
Location : Jl. Cremation 28, Kali Baru Timur, Kali Baru, Cilincing, North Jakarta.
4. Agung Wira Dharma Samudra Temple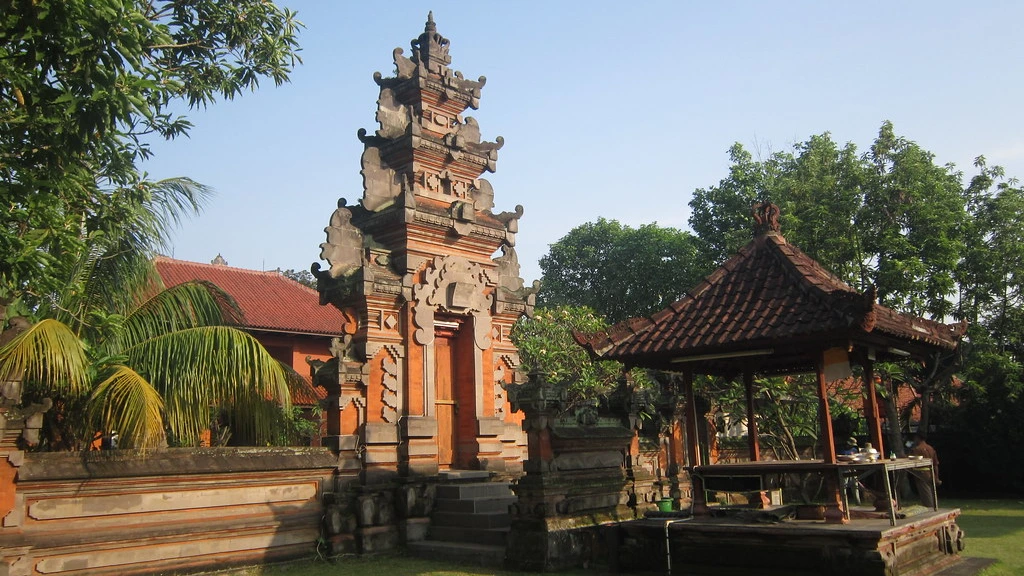 Agung Wira Dharma Samudera Temple which is located in the Cilandak Marine Complex. Starting construction in 1993, the use of this temple was inaugurated by the Indonesian Navy/Marine Corps along with the Nnteg Linggih holy ceremony on May 24, 2003.
Location : Jl. comp. Cilandak Marines, Kec. Sunday Market, South Jakarta.
5. Widya Dharma Temple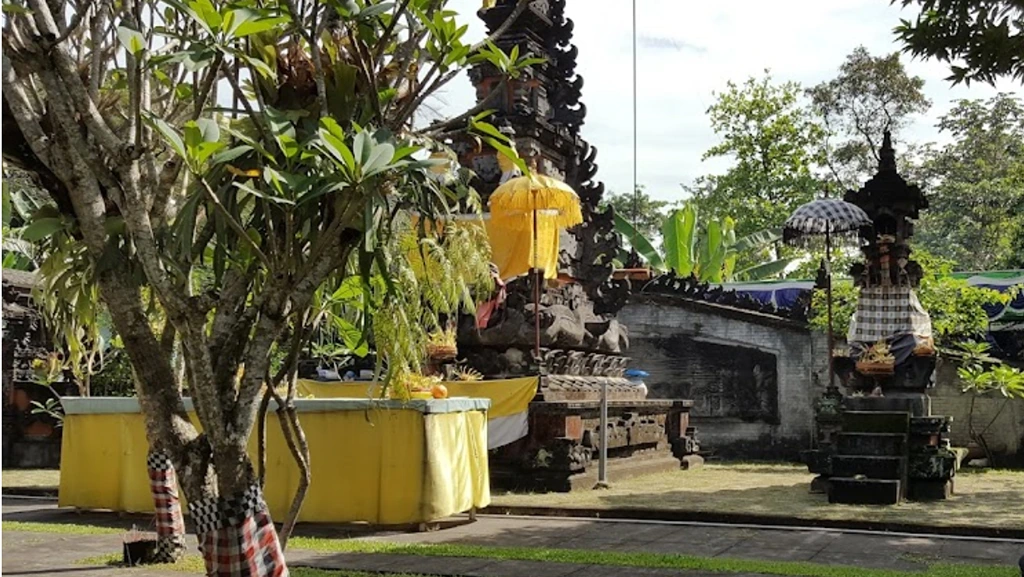 The Widya Dharma Temple is a place of striking beauty, with its warm hues of orange and brown that adorn its structure. The walls and roofs of the temple are adorned with intricate carvings and sculptures, making it a feast for the eyes of anyone who visits. Inside, the temple boasts a remarkable collection of stone sculptures, each with its unique charm and significance. This expansive outdoor space is also utilized for yoga sessions. It also becomes the backdrop for weddings, where couples can exchange their vows in a serene and culturally rich environment.
Location : Pondok Ranggon, Kec. Cipayung, City of East Jakarta.
6. Taman Sari Halim Great Temple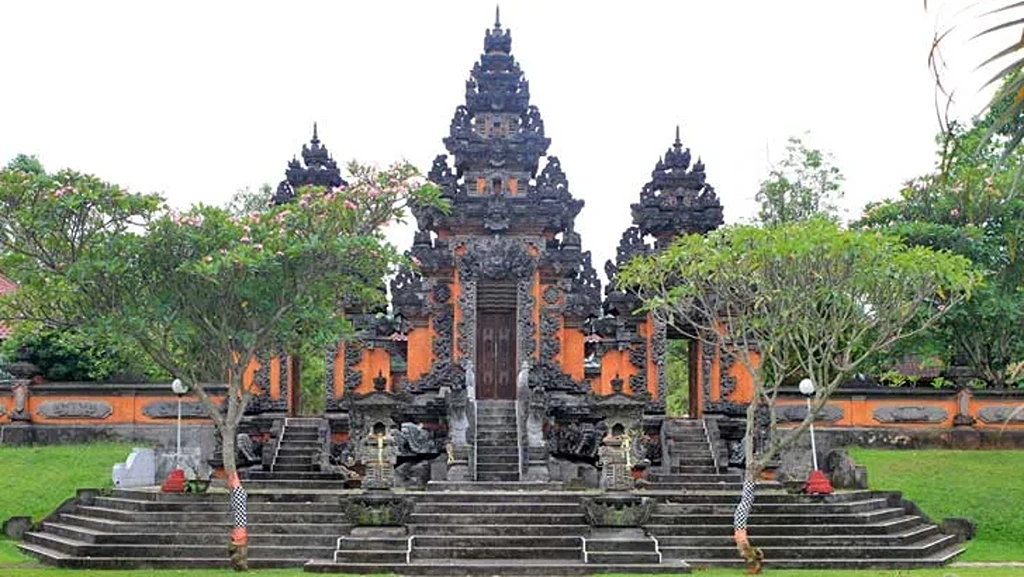 Pura Agung Taman Sari Halim Perdana Kusuma is a unique temple and has distinctive characteristics that differentiate it from other temples in DKI Jakarta. One of the things that differentiates it is the presence of the Pura Dalem Ped shrine which is located within this temple complex. This pelinggih is located under the shade of juwet trees and is located in the nista mandala area near Griye Pedande Gde Pasuruhan Sidemahan, where Hindus gather to pray.
Location : Jl. Taman Sari Agung Temple, Halim Perdana Kusuma Airport Complex, Makasar District, East Jakarta.
7. Agung Wira Satya Bhuana Temple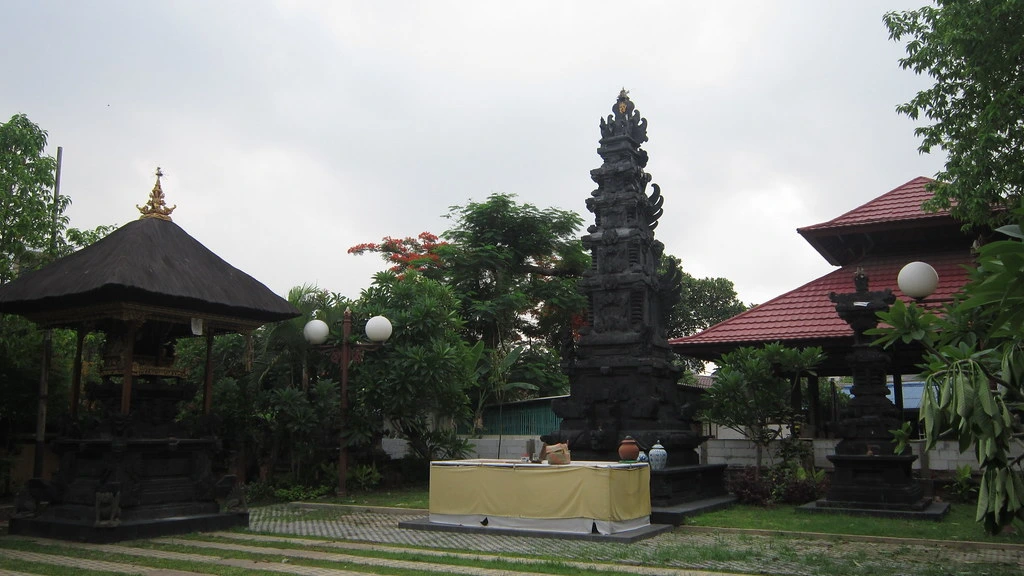 Pura Wira Agung Satya Bhuana, which is often referred to as Pura Paspampres by local residents, is a place of worship located within the Paspampres Headquarters complex. Its location facing Jalan Kesehatan, at the intersection of Jalan Kesehatan and Jalan Petojo Melintang, Gambir, Central Jakarta, creates a cool and calm atmosphere in the surrounding area. With trees decorating both sides of Jalan Kesehatan, the area around this temple provides a very comfortable shade.
Location : Jl. Health Paspampres Complex, Cideng, Gambir. Central Jakarta
8. Dalem Purnajati Temple, Tanjung Puri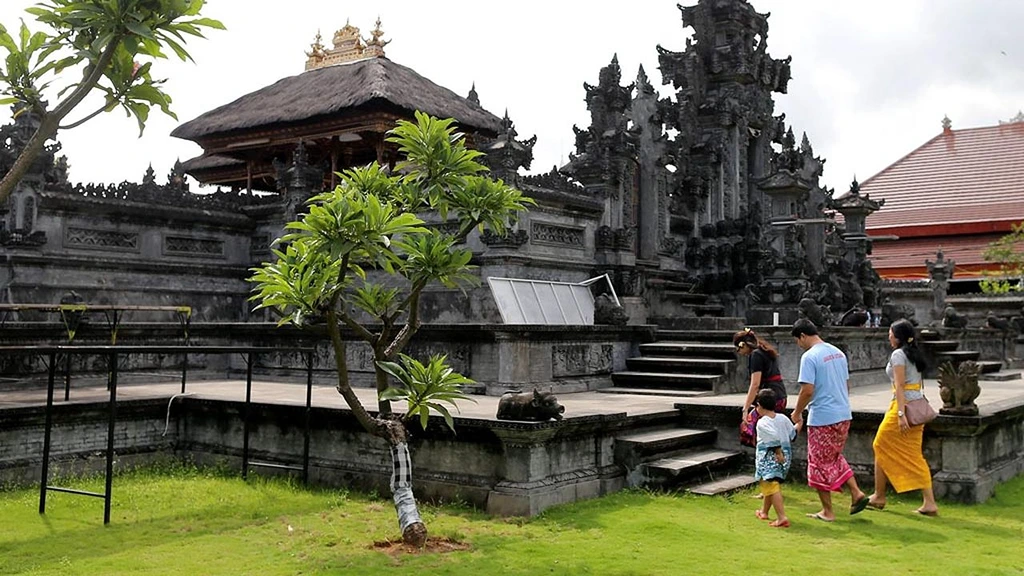 When passing through the gate of this temple, visitors will feel extraordinary calm and peace. With typical Balinese architecture supporting it, visitors feel as if they have moved to a completely different location. This temple has an area of around 5,000 square meters, and is the only Pura Dalem in the Jakarta area, which is the palace of Lord Shiva with the power to dissolve all things. Pura Dalem is an important starting point in the history of the development of Hindus in Jakarta, even having an impact on surrounding areas, such as Bogor, Depok, Tangerang and Bekasi.
Location : Jl. Raya Cilincing, Semper Barat, Kec. Cilincing, North Jakarta.
9. Candra Prabha Jelambar Temple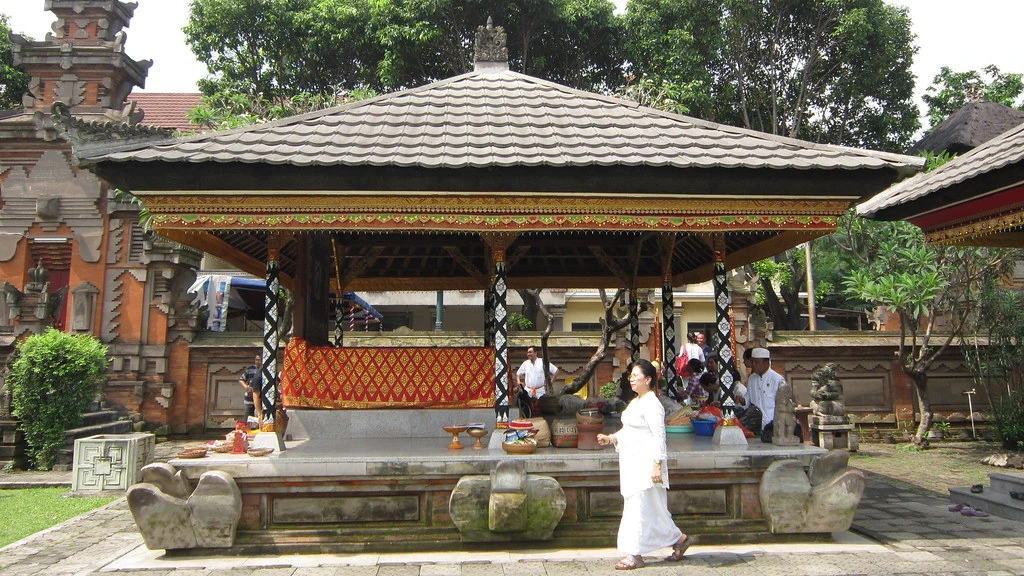 If you're looking to immerse yourself in the local culture of West Jakarta and connect with the Hindu community, Candra Prabha Jelambar Temple is the place to be. This temple is a hub of social activities, offering a rich tapestry of experiences, including community service, traditional dances, culinary traditions, and much more. It's a unique opportunity to gain insight into Hinduism and Balinese culture without having to travel all the way to Bali.
Location : Jl. Indraloka Raya No. 1 RT. 8/10 Jelambar, Kec. Grogol Petamburan, West Jakarta.
10. Kesatrya Loka Kalibata Temple
The initial construction of the temple was quite modest, beginning as a simple meeting hall with a room measuring approximately 10×10 meters. During religious rituals, only three symbolic statues were present, representing Brahman, Shiva, and Vishnu. Historically, this temple was erected through voluntary contributions from the local Hindu community, and its architectural elements were directly imported from Bali. Architecturally, the temple is divided into three distinct parts: the Nista Mandala (Outer Zone), Madya Mandala (Middle Zone), and Utama Mandala (Main Zone).
Location : Jl. Central Kalibata I Kalibata, Kec. Pancoran, South Jakarta;
Those are a number of temples in Jakarta that Hindus can visit to worship.
Several Other Temples in Jakarta
Pura Widya Dharma Cibubur
Komplek Jambore, Pondok Ranggon, Kec. Cipayung, Kota Jakarta Timur
________________________________________
Pura Agung Taman Sari Halim
Komplek Halim Perdana Kusuma Jakarta Timur
________________________________________
Pura Penataran Agung Kertabumi
Jalan Raya Taman Mini, RW.2, Ceger, Kec. Cipayung, Kota Jakarta Timur, Daerah Khusus Ibukota Jakarta 13560
________________________________________
Pura Agung Wira Satya Bhuana
Jl. Kesehatan Komplek Paspampres, Cideng, Gambir. Jakarta Pusat
________________________________________
Dewi Mandir Kuil Kemayoran
Jl. Angkasa Dalam I No.29 Gunung Sahari, Kemayoran, Jakarta Pusat
________________________________________
Mangla Vinayaka Ganesha Temple
Jl. Cikini IV No.16 Cikini, Kec. Menteng, kota Jakarta Pusat
________________________________________
Hare Krishna Temple
Jl. Kelinci Raya No.2F, RT.3/RW.3, Ps. Baru, Kecamatan Sawah Besar, Kota Jakarta Pusat,
Daerah Khusus Ibukota Jakarta 10710
________________________________________
Pura Segara Cilincing
Jl. Kremasi 28, Kali Baru Timur, Kali Baru, Cilincing, Jakarta Utara
________________________________________
Pura Dalem Purnajati Tanjung Puri
Jl. Raya Cilincing, Semper Barat, Kec. Cilincing, Jakarta Utara
________________________________________
Kuil/Mandhir (Tempat Ibadah Hindu Etnis India)
Siwa Mandhir Peluit
Jl. Pluit barat Raya No.46, Kec. Penjaringan, Kota Jakarta Utara
________________________________________
Pura Candra Prabha Jelambar
Jl. Indraloka Raya No.1 RT.8/10 Jelambar, Kec. Grogol Petamburan Jakarta Barat;
________________________________________
Amerta Jati Cinere
Jl. Punak, Pangkalan Jati, Jakarta Selatan
________________________________________
Pura Widya Mandala Lenteng Agung
Jl. Mangga Srengseng Sawah, Jagakarsa, Jakarta Selatan
________________________________________
Pura Agung Wira Dharma Samudra
Jl. Komp. Marinir Cilandak, Kec. Pasar Minggu, Jakarta Selatan
________________________________________
Pura Kesatrya Loka Kalibata
Jl. Kalibata Tengah I Kalibata, Kec. Pancoran, Jakarta Selatan