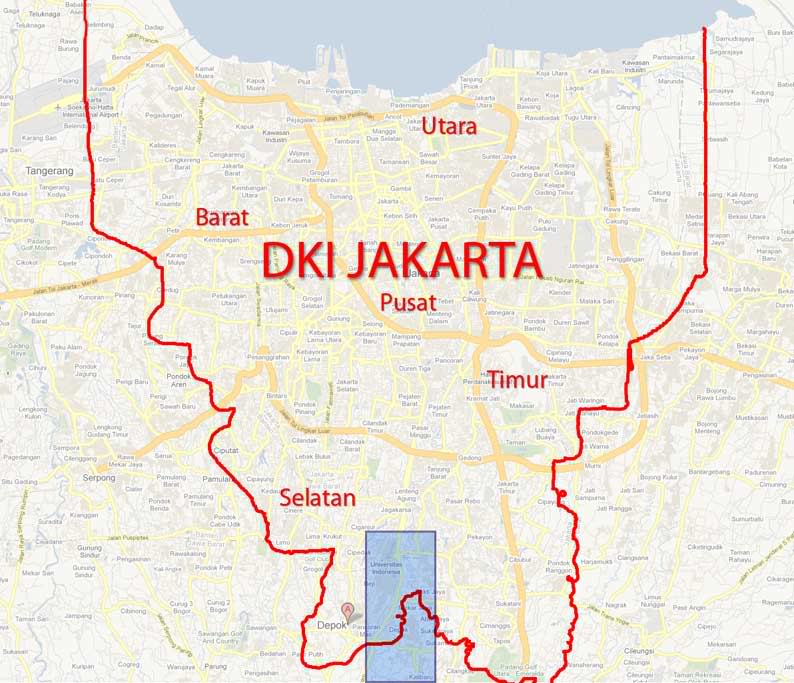 Jakarta is a large city with a variety of neighborhoods. Here is some information for newcomers to help you select the most appropriate place for your new home.
The city of Jakarta is divided into five mayoralties: North, South, East, West, and Central. The following provides a very brief description of what is found in each of these areas.
Central Jakarta (Jakarta Pusat) is where the majority of office buildings and government offices are located. It has old, established, historical neighborhoods and many embassies and ambassadors residences are found here. Most of Jakartas international hotels are located in Central Jakarta as well as several shopping malls and some of the citys best restaurants. There are also several hospitals and clinics and the original campus of the University of Indonesia.
South Jakarta (Jakarta Selatan) tends to be an area favored by the expatriate community due to the fact that there are numerous planned residential areas and several international schools located here. It has good facilities geared towards the expatriate community, including shopping malls, grocery stores, department stores, specialty stores and boutiques, a great variety of restaurants, as well as hospitals and clinics.
East Jakarta (Jakarta Timur) has a mixture of residential areas, with some planned housing developments, and industrial areas focusing on light manufacturing. A feature of East Jakarta is Taman Mini Indonesia Indah (Beautiful Indonesia in Miniature) recreational park.
North Jakarta (Jakarta Utara) borders on the Java Sea and is the oldest part of the city. Here you will find the extensive Ancol Dreamland recreational area including a marina, which is the departure point for the Thousand Islands in Jakarta Bay. In this area are Jakartas port facilities, light manufacturing industries and some residential developments. North Jakarta International School is located here.
West Jakarta (Jakarta Barat) is the gateway to Jakarta with Soekarno-Hatta International Airport being located just beyond its border. In this part of the city there are many residential areas and shopping malls but few facilities for expatriates.
If you are given the option by your company of selecting your own home in Jakarta, you may first wish to become familiar with the various residential areas. The residential areas described below have always been popular with the expatriate community due to their proximity to international schools, grocery stores, clinics, community organizations as well as great shopping and a wide variety of restaurants. Of course, there are other options as well; you may wish to live downtown or in one of the new communities constantly being developed outside the city. This will all depend on your personal preferences and needs. It is important in all cases to take into account the traffic problem in Jakarta, and the time you will spend commuting between work, school, activities, friends and home. These are a few of the most popular areas:
Kemang (South Jakarta) Kemang, located in the southern part of the city, is one of Jakartas most desirable residential areas. It has always been popular with the expatriate community because it is ideally situated for most families. It is close to the Jakarta International School, the Australian International School and several other international schools. There is a nice variety of stores well stocked with Western and Japanese food items. New restaurants, boutiques and home furnishing shops are sprouting up every day and flourishing. Kemang is also close to several clubs and organizations, cultural centers and sports facilities. In Kemang there are a few busy main roads, where most facilities are located. Stretching out from the main roads is a vast, somewhat complicated network of smaller residential roads. A wall with a main entrance gate surrounds most homes, providing both privacy as well as security. These gates most often conceal a beautiful garden setting. As no master plan was devised in the early stages of development, new facilities are worked around or converted from what is currently in place.
Pondok Indah (South Jakarta) Also very popular with the expatriate community, this area is slightly newer, with streets, homes and shopping areas which would appeal to those who prefer a more Western style home. Most homes are surrounded by walls; however the walls are more open, making the many beautiful homes visible. Homes here range from the more modest to the particularly grand. (Indonesians describe many of the homes here as wedding cake homes, due to their pristine white and pastel colors, multi-stories and pillared construction.) Pondok Indah is blessed with elegant, tree-lined streets and sidewalks, which distinguish it from many other areas in Jakarta where sidewalks are few. Pondok Indah enjoys the same advantages as Kemang in terms of proximity to facilities. Here you will find the very popular Pondok Indah Mall shopping area, complete with department stores, cinemas and restaurants.
Cipete/Cilandak (South Jakarta) This area, located between Kemang and Pondok Indah, boasts the same advantages as the former in terms of location, but is decidedly more local in flavor. There are many beautiful new homes. The streets are quieter for the most part and retain their Indonesian character. Street hawkers roam the neighborhoods selling their wares, sounding their horns and bells; school children fly their kites – this is a lovely area with a lot of charm. The Jakarta International School, the French International School and the SOS Medika Clinic are located here.
Menteng (Central Jakarta) Menteng is a very special area to Jakartans. What sets it apart and distinguishes it from other areas is its history. Menteng can be described as old, elegant and aristocratic. Here you will find many of the original stately Dutch homes, and what is left of any colonial architecture or character. This neighborhood is noted for its embassies and ambassadors residences, and is home to many Indonesian government officials. Menteng is close to the downtown area, offices, shopping centers and restaurants.
Kuningan (Central Jakarta) Kuningan can best be described as a residential area within the business district. There are beautiful new apartment complexes here, as well as the older Pertamina Oil Village housing development, with its American style streets and sidewalks. Kuningan has a metropolitan atmosphere, and is close to shopping centers, restaurants, hotels, office buildings and medical facilities. It also houses the embassies of many countries.
Kebayoran Baru (South Jakarta) Much the same as Menteng, this area consists of many beautiful homes and landscaped areas. It is also popular with many government officials. Kebayoran Baru encompasses the busy Blok M and Panglima Polim shopping areas, and is situated conveniently between the downtown area and Kemang. The popular Pasaraya Grande department store is located here.
Permata Hijau/Simpruk (South Jakarta) This area, very close to the large Senayan Sports Stadium and the very elegant and chic Plaza Senayan and Senayan City malls, has a wide variety of homes. Here you will find wide, quiet streets and particularly good access to sports facilities. It is not too far from the downtown area. There is a wonderful street-side market close by displaying some of the prettiest plants and flowers in Jakarta.
Bintaro (South Jakarta) Bintaro is an area on the south-west outskirts of Jakarta comprising newer, middle class housing developments and private homes. Because it is a newer residential area, there are few amenities aside from a shopping plaza and basic supermarkets. The British International School is located here on a large campus, and the Japanese International School is nearby.
Provided by: Colliers International