Among the many types of noodles in Indonesia, Bakmi is probably one the favorite. It comes in a wide variety of choices—boiled, boiled with soup, stir-fried, and even deep-fried. The comfort food is popular among foodies and noodle lovers alike in Indonesia. The popularity of Bakmi in Indonesia has been proven by the official website and Facebook group of Bakmi lovers called 'Bakmi Club'!
Jakarta in particular has many legendary Bakmi places. Each place offers different type of Bakmi menus with various toppings and preparations. The popularity of these places have been approved by many Indonesian food bloggers, and of course the members of Bakmi Club.
Here is the list of must-try, favorite Bakmi restaurants in Jakarta:
Bakmi Ayam Alok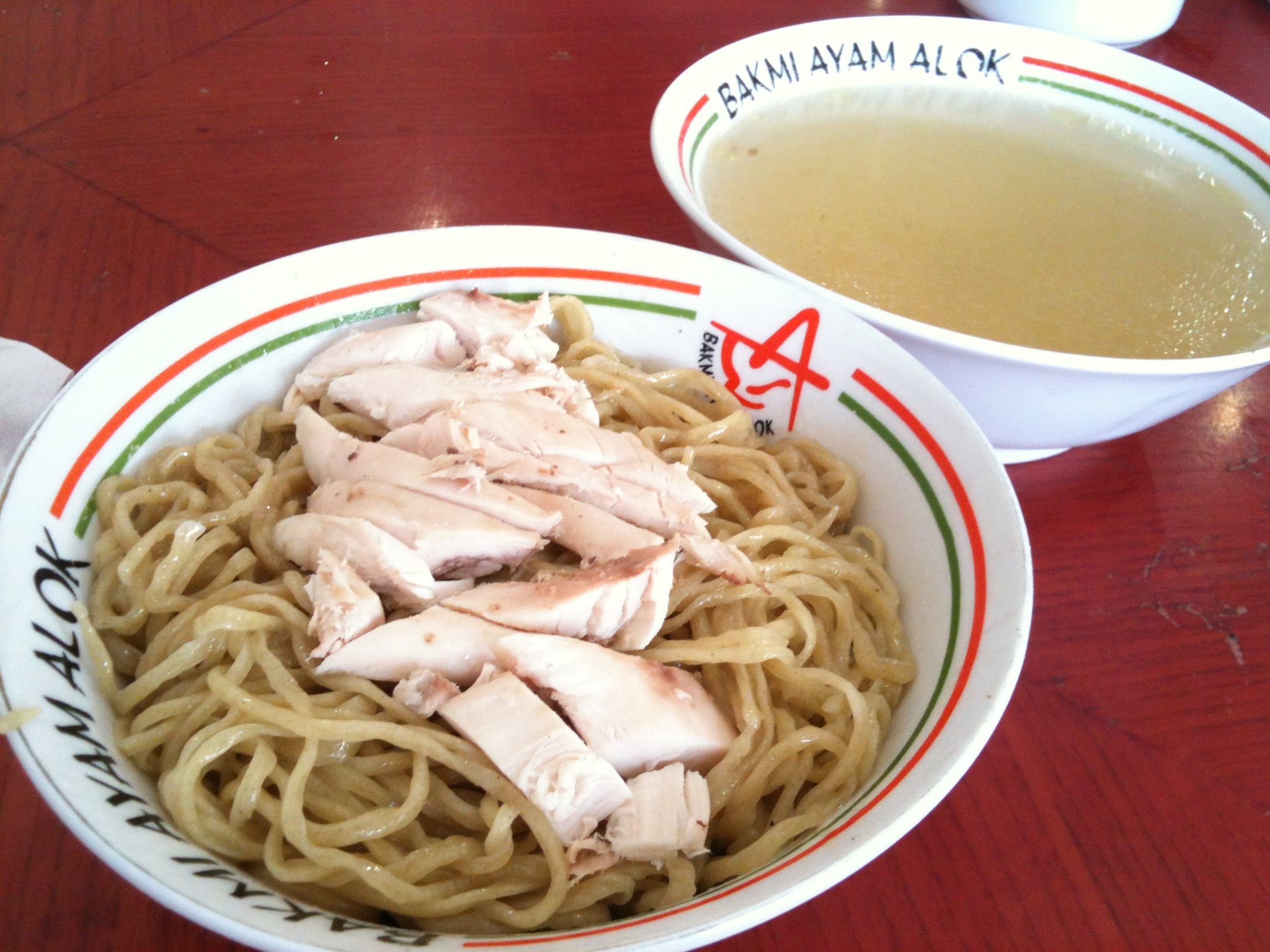 Bakmi Ayam Alok has been the to-go Bakmi place for foodies in Jakarta, especially those living around Greenville, West Jakarta area. There are only two menus in this restaurant: Bakmi and Bihun Rebus Ayam (noodle and vermicelli with boiled chicken). The favorite menu at this restaurant is of course the chicken noodle for its chewy 'rubber' noodle and generous aromatic chicken slices as topping. They only use free-range chicken meat which has more tender texture than broiler chicken. A portion of Bakmi Ayam Alok consists of boiled noodle greased in lard, chicken topping, spring onion, and a small bowl of chicken broth. There is also special Sambal a la Bakmi Ayam Alok to add the heat.
Avoid going to Bakmi Ayam Alok on weekend mornings as the crowd might kill your appetite.
Location:
Green Ville Blok B No 38, Jalan Mangga 2, Greenville, West Jakarta
Opening hours: Monday-Sunday, 07.00-13.00 WIB
Mie Ayam Gondangdia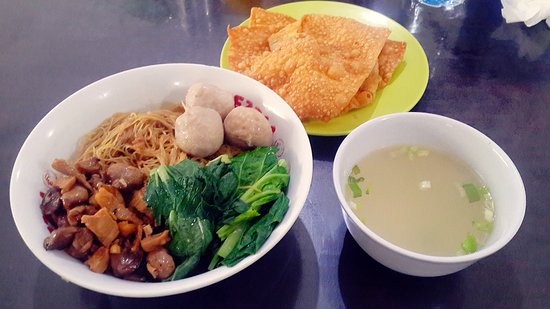 Many people say that the noodle at Mie Ayam Gondangdia tastes like a nostalgia. The restaurant itself was established in 1968 and has been one of the most favorite noodle places in town since then. Now they have a wide selection of menus, but if it is your first time to Mie Ayam Gondangdia, then you must try their Mie Ayam Jamur (chicken and mushroom noodle). Mie Ayam Gondangdia's chicken noodle is a bowl of chewy egg noodle with sweet, stir-fried chicken and mushroom topping, boiled Chinese mustard and wonton skin. Savory yet light soup is served in another bowl, and you can whether mix it into the noodle bowl or slurp it in between your meal.
Location:
Jalan Cikini V No 4 Cikini, Central Jakarta (near Nasi Uduk Gondangdia)
Phone 021-3197835
Opening hours: 10.00 – 22.00 WIB
Bakmi Aboen
Along with Bakmi Gang Kelinci, Bakmi Aboen is also a favorite Bakmi place in Pasar Baru area. People come to this restaurant not only for the delicious Bakmi but also for the nostalgic vibe and experience. There are two types of Bakmi at Bakmi Aboen—halal and non-halal Bakmi. The halal version consists of noodle with chicken and mushroom topping, while the non-halal Bakmi is topped with stir-fried pork. The chicken topping, unlike the pork one, is only chicken meat boiled in special aromatic spices. Of course, a portion of Bakmi Aboen is also accompanied with savory soup.
Address:
Jalan Gang Kelinci No 16 Pasar Baru, Jakarta
Phone 021-3440006
Opening hours: Monday – Sunday, 10.00 – 22.00 WIB
Mie Benteng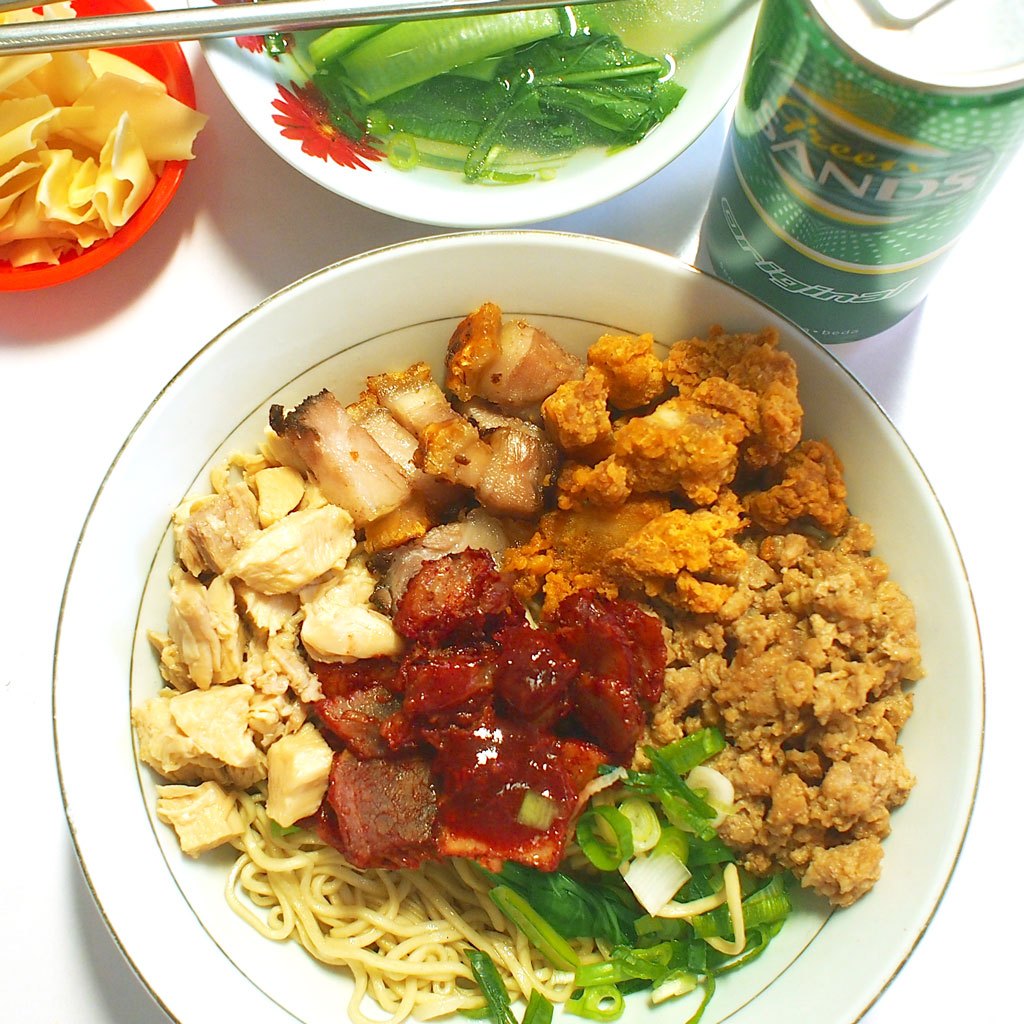 This is another non-halal Bakmi among foodies in Jakarta and around. Mie Benteng serves Bakmi Bakut, a specialty noodle menu from Tangerang. They have several Bakmi variations, but the ultimate favorite menu is Bakmi Mix 5, which is literally Bakmi with five different toppings: diced chicken, crispy chicken, diced pork, barbecued pork, and char siu (Cantonese flavored pork). Unlike other Bakmi places, the noodle used at Mie Benteng is salted noodle that greased with lard and sesame oil. Don't forget to wash it down with Mie Benteng's Anti-Cholesterol Juice to erase the guilt after enjoying the meaty noodle!
Location:
Jalan Kopyor Raya, Blok Q1 No 22 Kelapa Gading, North Jakarta
Phone 021-96296271
Opening hours: 07.00 – 17.00 WIB
Bakmi Zhou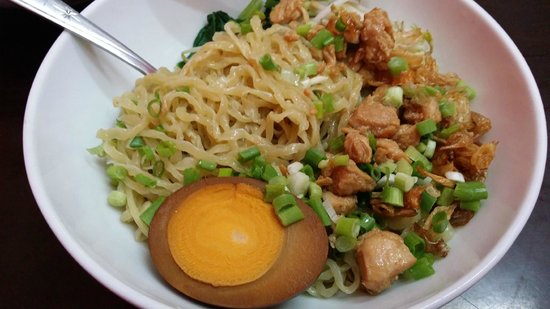 Bakmi Zhou in Jakarta is the branch of Bakmi Zhou Medan and Bakmi Zhou at Pasar Mitra Raya, Batam. The favorite menu at Bakmi Zhou is Mie Ayam Kampung, a bowl of noodle with boiled or stir fried free-range chicken meat as topping. All the noodle menus at Bakmi Zhou are homemade, without preservatives and food additives. Aside from Mie Ayam Kampung, Mie Dan Dan is also must-try menu if you love the fusion version of Bakmi. Mie Dan Dan is a bowl of seasoned yet dry Bakmi and a cup of extra spicy soup. You can either pour the soup into the noodle bowl like Japanese ramen or dip the noodle into the soup, like Mie Dan Dan. It's delicious both ways!
Address:
Jalan Boulevard Utara Raya Blok RA1 No 12 Kelapa Gading, North Jakarta
Phone 021-4505384/4517663
Opening hours: 07.00 – 19.00 WIB