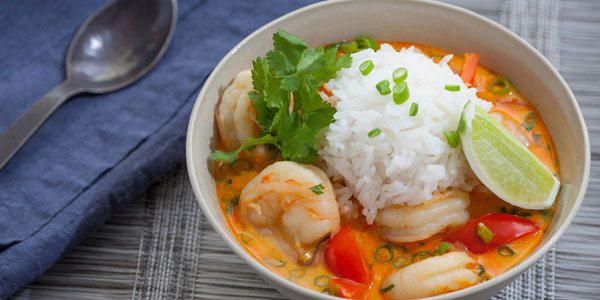 Ingredients :
225g (8 oz) raw prawns
2 stalks fresh lemongrass
1.2 litres (2 pints) homemade fish or chicken stock
1 tablespoon finely chopped fresh ginger
1 or 2 fresh red Thai chillies, seeded and finely sliced
1 teaspoon salt
1/4 teaspoon freshly ground
5 pepper or black pepper
2 tablespoons fish sauce or light soy sauce
2 tablespoons lime juice
2 teaspoons chilli bean sauce (optional)
2 whole spring onions, finely shredded
fresh coriander
Procedure :
Peel the prawns and discard the shells. Using a small sharp knife, remove the fine digestive cord.
Wash the prawns in cold water rinse well and pat them dry with kitchen paper.
Peel the lemongrass to the tender whitish centre and crush with the flat of a knife.
Then cut into 7.5cm (3 in) pieces. In a large saucepan, bring the stock to a simmer and add the lemongrass.
Turn the heat to low, cover and cook for 10 minutes.
Remove the lemongrass with a slotted spoon and discard.
Then add the ginger, chillies, salt, pepper, fish sauce and limejuice. If you like it spicy, add the chilli bean sauce.
Simmer for another 3 minutes. Now add the prawns, cover the pot and remove from the heat. Let it sit for 10 minutes.
Finally, stir in the spring onions and fresh coriander sprigs. Ladle into a large soup tureen or individual bowls and serve immediately.