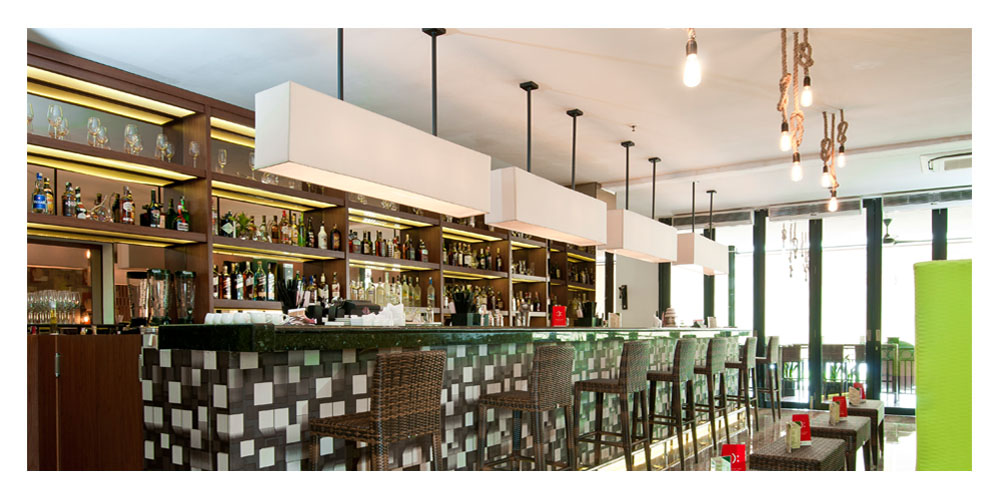 Greeting  from D' Bollywood!
It was entirely due to your loving and continuous support that Dapur Bollywood – your friendly high quality Indian food supplier, has morphed into a classy upmarket cafe with a wide range of soups, salads, pastas, Indonesian cuisine, a complete range of high quality Indian food with a fully stocked 10 meter long bar, serving a wide range of spirits, including more than 65 cocktails to choose from; all served in a warm but peppy environment complete with bar seating , lounge seating, family seating open air seating and with a signature air conditioned balcony bar.
At Plaza Festival, 1st Floor, Above University Bakrie, Jl Rasuna Said, Kuningan, jakarta Selatan, +62 21 29410338/ +62 8111 91 8702/ +62 8111 708702.
We are focused in being a "Bar and Indian Restaurant".
At DB, every night has been a Party Night.
This year, we shall also serve you with the same aplomb in the day.
Starting 1st August 2016, DB opens at 7 AM with a sumptuous "Eat All You Can" Breakfast spread. Soft instrumental music, cozy warm air conditioned environs, in-house wash rooms, air conditioned smoking zones, and the unique Indo-Indi-Continental spread we hope shall inspire you to bring your business breakfasts to D'Bollywood.
Bachelor friends from Rasuna – of course you shall remain special for us.
Other than improved alacarte choices,we also have come up with many cost saving "Pakets" for convenient lunch choices – not just in-house but also delivered to your address in "Open-Eat & Throw" packages at affordable prices. Starting from mini-combos, the range runs through Parata packages, Roti packages, Rice packages and culminates in Full-fledged Meal Platters.
We can even offer tailor made lunch delivery packages for Groups and offices.
Our dine-in guests shall of course enjoy a cozy-warm environment with piped light Indian music.
Dinner time is DB time.
Authentic artists and Bands brought all the way from India shall entertain you every night with live music 7:30 PM onwards. As the evening progresses and the lights fade, the music livens up – after all at DB – Every Night is a Party Night!
As ever, it is our pleasure to tailor-make Party Menus for you – Be it at our place or at yours.
Did you know that you could "Book Your Tandoor" or "Book Your Tawa" with us? We would bring and set up a live Tandoor/Set of Tawas at your place for your Party!
Did you know that we could arrange "Street Food Parties" emulating Chowpati of Mumbai again at our place or at yours!
Interested?…We are just a call away!
We have a few more surprises planned in the coming days.
Our very special South Indian cook shall be serving Idlis, Dosas, and Vadas shortly – watch out for our WhatsApp announcements.
Our Bar is even better now with a wide variety of global drink collections and cocktails.
We look forward to serving you better this year.
We look forward to serving you Breakfast, Lunch and Dinner this year.
We look forward to continue Partying with you every night.
We exists for you and because of you.
Why wait, step in and enjoy D'Bollywood.
Regards
Firdos Dupattawala
+62 8111 98 68 56 and +62 85 8888 08 358
for D' BOLLYWOOD – PLAZA FESTIVAL,
1st Floor, Unit UG -58, Jl Rasuna Said, Kuningan,
Jakarta Selatan, Indonesia.
Tele: +62 21 29410338
+62 8111 91 8702 and +62 8111 70 8702
www.d-bollywood.com