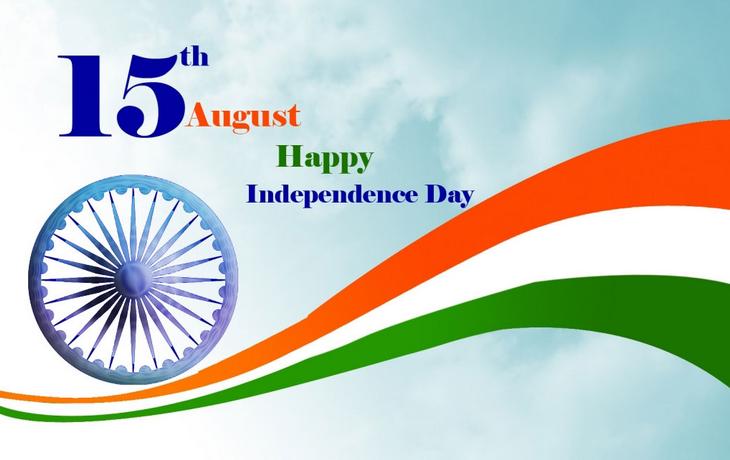 As India celebrates independence from the British, it's time to remember those who fought tirelessly for the freedom of the country and those who shaped its destiny in the subsequent years with their vision and wisdom.
The illustrious list of freedom fighters is indeed long and includes Bhagat Singh, Chandra Shekhar Azad, Sarojini Naidu, Sardar Vallabhai Patel, Mahatma Gandhi, Lokmanya Tilak, Lala Lajpat Rai, Jawaharlal Nehru and Gopal Krishna Gokhale.
President of India gives a speech every year in order to "Address to the Nation" on the evening of a day before the Independence Day.
It is celebrated with big passion in New Delhi, the Capital of country on 15th of August when the prime minister of India hoists the Indian flag at the Red Fort, Delhi. Following which is the  National Anthem and twenty-one gun salute to honor the Indian flag and solemn occasion.
This year in 2019, India will celebrate its 73rd Independence Day to pay tribute and remember all the freedom fighters who had contributed a lot and fought for the Independence of India.
The first Independence Day was celebrated in India on 15th of August in 1947.
WHAT IS SPECIAL ON 73RD INDIA'S INDEPENDENCE DAY 2019
This year too, the celebrations will be remarkable as India commemorate its 73rdIndependence Day, which is going to be special in more than one ways. The main theme this year is Changing Face of India – Independence Day 2019
A foot ball tournament named "Naga 73rd Independence Day Football Tournament 2019" was inaugurated on 28th July at Naga in North Sikkim.
Panchayat Heads of Bhartiya Janata Party in J&K will hoist the Tricolor in their houses.
All schools under North Delhi Municipal Corporation will display photos of the present President and the Prime Minister of India.
The Government of India has scrapped the Article 370 from J&K, through a Presidential order on 5th August 2019.
300 meters of pedestrian friendly walkway will be open for shoppers in Chandni Chowk area of New Delhi.
Banaras Hindu University will go completely paperless on the 73rd Independence Day.
Security is stepped up in Delhi in wake of intelligence input indicating towards terrorist activities targeting Independence Day.
Senior leadership of INC (Indian National Congress) has stated that the Delhi Pradesh Congress Committee (DPCC) will get a new chief by this Independence Day.
This year New York's India Day parade, will be organized on 18th August, the American-Indian community will commemorate the sacrifice and valour of Indian soldiers. This would be the 39th New York's India Day parade organized by Federation of Indian Association (FIA). This year the theme is "Support our Troops, Salute our Troops".
Former President Pranab Mukherjee, social activist Nanaji Deshmukh and singer, lyricist Bhupen Hazarika (posthumously) were conferred with the Bharat Ratna in an event at President House on 8th August.
The Government of Uttar Pradesh has cancelled leave of all its employees with immediate effect till 15th August.
Government has requested citizens to remain vigilant for any suspicious activity, unclaimed luggage etc and report to the authorities immediately.
Chhattisgarh set a new world record by unfurling world's longest Tri-Colour flag of about 4.5 km length on 11th of August 2019 supported by a chain of thousands of people in Raipur.
On 73rd Independence Day of India, for the first time Indian Flag will be hoisted in J&K. BJP has announced to celebrate "Jashn-e-Azadi" on this occasion.
The Lieutenant colonel and Indian Cricket Player Mahendra Singh Dhoni will infurl Indian Nation Flag in Leh on 73rd Independence Day of India.