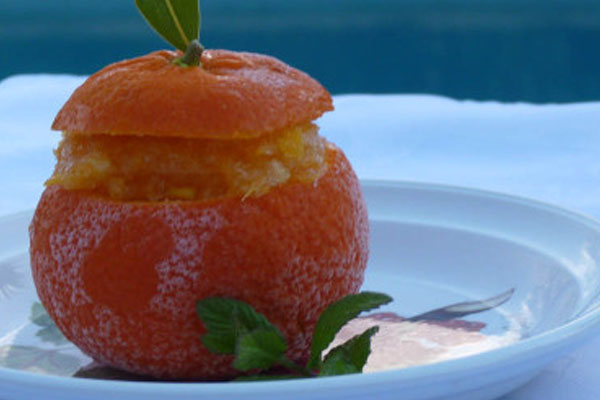 French iced oranges or Orange givrée is a french dessert with the peel of an orange as part of the presentation. You can use any ice cream or sorbet as the filling, but it would be better to use iced orange in order to stick to the theme. Make this for a dinner party or for a romantic dinner for two and find your guests eating with joy. Try it out!
Ingredient:
2/3 cup sugar

juice of 1 lemon

1/2 cup water

Orange zest of 4 oranges

14 medium oranges

6 tbsp water

8 fresh bay leaves/lime leaves
Directions :
Put the sugar in a saucepan. Add half the lemon juice, water and orange zest and cook over a low heat until the sugar has dissolved.

Bring to boil and boil for 2-3 minutes until the syrup is clear. Leave to cool.

Slice the tops off the eight of the oranges, to make 'hats' Scoop out the flesh of the oranges and place in a bowl.

Put the oranges shells and tops on a tray and freeze it until needed.

Squeeze the orange juice of the remaining oranges and from the reserved flesh. It should come to 3 cups. Squeeze more oranges to make up to the required amount.

Stir the orange juice and the remaining lemon juice with the syrup. Taste, adding more lemon juice or sugar as per your taste. Pour the mixture into a shallow freezer container and freeze for 3 hours.

Turn the mixture into a bowl, and whisk to break down the crystals. Freeze for another 4 hours more, until firm but not solid.

Scoop the frozen mixture into the orange shells, mounting it up and set the hats on top. Freeze until ready to serve. Just before serving, push a skewer into the tops of the hat and push in a bay or lime leaf.