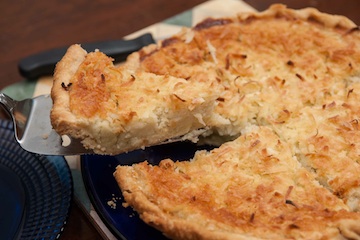 IMPOSSIBLE COCONUT PIE
Ingredients:
4 eggs
1/4 cup margarine
1 cup white sugar
1/2 cup plain (all purpose) flour
1/4 tsp salt
1/2 tsp baking powder
2 cups milk
1 cup coconut
1/2 tsp vanilla essence
Directions:
Put all ingredients into a blender and blend well.
Pour into a buttered 10 inch pie dish.
Bake at 350F or gas mark 4 for 1 hour When cooked the crust will be at the bottom, the custard in the center and the coconut on the top.
This really works.