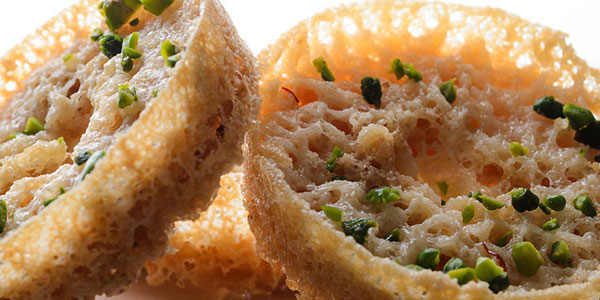 Malai Ghewar is a traditional Rajasthani dish made from ghee, flour and sugar syrup. This delectable sweet is particularly popular during the month of Shravan and the Teej and Raksha Bandhan festivals. Now, you can make it within the comforts of your own home with this recipe. Try it out!
Ingredients :
100gms Maida (white flour)
125 ml Milk
50 ml melted ghee for ghewar
2kg Ghee for frying
5gms Pistachio flakes
10 gms Vegetable oil
120 ml Water
100 gms Rabri
2gms Elaichi powder
For Syrup: Water 60 ml, Sugar 100 gms
Directions :
Heat the ghee till it melts. Add flour and mix well. Combine milk and water, and add it gradually to the mixture to form a thick sauce-like batter.

Heat the ghee in a ghewar kadhai till it turns medium hot for frying.

Pour the batter in the centre of the kadhai, allowing 20 gms of it at a time. Continue pouring till the entire batter is utilized.

Boil sugar and water together, stirring continuously on slow heat for five minutes till the sugar is dissolved.

Dip the ghewar (prepared in step two) in the syrup for ten minutes. Lift the ghewar carefully with a perforated spoon, and place it on the serving dish. Mix the elaichi powder with the rabri, and pour the combination on top of the ghewar. Sprinkle pistachio flakes generously. Cut the ghewar into four equal parts and serve it hot.