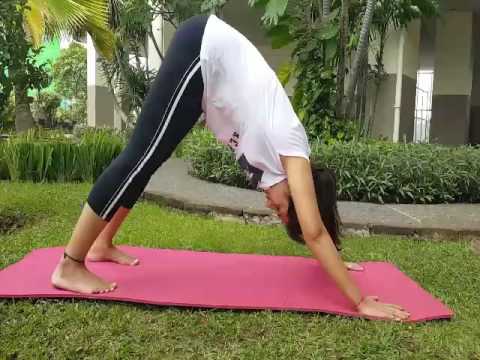 Its the second last day Indoindians #7DaysYogaChallenge Day 6 Downward Dog (Adho Mukha Svanasana) with Rutu Trivedi Panjwani.
Join our challenge on our fb page 
Breathing:
Exhale when going down
Normal breathing during hold
Inhale and come back
Benefits:
Calms the brain and helps relieve stress and mild depression
Energizes the body
Stretches the shoulders, hamstrings, calves, arches, and hands
Strengthens the arms and legs
Helps relieve the symptoms of menopause
Relieves menstrual discomfort when done with head supported
Helps prevent osteoporosis
Improves digestion
Relieves headache, insomnia, back pain, and fatigue
Therapeutic for high blood pressure, asthma, flat feet, sciatica, sinusitis
Contradictions  and Cautions:
Carpal tunnel syndrome
Diarrhea
Pregnancy: Do not do this pose late-term.
High blood pressure or headache: Support your head on a bolster or block, ears level between the arms.