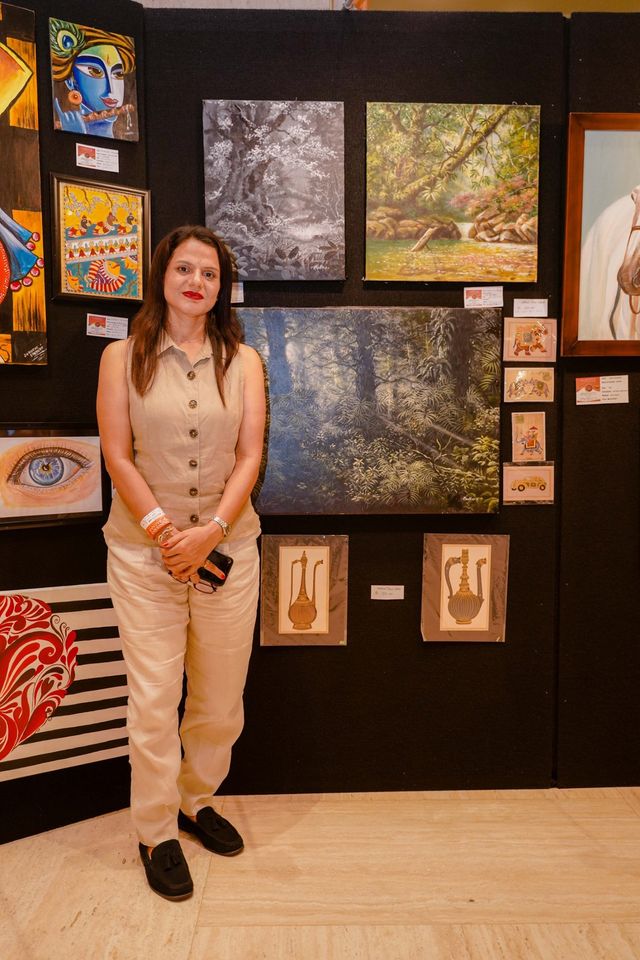 TRUTH OF THE HEART
There is much talk these days about the need for spiritual revival. I should think that this need is evident enough, considering that the state of our country in several aspects but such revival will happen when the soil of outgrown dogmas and superstitions in swept clean. Still, a new order of experience is thrusting itself off like a young sturdy growth of an old tree.
What better sign of this new concern with the inner awakening that the return of a genre like Madhu Shree Bansal bearing as it does on the light of the heart. This light has increasingly become dim in the present-day Indian personality. It needs to be fanned so that the inner light rays out with supreme effulgence.
Madhu Shree works with large and medium-sized compositions, surely introduces us to key symbols and so that though her work is an artistic craft. It also is designed to install self-reflection in us.
By arts processes of color and form, old truths are given a fresh lease of life and Madhu Shree is seen trying hard to master in craft, which is of course a serve taskmaster. But then she also has a meaning full and indeed invaluable, point of view to express so that in expressing herself she is expressing the truth we still live by. Only a few of the artists are doing so, good in other ways through the often maybe. Madhu Shree Bansal works herself imitation into an elevated state of mind.
There is however no matter which all artists must know of, that their vision must be ever unique an unfolding of the unpredictable part of the same universal ordeal so that each artist's messages are those of an imperfect personality aware of something far supreme than him or herself.
I assume that Madhu Shree will become more aware of the truth as time passes and thereby be more absorbed in the spirit of forms. One does not paint any flatter oneself, as we do in the workday world. Thus the quintessential message of this work could become further luminous. Art is handwork done in solitude. In the meanwhile, Madhu Shree compositions could be enjoyed by viewers, each one with his or her understanding and choice but not to forget, finally that the art has ever been greater than the artist. A true artist never stays far from his key truth. Madhu Shree Bansal is wise of this on present evidence.
LATE SHREE PADMASHRI (ART CRITIC ART SCHOLAR AND CURATOR)
Major Participation/Exhibition:
1995-Exhibition in Lalit Kala Academy, Delhi
1998- Exhibition in Lalit Kala Academy, Jaipur
2012- Times Expo, Mumbai 2014- Art Expo New York, USA
2014- Edinburgh Art Fair, UK 2014- India Art Festival, Mumbai 2014- Bank Art Fair, Singapore 2015- Art Expo New York, USA 2015- 13th Pravasi Bharatiya Divas, Gujarat
View and Buy Madhu Shree's Artworks:
About my paintings
My ardent love for miniature paintings goes way back to my childhood days, as I was brought up in a family where this form of art was a tradition. Travelling down the family tree from the time of my ancestors, this tradition had etched its' way into my heart to lead me to carry on this legacy.
Being an ardent lover of Indian Tradition and Culture, I have therefore taken an initiative to promote Indian Miniature Painting (which dates back to the 14th century) to the entire world by exhibiting my artworks on an international level. These paintings comprise the use of colours handmade from minerals, vegetables, precious stones, indigo, conch shells, pure gold and silver.
The minute and distinct styles involved in these types of paintings have caught my interest. There is a lot of persistent perfection that is needed while painting a portrait of Indian History, which cannot be expedited but performed by the most concentrated, focused and patient minds. The intricacies involved here are as it has been mentioned above with an example of how a woman has to be painted in these miniatures. Every character in the painting has a particular role and significance that is connected to the main character/s or one that reveals a story of ancient times in India, and also their feelings or moods are explained through this non-verbal form of art. This form of art must be revealed to the world all over and therefore my constant endeavor to showcase the hard work put into these paintings.