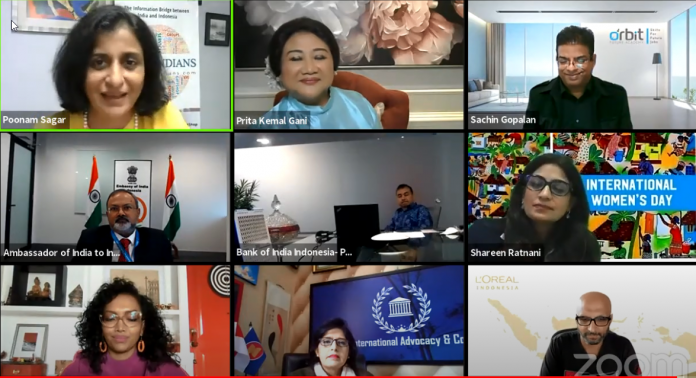 International Women's Day  celebrating the social, economic, cultural and political achievements of women.
This International Women's Day join our amazing speakers for an energizing and inspiring hour of discussions around the impact of woman leadership, and solutions to, every-day sexism and inequality.
Launching Indoindians Extraordinary Women Awards 2021 to celebrate contribution of women who are making the world a better place.
LIVE at bit.ly/iwdjkt on Monday, 8th March, 1pm – 2pm WIB
Also at fb.com/indoindians
Special Remarks:
H.E. Manoj Kumar Bharti
Ambassador of India to Indonesia
Speakers
1.Julia Suryakusuma
Author & Columnist
2. Prashant Thapliyal
Director Credit & International banking, Bank of India Indonesia Tbk, PT
3. Prita Kemal Gani
CEO and Founder of LSPR Communication & Business Institute
4. Ranjana Singh
Technical Advisor, WPP Indonesia
5. Sachin Gopalan
Co-Founder Chairos International Ventures
6. Shanti Shamdasani
President S. ASEAN International Advocacy & Consultancy, Pvt Ltd & Founder of SHANAIKA MEDconsult
7. Sari Kusumaningrum
President Director, PT Juwita Bersinar Indonesia
8. Shareen Ratnani
Early Childhood Expert & Co-Founder Kiddie Planet Montessori preschools
9. Umesh Phadke
President Director, L'Oreal Indonesia
Each speaker will be assigned 3 mins time slot to share on how you are navigating work and life, creating opportunities, and lessons learned along the way.
Topics Identified:
– Topic 1: If I Could Tell You Just One Thing; notes to my younger self
The challenges of working in an environment where you don't fit in, the challenges, the resources & what you wish you had known before you started
– Topic 2: Tales Our Mother's Told Us
The stories we tell, the language and tone we use, the narrative we create have more impact than we know – what happens when those stories are myopic
– Topic 3:  Has female leadership been more successful than male in a global crisis?
We ask what happens to organizations that are led differently? What can we learn from leadership in a crisis that we can apply to our day to day lives?
– Topic 4: how we will help forge a gender-equal world?
– Topic 5: International Women's Day from a Men's perspective
Gender equality is not just a female issue, it's a social and economic imperative.
Topic 6: Women are equal: planting the thought early.
Indoindians is a proud supporter of International Women's Day 2021, this year's campaign theme is #ChooseToChallenge
Supporting Partners