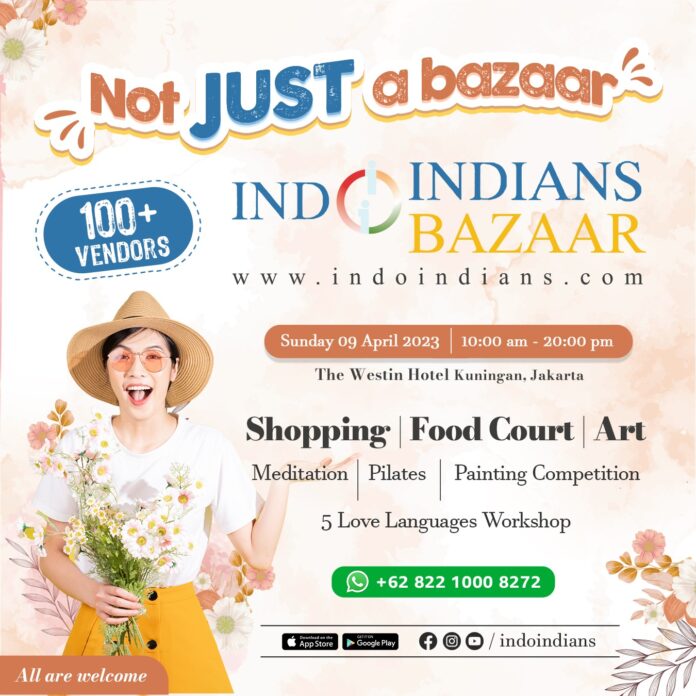 Indoindians Weekly Newsletter: 2 Weeks to Indoindians Bazaar, Art Exhibition & Food Court
Namaste 🙏Friends,
Today marks the 1st day of Ramadan, the holy month of fasting, prayer, reflection and community, for Muslims worldwide.
It's NOT just a Bazaar
It's so much MORE…a community event with
🔊 Indoindians Bazaar, Food Court & Art Exhibition
📅 Sunday, 9 April 2023
🕐 10.00 – 20.00 WIB
🏠 The Westin Hotel, Kuningan, Jakarta
Featuring over 100 Vendors with fashion, jewelry, lifestyle and more
Food Court with 11 food vendors and an area for diners to sit comfortably and eat.
Art Exhibition with 12 accomplished artists
ALSO… complimentary activities at Medan Room, Level 1,  Hotel Westin Jakarta, in conjunction with Indoindians Bazaar:
11am to 1pm: Children's Painting Competition.
📌 Register at bit.ly/kid-paint
2pm to 3pm: Pilates Mat and Posture Assessment.
📌 Register at bit.ly/pilates-9apr
4pm to 5.30pm: Meditation Session. 
📌 Register at bit.ly/meditate-9apr
6pm to 7pm: The 5 Love Languages Workshop. 
📌 Register at bit.ly/love-9apr
Please mark your diary and we are so looking forward to meeting you there in person.
warm regards,
Indoindians Team
WA +6282210008272
Indoindians Weekly Newsletter: 2 Weeks to Indoindians Bazaar, Art Exhibition & Food Court